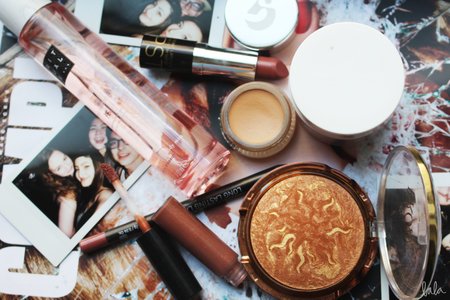 Alanna Martine Kilkeary / Her Campus
Makeup Dupes: Looks on a Budget
There's something to be said for expensive makeup. It makes you feel pricey—even just the packaging is exciting. But there's an entirely different discussion for a cheap product that compares to its expensive opponent.
As a makeup lover, I have tried several different brands on the expensive, as well as the cheaper side. I have found several products that are just as good as the high street brands, so that you can find the perfect makeup products for you that work with your budget. \
Makeup products and their dupes
If you are looking for a great pressed powder to help keep your makeup intact, this Maybelline pressed powder is great for any skin type. It is affordable and works just the same as the Too Faced pressed powder that is much more pricey.
This NYX loose powder is perfect for you if you need something to set your makeup in place and you don't want to spend a large amount of money on loose powder. This product not only works well as a dupe for the Makeup For Ever loose powder but it will also last you a long time.
When looking at these two products, they almost look identical from the packaging to the actual product. It's $42 versus $4. It's definitely a large difference, so by buying this product you will save so much money and will stay within your budget. Not only does the packaging look almost identical, but when you apply it to your face it looks identical to how the Nars Bronzer/Blush Duo looks. You'll get the same look either way.
Anastasia Beverly Hills is known for having famous brow products. They are definitely quality makeup products, however they can usually wring your wallet pretty well. The NYX brow pencil is very similar to the Anastasia Beverly Hills brow pencil in how it looks and how it makes your brows look. The next time you need a brow pencil, try this one instead to help you stay on budget while also keeping your brows looking great!
This is a very popular mascara dupe. There are many people who love the Too Faced Better Than Sex mascara. However, this makeup dupe by L' Oreal Paris called the Pash Paradise Mascara is a great way to get a good mascara product that works just as well as the Better Than Sex mascara.
If you are looking for great makeup dupes, you should definitely try out these items!