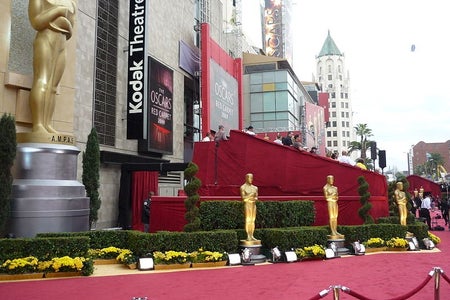 4 Movies to Watch Before the Oscars
Awards season is one of my favorite times of the year, as it works to celebrate the entertainment that captivated our hearts and minds from the past year. I especially love how awards ceremonies combine an appreciation for the arts and the unexpected drama of the celebrity world. As an amateur cinephile, the Academy Awards are one of my most highly anticipated nights of the year.
These past months have been difficult for the film industry, as it has proven to be challenging to deal with the closed theaters and the shutdown of filming processes. Therefore, the news of the 93rd Annual Oscars Ceremony being held not over Zoom was incredibly exciting for many people. In a typical year, the Academy Awards would have taken place a few months ago around the end of February, but this year, it was pushed back until the night of April 25.
The eligibility period for films for this year has also changed because some films could not get premiere times before the cutoff. Now, films released between Jan. 1, 2020, through Feb. 28, 2021, are up for nominations. Additionally, the rules now allow for films to be eligible if they were originally supposed to open in theaters but then had to shift to a streaming platform premiere due to the pandemic.
The nominations were officially announced on March 15 of this year. Among the many nominees, David Fincher's "Mank" received the most nominations with 10 nominations.
Another noteworthy aspect of this year's nominees is the number of female directors being considered. Chloé Zhao and Emerald Fennell are both in the running for best director, which is monumental for a typically male-dominated field.
As you can probably tell, I am very excited about the upcoming awards, which has led me to comprise a list of some of my favorite performances from this year.
"Minari"- 6 Nominations
"Minari" was directed by Lee Isaac Chung, and its nominations include best picture, director and actor. This was one of my favorite films of this awards season, as it includes a touching story of a Korean American family and their journey to success as they move to Arkansas in pursuit of the American dream. The film is based on Chung's own experiences growing up as a young boy and works to perfectly combine humorous moments with pure, raw sadness.
Steven Yeun plays the father of the family, Jacob. Yeun gives an incredible performance as he shows the struggle of a young father trying to make a future for his two young children. Youn Yuh-jung plays the grandmother of the family and was nominated for best supporting actress. Her performance brings a level of vitality to the work and stands out among the cast.
I would recommend watching this film whenever you get the chance!
"Sound of Metal"- 6 Nominations
Directed by Darius Marder, "Sound of Metal" tells the emotional story of a young drummer as he loses his hearing and has to adjust to his new lifestyle. Riz Ahmed plays Ruben, who travels via a van with his girlfriend, Lou, as they tour their music.
Ahmed is nominated for best actor, which is very well deserved considering the amount of emotional pain in his performance. The audience can watch as a man sees his world crumble around him because he relies on sound to work and follow his musical passion.
The use of sound is incredible in the film, as well, as a large portion of it is silent and relies on other forms of communication. If you are interested, "Sound of Metal" is available on Amazon Prime for streaming!
"Judas and the Black Messiah" - 5 Nominations
This is an extremely powerful biographical film that tells the story of William O'Neal, portrayed by LaKeith Stanfield, as he infiltrates the Black Panther Party to avoid jail time. "Get Out" breakout star Daniel Kaluuya plays the deputy chairman of the Black Panther Party, Fred Hampton.
This was a standout for me among the nominees because it included some of the best performances of this season and told an enlightening and pertinent story for audiences. Kaluuya and LaKeith Stanfield were both nominated for best supporting actor for their incredible work, which was very well deserved. I love both of these actors, but I think that Kaluuya's performance stole the show and left a greater impact on me.
The devastating reality of this film is important for people to understand, as I think stories like this are often swept aside or even silenced. The Black Panthers are not mentioned enough or in an accurate light in many schools, so this film provides an incredible portrayal of these moments.
"Nomadland"- 6 Nominations
"Nomadland" is another one of the top contenders from this award season. This film tells the story of a woman in her sixties, Fern, who has lost her home and work due to the Great Recession. Played by Frances McDormand, Fern then turns to live in a van as she drives around the American West. This is an extremely touching and, at times, somber story about the reality for the population of nomads in the United States. The vast emptiness of the country paired with Fern's loneliness makes for a memorable experience.
Chloé Zhao directed this film and is now one of the top choices for best director. I definitely recommend joining Fern's journey and watching "Nomadland," which you can stream on Hulu.