Netflix Shows To Match Your Mood
We understand the struggle of trying to find something to watch on Netflix; everyone with a Netflix account (borrowed or not) seems to go through it. Here are a few of my favorite shows that may match your specific moods. Beware, these shows are all very addicting.
Sad/Emotional
We all have those days when everything seems to be going wrong. Even if things are okay, sometimes we just need a good cry. Parenthood, from the start of the show until the series finale, had me crying my eyes out. If you're looking for something to help get those feels out, I would highly suggest watching a few episodes of the show.
Quirky
Sometimes, all you need is something to match your strange, quirky mood. Humor and comedy don't always have a cookie-cutter definition, and these shows are exactly a representation of that. When I'm feeling quirky and weird, I love me some New Girl and Parks and Recreation. With both, there's no explanation for the way that they make me laugh.

Blank
On the days when I'm trying to find something to watch without any commitment to a storyline, I go directly to Bob's Burgers. Often, I don't even remember the last time I watched it, nor which episode I left off at. Bob's Burgers has the subtle comedy that I need in order to satisfy my craving for non-committal and drive-by Netflix watching. 

Silly
If you're feeling silly and a bit childish, Netflix has what you need: The Office and Unbreakable Kimmy Schmidt. I can't count the times that I've re-watched The Office from start to finish. The jokes, pranks, and Michael Scott one-liners are a perfect way to laugh at ridiculousness. Not to mention the added bonus of office romances and becoming slightly (or not-so-slightly) invested in the characters' lives. Unbreakable Kimmy Schmidt allows viewers to explore their inner childish positivity and our collective struggle with pop culture and technology.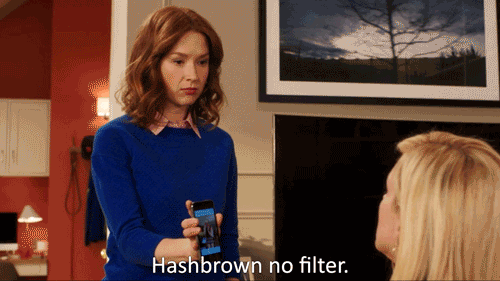 Witty
Anyone who has a bit of sass (me) and sarcastic creativity will appreciate the comedy in both Friends and Gilmore Girls. It might seem strange to compare the two because of their extremely different styles as TV shows, but bear with me. Friends is full of sarcastic remarks and innuendos, while the Gilmore Girls use similar subtleties and quick-witted cynicism to express their humor. Both shows are smart and, eventually, make you fall in love with the characters. 
Dark/Serious
We've all heard chatter about the latest House of Cards season, and I can confirm that, yes, it is that amazing. When watching House of Cards, however, be ready for the rollercoaster of emotions that it brings and the amount of brain power that it requires. Watching this series is not a passive task, so make sure you are in the mood for some dark themes and serious situations. (P.S., Kevin Spacey is amazing.)