Voting Is Still Not Enough: 5 Actions You Can Take To Save Democracy
Things in our country have been weird- and not in a good way. The next Presidential debate is canceled, a fly has become a national hero and a peaceful transfer of power might not be a thing? Democracy in our country is under attack like never before. Democracy ensures that everyone's voice counts to work toward creating a more equitable society, rather than leaving a select few to decide what's best for everybody. Voting is critical to making sure everyone's voice is heard in the first place, but with voter suppression and confusing mail-in ballot instructions, voting is still not enough.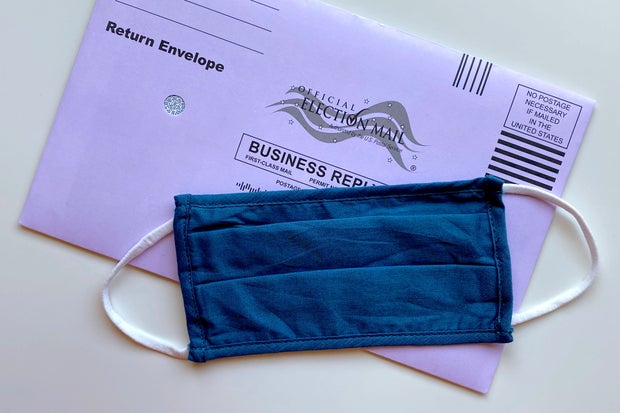 Photo by Tiffany Tertipes from Unsplash Oftentimes we forget how privileged we are and how hard it is for certain people in this country, especially BIPOC folks, to cast their vote. But, rather than having stress-induced nightmares about an apocalyptic American future, or anxiously scrolling through news updates on our phone, there are concrete actions we can take action to save our democracy by doing a few simple things beyond voting. Here are some tangible ways that you can help save democracy:
1.

Reach Out To Family & Friends 

Once you've cast your ballot or voted in person (yay!) ask friends, family members, or that special someone you've been chatting with from Bumble what their voting plan is. It's especially important to reach out to our elders or family members who aren't native English speakers, so pass on the facts! 

See if you can set up a time and date to help someone fill in their mail-in ballot, or simply shoot a text to a friend and ask if they are registered to vote. 

2.

Register People To Vote 

You know those annoying text messages or phone calls you've been getting about voting? Yeah, well, those people are actual angels. Phone banking, texting and sending letters to voters is a great way to help people vote or register to vote. The key is to find a mode of action that you enjoy. 

Are you passionate about getting more college students to vote this year? Consider volunteering for BruinsVote!. In the habit of sending letters during quarantine? Send heartfelt letters to voters with Vote Forward. 

3.

Volunteer At The Polls

If you are not at high risk for COVID-19, then you might be interested in volunteering as a poll worker this year. Elderly people are more likely to be poll workers, but with the pandemic threatening their safety, many elderly volunteers are opting to stay home during this election season. This has led to a national poll worker shortage, contributing to the closure of hundreds of polling stations across the country, making it even harder for people to find their polling station. These shortages disproportionately affect Black and brown communities in such a crucial election. To help your community, you can sign up to volunteer at Power The Polls (also, Racheal Maddow will think you're super cool).

Ending voter suppression is also incredibly important, especially for protecting BIPOC voting rights. The best way to take action against this threat to our democracy is to become a non-partisan Election Protection volunteer. You can sign up for this through an organization called Election Protection. 

4.

Donate & Buy Some Hilarious Merch While You're At It

If you're short on time but have some extra cash, consider putting your funds towards organizations that fight against voter suppression, such as Democracy Docket Action Fun. You can also help grassroots campaigns, such as Vote From Home 2020, send mail-in ballots to voters.

Another super fun way to support a presidential or congressional candidate is by buying their merch. Joe Biden's team is taking full advantage of the famous fly that landed on Vice President Mike Pence during the vice presidential debates by coming out with some pretty iconic merch, including a literal fly swatter to swat away all the lies and giant fruit flies, which you can get here. 

If you are part of Gen Z, you've likely already got this part down. Whatever the outcome of the election is, there will be a lot of work to do after. As award-winning journalist Maria Hinojosa says, "Democracy is not a noun, it's a verb." It's up to us to continually fight for the future we want. Let's be real, being an active citizen can be taxing on our minds, our time and even our faith in humanity. But, that does not mean we should give up fighting for the things that matter to us.

Sometimes when I decide to hop over onto Instagram, I get incredibly overwhelmed by all the many things happening in our world. This can lead to a sense of powerlessness, but you don't need to carry the entire world upon your shoulders. 

In living under a capitalist society, we believe that everything is all up to us as individuals, but social change is a collective effort. To avoid burnout, find an organization at your school or community that you can be a part of to commit to the change you want to see in the world for years to come. It does not matter how much political fight we have if we remain complacent in the years to come.
All that being said, take breaks, reward yourself and have fun in the process! Who said saving democracy had to be a drag? You got this!