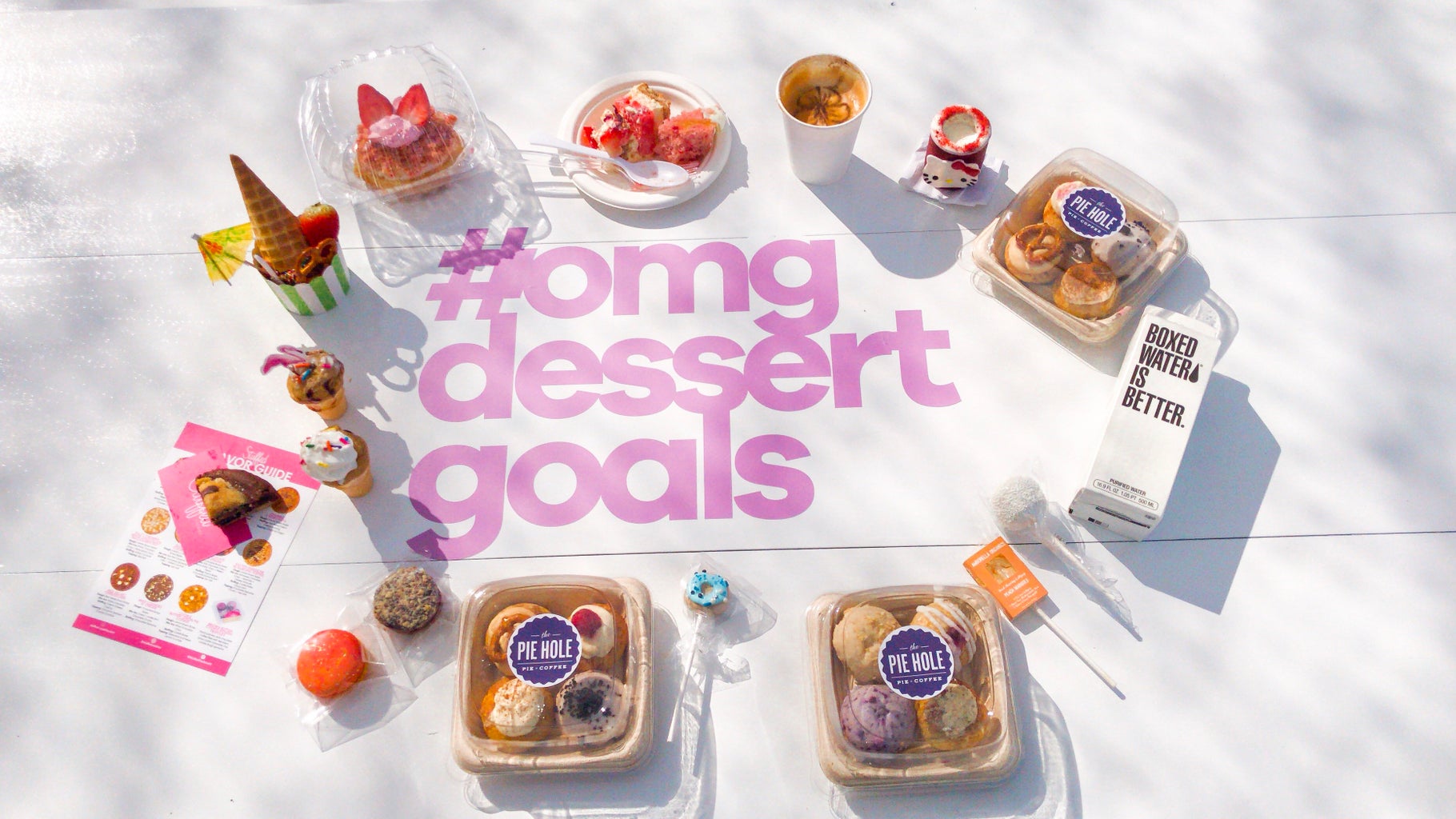 A celebration dedicated to just sweet desserts? Sign me up. With its sweet return, #OmgDessertGoals LA is back for not just one, but TWO weekends filled with a delightful and satisfying treat to those with a sweet tooth. Held this year in Evolve Project LA, this festival puts together an event that everyone who enjoys sweet treats will love.
There are more than 20+ vendors that made this event possible, but here are our top 10 treats:
1. Amborella
Saving the planet does not just feel good, it tastes good too! Amborella Organics turns sustainability into a sweet treat. After you enjoy a delicious lollipop, plant the biodegradable stick in the ground and it will grow into a beautiful flower. Amborella offers a variety of flavors from fruity to florally or even both. The lollipops often even have edible flowers embedded into the candy. The flavor you taste also corresponds to the plant you grow. Be sure to check out this amazing brand!
2. Drunken Cakepops
Drunken Cake Pops bring the party to your favorite dessert. This place serves up indulgently delicious cake pops with a boozy twist. They serve up amazing combinations from lemon drop martini to red wine velvet. We tried the buko pandan cake pop, and we loved tasting this favorite childhood Filipino flavor in a new, modern dessert. Do not let the liquor scare you away- the alcohol is not enough to get anyone drunk, but just enough to add that amazing flavor! Definitely give this place a try.
3. Pacific Organic Pops
Refreshment on a stick! Pacific Organic Pops make the exact dessert you need on a hot, sunny day. Whether you are into fruity or creamy flavors, POP makes the perfect popsicle for you. It is a simple snack elevated by bright flavors and quality organic ingredients. Our favorite was the pineapple chili lime pop; it was sweet, sour and fruity all in one! It is the perfect stop right after a day at the beach.
4. Colorado Donuts
You know that feeling you get when you see something so beautiful and wonder if it tastes as good as it looks? These donuts are colorful, decorative- and in all honesty- just magnificent. If you are still wondering if the donut tasted as good as it looked, I am here to tell you that Colorado donuts did not disappoint. They have a variety of flavors from fruity to chocolatey, so you are bound to find your perfect donut here. We tried the strawberry shortcake donut and its flaky shortbread dough was incredibly tasty. It is definitely a must-try!
5. The Pie Hole
Pie is one of those hit-or-miss desserts that you absolutely need to get right to enjoy. However, The Pie Hole absolutely lives up to the amazing delicious expectation. They offer a multitude of flavors and each one is divine, which is seriously an accomplishment. Each pie has a perfect flaky crust as well as a surprise filling inside. The Pie Hole has all the complexities of a store-bought dessert while also tasting homemade! This is THE place to go to if you want to try pie that looks just as good as it tastes.
6. Stuffed Cookies
The name of the place says it all. Stuffed Cookies not only stuffed their cookies with their hearty filling but also stuffed their cookies with amazing flavor! There were unique combinations of flavors that worked very well together. To top it all off, the cookies were decorated so beautifully that they looked more like decorations than food. We got to try the slutty cookie, where they packed brownies, Oreos and sea salt caramel all into one cookie. This intense combination of flavors got the job done! It was melt-in-your-mouth-amazing. Definitely a great place to get your cookie fix! 
7. Fancy Flavor Macarons
Macarons embody the "small but mighty" mantra of the dessert world. From the classic chocolate and salted caramel to some of the more fun flavors like churro and butterbeer, Fancy Flavor Macarons is able to bring a wide variety of macarons to you! Hailing from the Bay Area, they definitely graced us with their presence and their tasty desserts.
8. Lee' Poofs
Imagine mixing magic and heaven together. In a dessert. That's also Instagrammable. Now that's what Lee' Poofs is able to bring to this year's Dessert Goals. We were in awe as we watched the entire process unfold right in front of our eyes. Watching the colors and creations come together are absolutely stunning. The amazing taste of this unicorn and tie-dye dream made the entire experience even better!
9. The Dirty Cookie
The Dirty Cookie returns to this year's Dessert Goals LA and introduces its delectable Cookie Butter along the famous Cookie Shots. With its buttery and creamy consistency, it is a perfect spread on your favorite treats like bread, pancake, waffles and more! We even tried the Chocolate Chip Cookie Butter with Strawberry with a pretzel on the side, which was an even more perfect combo.
10. Bearology
If you are a boba fan, you might have heard of Boba Bear and their classic glass containers. With all the edible, Instagram-worthy treats at Dessert Goals this year, Bearology, Boba Bear's sister company, definitely did not come last place in the race! Take a sip of their Shimmering Teas (and yes it is shiny) in three different flavors: 24K Golden Tea, Piña Colada and Pink Lemonade. We witnessed all the shiny elements in the drink swirl in the glass as we got that Boomerang-perfect shot. And yes, they also come in sustainable, environmentally friendly glasses!
Before heading out, we got a chance to snag a picture with the founder of #OMGDessertGoals herself, Miraya Berke! What a sweet way to wrap up this year's festival.
Thank you so much, #OMGDessertGoals for having us! Missed out on this weekend's treats? Be sure to get your tickets for the weekend of November 16 and 17 on their website and be sure to follow them on Facebook and Instagram!