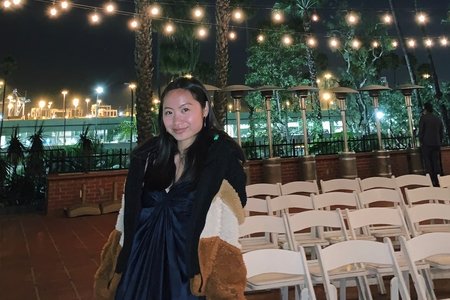 My 4 Winter Must-Have Accessories
I just recently started adding accessories to my daily outfits, and I have really been missing out. No matter what kind of outfit I am wearing, simple accessories are the perfect way to spice it up. My go-to outfit is usually a pair of mom jeans with a t-shirt or sweatshirt, so wearing it with an accessory really adds to the cute, casual look. However, it also doesn't hurt to add some accessories when going full glam. Here are 4 accessories that I have been loving no matter what they are paired with: 
I seriously do not know what took me so long to hop on this trend. I used to love wearing my hair down, but lately I have been wanting it out of my face. It always makes me feel extra cute when I tie my hair back into a low ponytail and secure it with a scrunchie. I also make sure to pull a few hairs out and loosen it up to give it a more laid-back vibe. Lululemon scrunchies do the best job of keeping my hair up, but Target has some of the cutest scrunchies I have ever seen. They also look super adorable around your wrist. 

Even though I got my ears pierced at a very young age, I stopped wearing earrings in high school for some reason. Luckily, they have made their way back into my life as I have started to notice just how flattering they are - especially dangly ones. In this picture, I am wearing a pair that my grandma gave me, so they are both gorgeous and have sentimental value. 

One of my best friends recently bought me a Sagittarius constellation necklace for Christmas, and it honestly goes with everything I wear. Although I am definitely not an astrology person, this necklace reminds me of my best friends back home. I pretty much have it on everyday, whether I am wearing a fancy dress or a casual t-shirt, like the one shown in this picture. I seriously do not feel complete without this necklace. 

4.

My One And Only Sherpa Jacket. 

This is clearly a bigger one, but my sherpa jacket from Pacsun is the most superior accessory that I own. Not only does it keep me extremely warm and cozy, but it keeps me looking cute all the time. I feel like I am walking around in a blanket, except that blanket is cute and socially acceptable. If there is one article of clothing I recommend investing in, it is a sherpa jacket.
Ever since I started incorporating accessories into my daily life, putting outfits together has become so much more enjoyable. So, even if you are not the dressy type of person, just adding simple accessories like these ones can work wonders. Here's to discovering more ways to spice up my wardrobe this year.