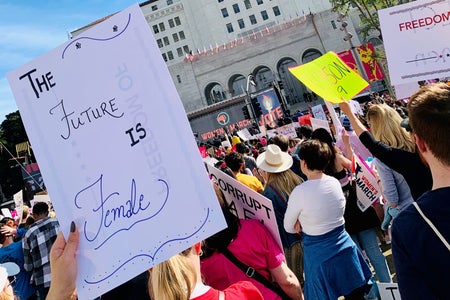 March & Make A Change At The Los Angeles Women's March
Can one voice make a difference in the face of many? Although I was always confident and faithful in the power of a voice, the Women's March 2020 reaffirmed and further instilled my perspective on the impact that a voice can elicit.      
This being my first time actively participating in a march of any sort, the Women's March in Los Angeles opened my eyes and heart, while further growing my desire to right so many wrongs in our sociopolitical sphere of human rights. At 9:30 a.m. on Saturday, January 18, I, along with over 300,000 other advocates and supporters of equal rights, gathered in Pershing Square to march for a change in society. In the heart of Los Angeles with so many passionate people around me, it all felt a bit surreal to me. Personally, I have always been an advocate for the underrepresented, as I see it as a priority for all human lives to be valued as such. Growing up and volunteering for various homeless/less fortunate organizations and working to help them attain better lives made me all the more passionate to, one day, pursue this passion as a career. So, developing a major passion for the law and human rights as a whole, the way in which they are interconnected and how they can have extreme causal effects, I was eager to participate in a March that advocated for my passions.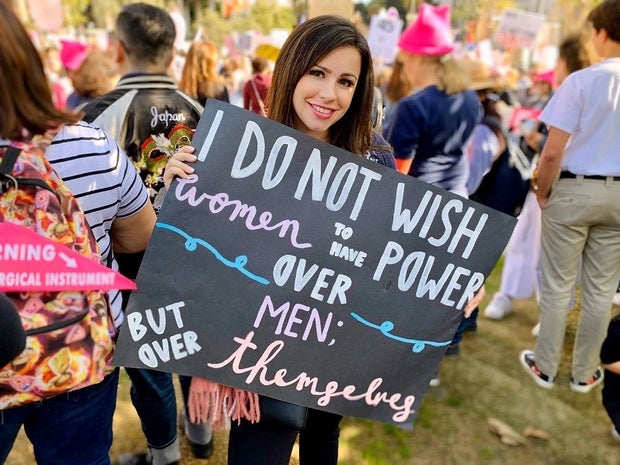 On the ride from UCLA over to Pershing Square, thoughts filled my head of how the march would be: what we would do, who would be there, would there be speakers, would there be protestors? With all of these thoughts swirling around in my stream of consciousness, my friends and I hopped out of the car and arrived bright and early to march and take a stand. A multitude of booths lined the square, with streets blocked off for the hundreds of thousands of people apt and eager to speak their voice and be heard.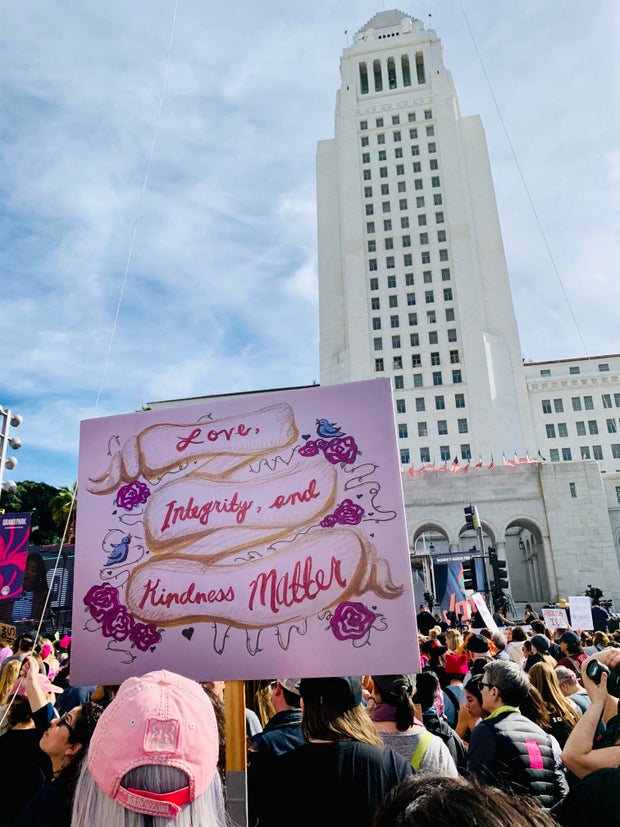 As my friends and I held our signs and made our way toward the crowded herd of colorful signs and loud voices, I was taken aback. I was met with faces of the young and the old, of all different colors, genders and backgrounds. It truly was a sea of intersectionalism and it was truly inspiring. I honestly wasn't sure what or whom I was expecting to see, but looking to my side, behind me and all throughout the Los Angeles roadway, it just gave me joy. Joy that I was able to witness so many people from so many different walks of life that were there, supporting each other and supporting all of the communities represented in the greater area, nation and world.       
As we walked, I looked beside me and saw a mother and daughter, hand in hand, with a sign that read "Why I March? So my daughter will never have to say #MeToo." The power in that crowd is inexplicable to write down on paper. But, it comes down to the feeling of love and respect of the human condition and the fact that everyone should be given that right.