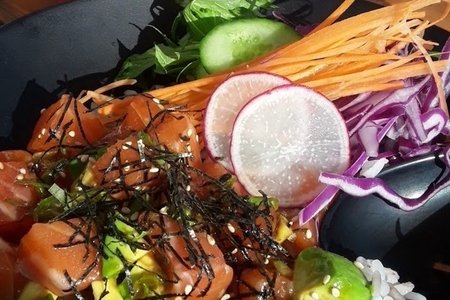 A Local's Guide For The Top 10 Spots To Eat In San Diego
As someone who has lived for most of her life in San Diego, I want to tell you that this city is a foodie town as much as Portland or Denver.  San Diego has a huge array of great food to offer for those who visit. Every time I revisit San Diego County, I always make my friends join me at various restaurants, many that even the "locals" do not know about. There are amazing Asian and Mexican cuisines to be found, as well as yummy comfort food. Unlike Los Angeles, these places are much easier to get to and have decent to great parking for the most part. The following spots are my top 10 places I think everyone should try when visiting my home city:
This is my favorite ramen place in all of San Diego! A big reason is that not all of the ramen broth is made of pork. There are amazing vegan options and also really good poke. The restaurant is walking distance from or to Balboa Park, and can make a great day and evening! I highly recommend the cold ramen, called Chilled Poke Men. It's like a mix of cold ramen and poke.

This is a San Diego staple, especially for young people. It is a reasonably priced sandwich place, compared to many parts of San Diego County. My favorite locations for this local chain are in Del Mar and 4s Ranch. My friends and I always seem to end up at B&B if we are at Del Mar beach all day. I highly recommend the Turkado and Baja Chicken sandwich. 

This French restaurant was a great find by my parents! This used to be their date spot before my best friend and I started inviting ourselves to join them. This place serves brunch, lunch and dinner, though I think their brunch is the best! They make amazing lavender fries and it is always a chill place to brunch on a Sunday late morning or early afternoon.

This new-age Italian spot in the often hopping Little Italy always impresses me. It offers classic Italian dishes along with delicious vegan takes on Italian cuisine.  Also, the bread they give you is absolutely delicious. 

This cute Poke place can be found in my hometown of Poway. Poway is not the usual place to find the best Asian food, but Pacific Poke remains the exception. No poke place will ever compare to this place. They have lots of great topping and diverse proteins such as; spicy salmon, garlic ahi and kimchi salmon. I wish I still lived close to it. 

This Encinitas beach vegan restaurant knocks my socks off every time I go. I am not a vegan, but Eve is a wonderful place to eat some filling and healthy food. I highly recommend the Aphrodite and Kung Pao bowls!

There is a lot of amazing Mexican cuisine in San Diego, but this place has the most fun atmosphere. The restaurant is based on professional Mexican wrestling. There is even a special booth where it looks like a wrestling ring. Both the burritos and tacos are great and unique! You can always find my friends and I going here if we are in Downtown San Diego. 

A cute bakery found in downtown Escondido. It has a very relaxed atmosphere and it is a great afternoon or morning destination. Cute Cakes is hidden gem - as Escondido is located 20 miles east of the ocean - with amazingly creative pastries and sweets. They are not averse to edgy personal cake messages, as my 18th Birthday cake proclaimed: "Shayna is legal, b****!"

This dessert spot can be found on the famous Convoy Street. Known mostly for their Kakigōri (Japanese snow-iced) and other sweet treats, the cafe is often busy, but accessible. Everything I have tried at MNGO Cafe has been a treat for the senses. I highly recommend their Mango Kakigōri.

I did not discover this place until community college, and it is something you must do in North County San Diego (Vista-San Marcos-Escondido). This place is actually run by a relatively mellow Messianic group, the Twelve Tribes. I still do not understand what this group is about, but their food is really good and healthy! Also, the place is super cool on the inside and is open all day during the weekdays. My friend would go there and study all the time. 
There are a lot of wonderful restaurants in San Diego County. Honestly, no list can possibly include all of the cool places I have eaten there over the years. However, I hope this list can help you when you visit my home base of San Diego.