The majority of my teen years were marked by an ambivalence towards what I saw in the mirror. Some days I could pick out parts of my appearance that I enjoyed, like my curly hair or almond eyes, and feel relatively content with myself. However, I often focused on my flaws. I frequently fell into toxic mental loops of wishing that I could magically fix my squishy upper arms and the stubborn pudge around my stomach. My fragile body confidence took a major blow during my senior year when discussing an upcoming costume party at school. A friend suggested an animal themed group costume and flippantly remarked that I could dress up as the hippo—I was beyond devastated. I remember riding the bus home that afternoon and realizing the fragility of my self-image. It was clear that I needed to build up my confidence; I no longer wanted tiny comments about my body to possess so much power over my sense of self-worth.

In order to achieve body neutrality and shed shame and pressure, I've since tried every trick in the book. I followed body positive accounts on social media and revived my healthy eating efforts. Out of all of the techniques that I've attempted, experimenting with a new style of clothing proved the most successful. In the past year, I've embraced a retro-inspired aesthetic, and it has boosted my confidence and allowed me to focus less on my imperfections.
Switching up my sense of style has limited the amount that I compare myself to others. I've always had a somewhat quirky approach to fashion. I tend to overdress for everything, and I have a particular appreciation for dramatic, feminine silhouettes. When I was younger, instead of wearing the clothing that I love, I often opted for the more trendy pieces I saw influencers and other girls at school rocking. Throughout my teens I forced myself into skinny jeans and athleisure, assuming that conforming with the styles I saw around me would make me feel my best. In reality, wearing the same clothes as those around me enabled my brain's ruthless comparisons between myself and other women. Delving into an alternative fashion sense has offered a fun solution to this problem. When I wear a 50s fit and flare dress with kitten heels, I feel more Kate and less of an incomplete version of Instagram's current it-girl.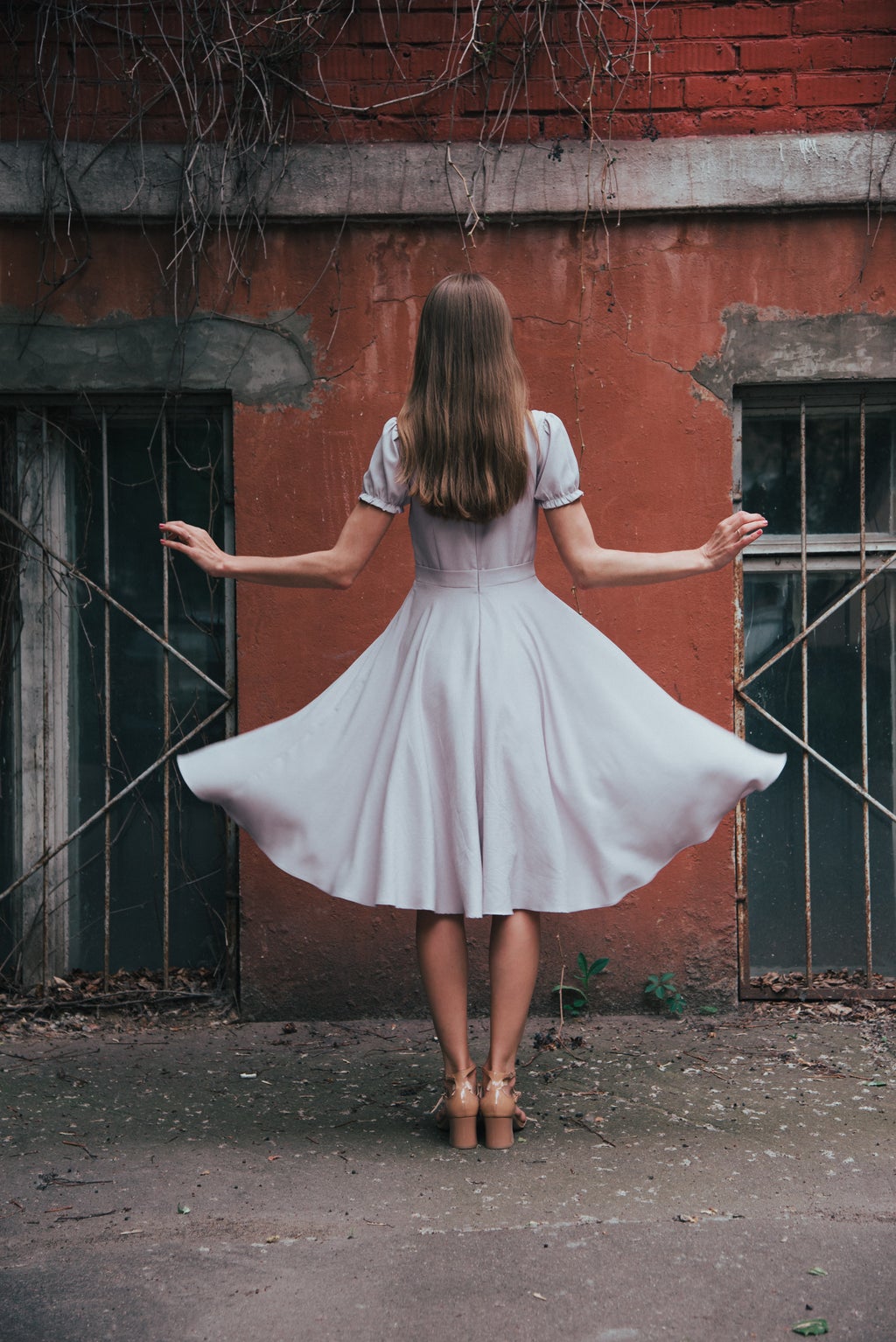 An additional bonus of leaning into a retro aesthetic is that old-fashioned clothing tends to better flatter my shape. I was often frustrated with how the styles at shops like Urban Outfitters didn't fit correctly on my curvy 5'2″ body. I've since learned that the reason I was unhappy with my appearance when putting on those outfits had nothing to do with me and everything to do with the garments themselves. Many trendy clothing items are not designed with my body type in mind, so they don't highlight the aspects of my figure which I love. In contrast, pinup inspired looks nip in at the waist to positively accentuate my curviness. Since I began putting time into searching for vintage pieces which actually cater to me, I've felt exponentially less self-conscious about the way my clothing fits.
Above all else, my passion for retro clothing has helped me redirect my focus to the characteristics of my appearance that I can control. When my body image was at its worst, I felt upset that eating well and exercising was not leading to my goal body type. I constantly thought about how I'd look nicer if only I could lose a bit of weight or tweak certain physical features. This was an unhealthy mindset because, as I've discovered, appreciating your body is impossible when you are always waiting to achieve an idealized version of yourself. My recent interest in niche fashion has served as a way to modify how I look without beating myself up about my present body. I can channel my desire to improve my appearance by trying out vintage jewelry and new styles of garments while just letting my body serve as a uniquely imperfect vessel for self-expression. 

I'm currently building up my collection of retro clothes, and I've never felt more excited about getting dressed and seeing my reflection in the mirror. It's shocking how many positive effects can come from as small a change as switching up the aesthetic of your clothes! People in my life have noticed how much more confident I've been since I've gotten into vintage fashion, and my research into retro garments has even led me to discover inclusive and sustainable brands. As I finish my teen years and enter my 20s, I'm optimistic about how my style evolution will continue to aid my journey with body confidence.