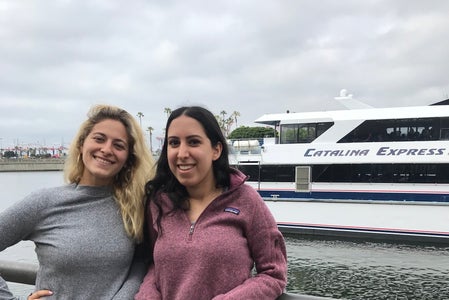 College Girl's Guide to Catalina Island
Catalina Island is only a one-hour ferry ride away from Los Angeles, yet every time I visit, I feel like I'm in completely different world. This unique small town, Avalon, is only about one-square mile in size, making golf carts and bicycles popular modes of transportation. The island was purchased by William Wrigley, Jr. (as in Wrigley Gum) in the 1920s as a gift for his wife Ada. Since then, it has turned into a beautiful resort, making it perfect location for a short getaway or day-cation for those living in Los Angeles.
How to Get There:
Catalina Island is only 20 miles away from Southern California coasts, so most guests arrive either by ferry or by private helicopter. As college students on a budget, we'd recommend taking a ferry- as that is the more affordable option.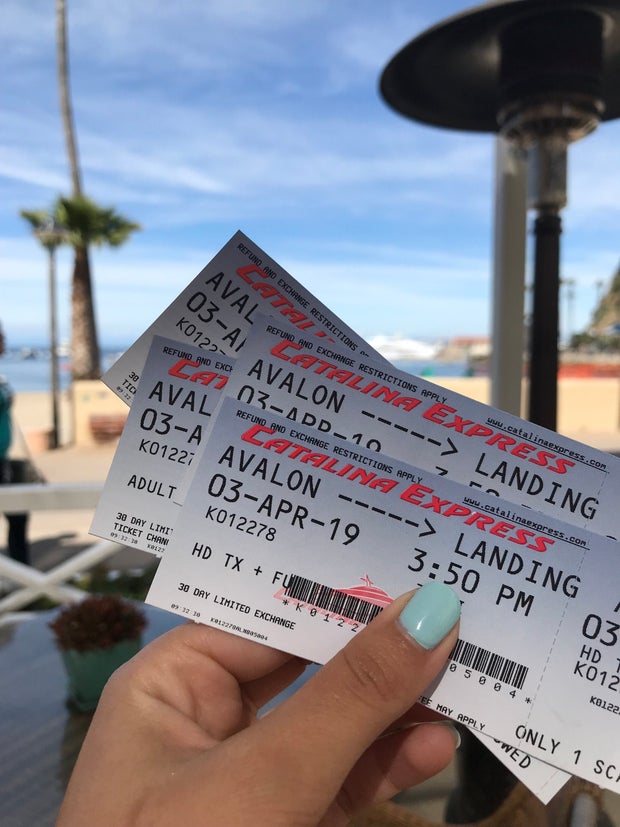 Catalina Express is located at the Long Beach Ferry Port and only a 30 minute drive from UCLA. The best part about visiting Catalina Island is that Catalina Express offers many early morning and evening ferries, making it easy for guests to visit Catalina for an entire day rather than staying the night. Roundtrip tickets are about $75 dollars and can be purchased here.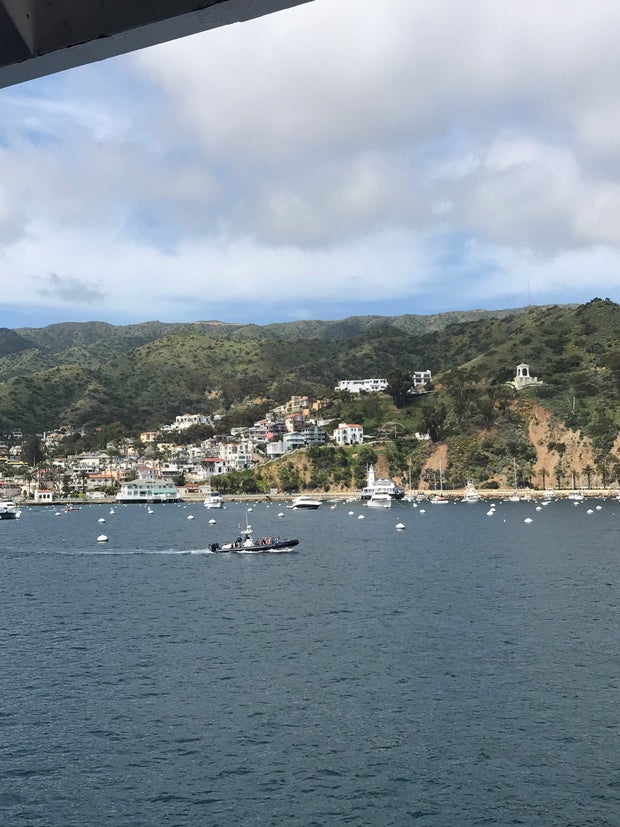 My friends and I decided to make a mini vacation out of our trip and stay in Catalina Island for a night. We got on the earliest ferry and decided to come home on the latest one the next day so we could make the most of our experience. The 50-minute ferry ride passed by quickly as we all ate some snacks and enjoyed our amazing views.
Where to Stay:
Surprisingly, there are so many options such as small boutiques, plush hotels, and even camping spots all over the island. After some research, we decided to stay at the beautiful Pavillion Hotel.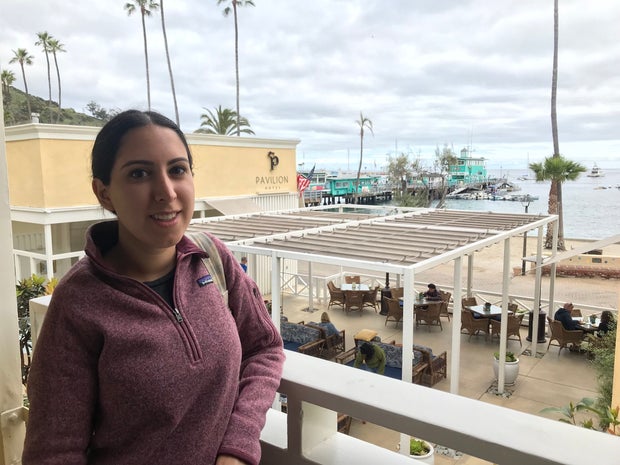 Located just 14 steps from the beach, this beautiful beachfront boutique hotel was the perfect spot for our group of college students. With complimentary wine and cheese each afternoon and a deluxe omlete bar and breakfast buffet, we really got the most out of our stay. My favorite part of this hotel, in addition to the comfortable and clean rooms, was the nice outdoor lounge chairs located all over the first floor of the hotel. My friends and I loved sitting there and enjoying the views of the ocean in the mornings and the cozy fireplace late at night.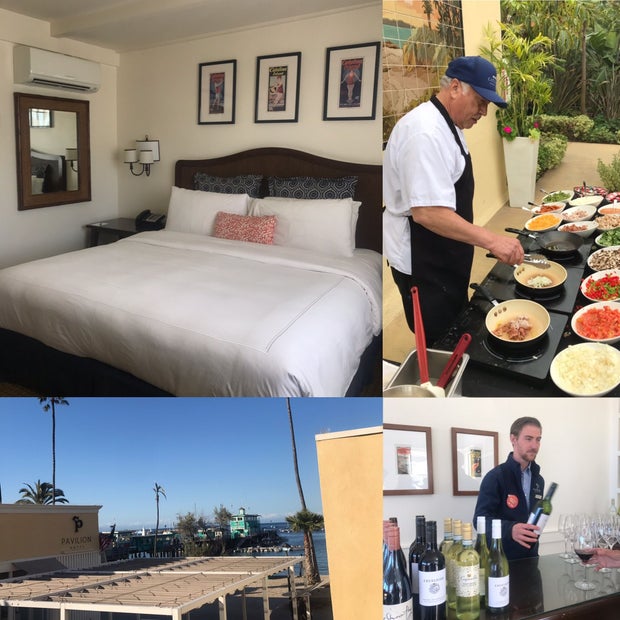 Another perk of staying at the Pavillion Hotel is that it has partnerships with the Descanso Beach Club, Island Spa, and other fun activities, so be sure to ask the front desk staff about coupons/special discounts for activities and restaurants and free spa access for hotel guests. The hotel even provides some complimentary bus and boat tours each day for guests.
*Pro tip: You only need to be 18+ to book a room at the Pavillion, compared to other hotels which may require guests to be 21+. 
What to Do:
The entire city of Avalon in Catalina Island is filled with fun activities for visitors. Here are some of my favorite things to do when visiting Catalina Island, other than walking around and exploring the small shops. Check out the Visit Catalina Island website for more info and options.
*Pro tip: Book your activities online 1 week in advance to get receive 15% off.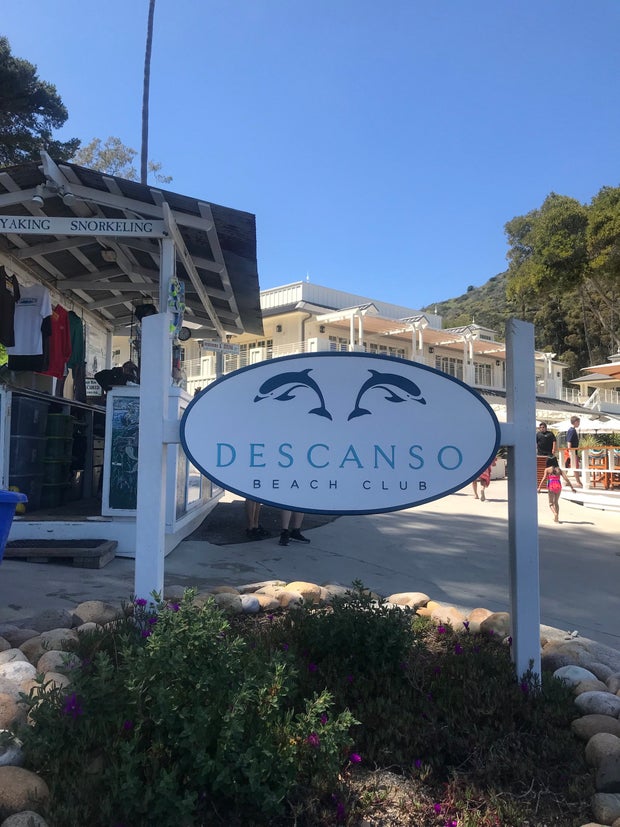 This restaurant, bar, and private beach is the perfect place to relax. Here you can rent a chaise lounge or private cabana and take advantage of their complimentary towels. I'd recommend stoping by over the summer as that's when the beach club will have their famous beach club parties with live music and a DJ. The Descanso Beach Club is also right next to the zip line, aerial adventure and kayak/beach rentals, so it's a great lunch spot to stop for lunch after your adventures. 
This two-hour adeventure takes guests on five zip lines, with breathtaking views of the island. At first I was a bit scared to let go and jump, as we were 500 feet above the ground level, but the staff made me feel extremely safe and excited for the adventure ahead of me. We arrived early to check-in and put our belongings in the lockers they provided and then hopped onto the truck which took us to the first starting point. As we drove up, we were given a mini tour and learned a bit about the island. The five zip lines connect; so once you complete one, you cannot go back. The tour ends back at the Descanso Beach Club.
If zip lining sounds scary, but you still want some sort of thrill, I would recommend the Catalina Aerial Adventure. Our group actually did this before zip lining to prepare ourselves for the zip line as they have many similarities. The aerial adventure consists of five huge ropes course each of a different difficulty level and made up of rope ladders, log bridges, balance beams, zip lines, and other elements. While participants can go at their own pace, most spend about 2 hours on the courses, including a 20 minute safety practice course in the beginning. 
This high-speed Ribcraft boat tour takes about 10-15 guests on an hour long tour of the Catalina Channel. Our group was excited to race through the waters and even get the chance to get up close and personal with dolphins. I'd recommend wearing a warm jacket and avoid bringing large bags as it get windy and bumpy on this roller coaster of an adventure.
I highly recommend this fast-paced boat tour for any college-aged students, but if you're interested in something slower and more relaxing, I would recommend the Glass Bottom Boat Voyage or the Undersea Expedition. 
No, not an actual casino! The Catalina Island Casino is a historical venue, ballroom, and movie theater. Casino is Italian for "meeting place" and that is exactly what this space is used for. I'd recommend checking out the tour, event, and movie schedule so you can see the beautiful architecture inside the Casino for yourself.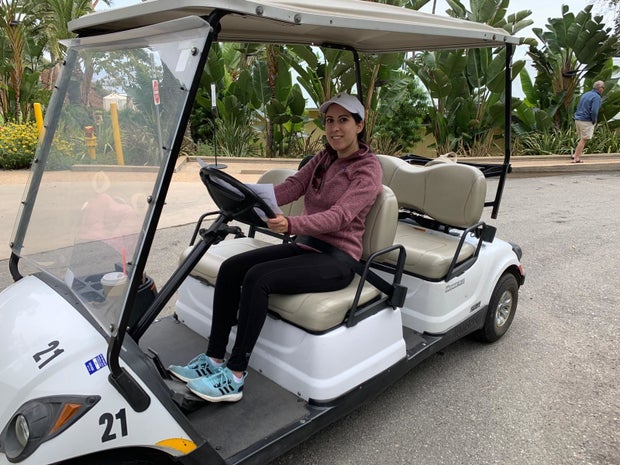 As I mentioned above, one of the main modes of transporation on the island are golf carts. With less than 200 cars on the island and a waiting list of 20+ years for a car, golf carts have become extremely popular. There are also many companies which provide golf cart rentals for visitors to explore the city on their own. We rented our golf cart from Catalina Golf Cart Rentals, which provides 3 hours for the price of 2. The staff will also provide you with a map for their scenic route throughout the island. The route is about 13 miles and takes about 1-2 hours to complete, depending on how long you stop at each lookout.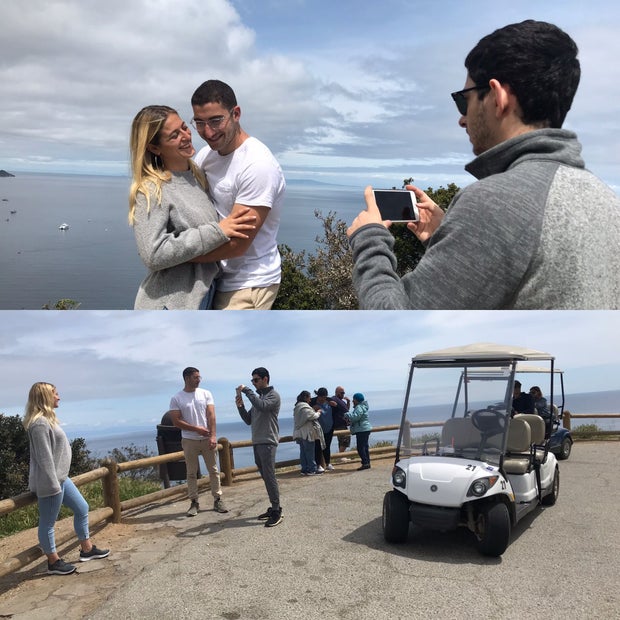 The highlight of renting the golf cart for me was being able to see parts of the town that we could not see on foot, such as the amazing views from the top of the Island and some of the more common parts of town where most people live. It was interesting to drive past Catalina Island's fire station, city hall, and school. 
*Pro tip: You only need to be 18+ to rent a golf cart from Catalina Golf Cart Rentals, compared to other companies which may require guests to be over 25 to rent.
I'd highly recommend visiting Catalina Island for an adventurous or relaxing day-cation or weekend trip. It's close, safe and affordable- and you can never run of out things to do in this unique small town.