The 2019 KCON L.A., the annual Hallyu convention organized by CJ E&M, dominated the DTLA area this past week from Thursday, August 15 to Sunday, August 18. Some of their signature sights make it obvious that the convention has returned to L.A.—fans sporting their favorite groups' merch, CJ E&M's colorful logo and those unmistakable twin escalators that everyone takes up to the South Hall.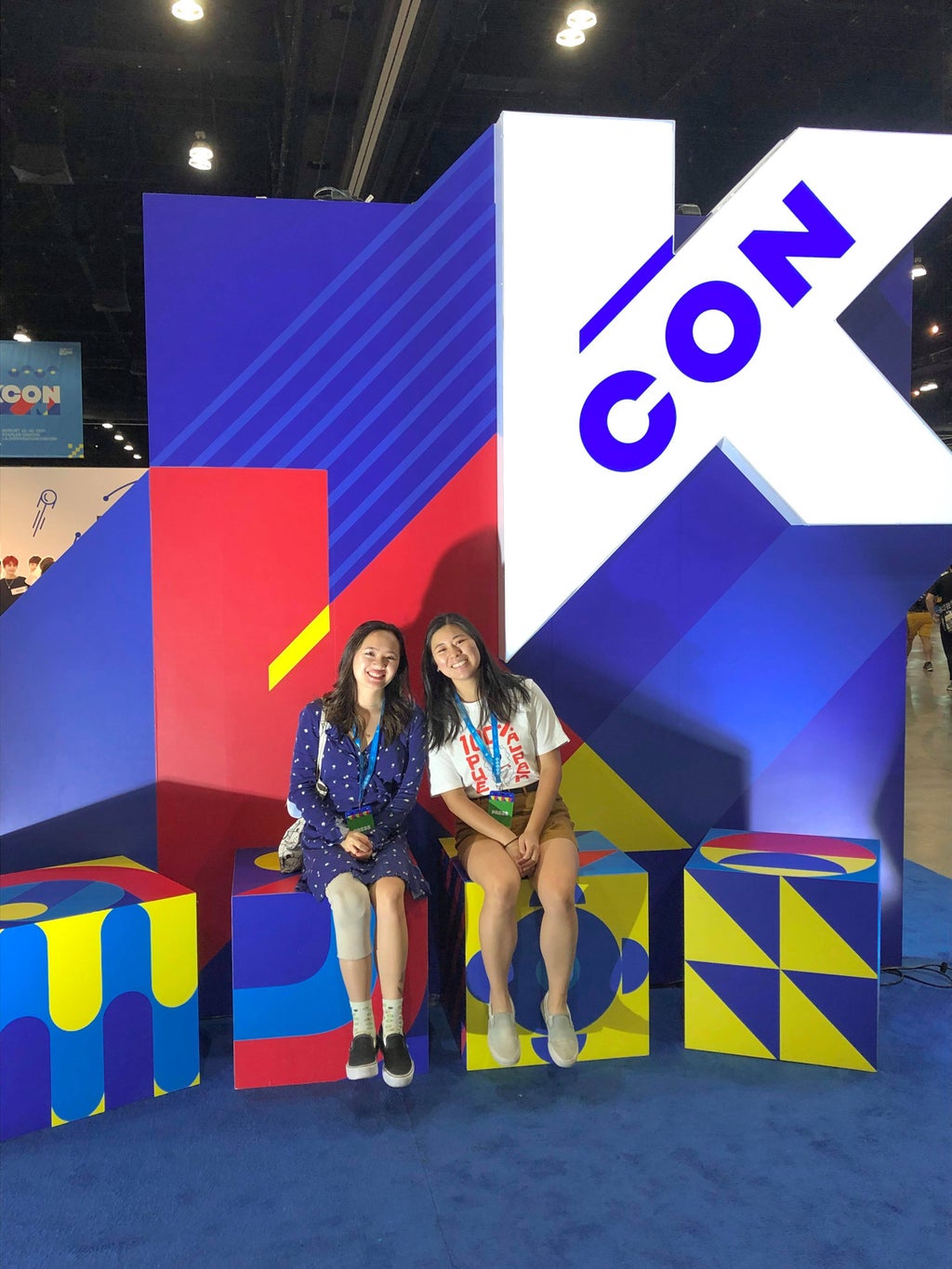 A haven for all K-pop fans, the convention had everything you needed to enjoy all things Korean, including music, food, dramas and beauty products. Whether you spent time with family, hung out with friends or flew solo, KCON L.A. expanded to take up a larger space and accommodate even more fans with this year, hosting over 100,000 guests.
At the convention, there was more than enough to keep guests busy. They could purchase beauty and skincare products at various booths for discounted prices. For many of the booths, all you had to do was follow the brand's account on Instagram or Facebook, then play a simple game of Spin the Wheel to earn a chance to win a free prize.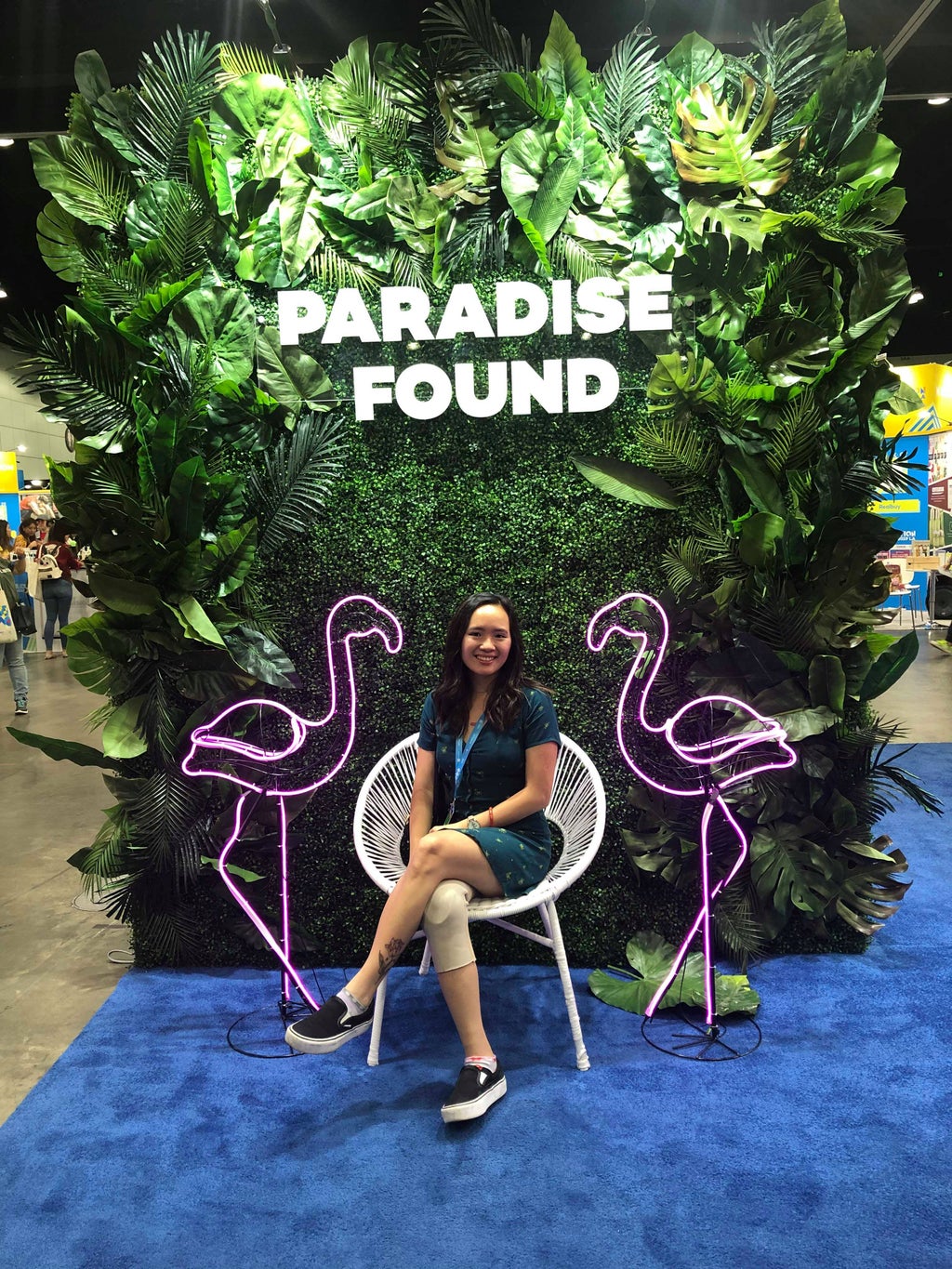 Throughout the convention hall were various opportunities for photo ops such as the adorable Paradise Found wall or the character wall by the Kakao Friends booth. Also notable were various seated areas near the McDonald's truck, the #KCONBeauty Station and the entrance. These were a welcome change to the venue, because in previous years, fans were left to walk or stay standing for the entire day.
In case anyone got hungry, other sponsors including Bibigo, McDonald's and Tous Les Jours served free samples such as French fries, ice cream, toast and dumplings. Melona especially boasted quite a line as they hosted giveaways of Melona-themed Fila shoes every hour, and their Spin the Wheel game gave fans chances to win different flavored popsicles, a tote bag, a popsicle-shaped sponge and more.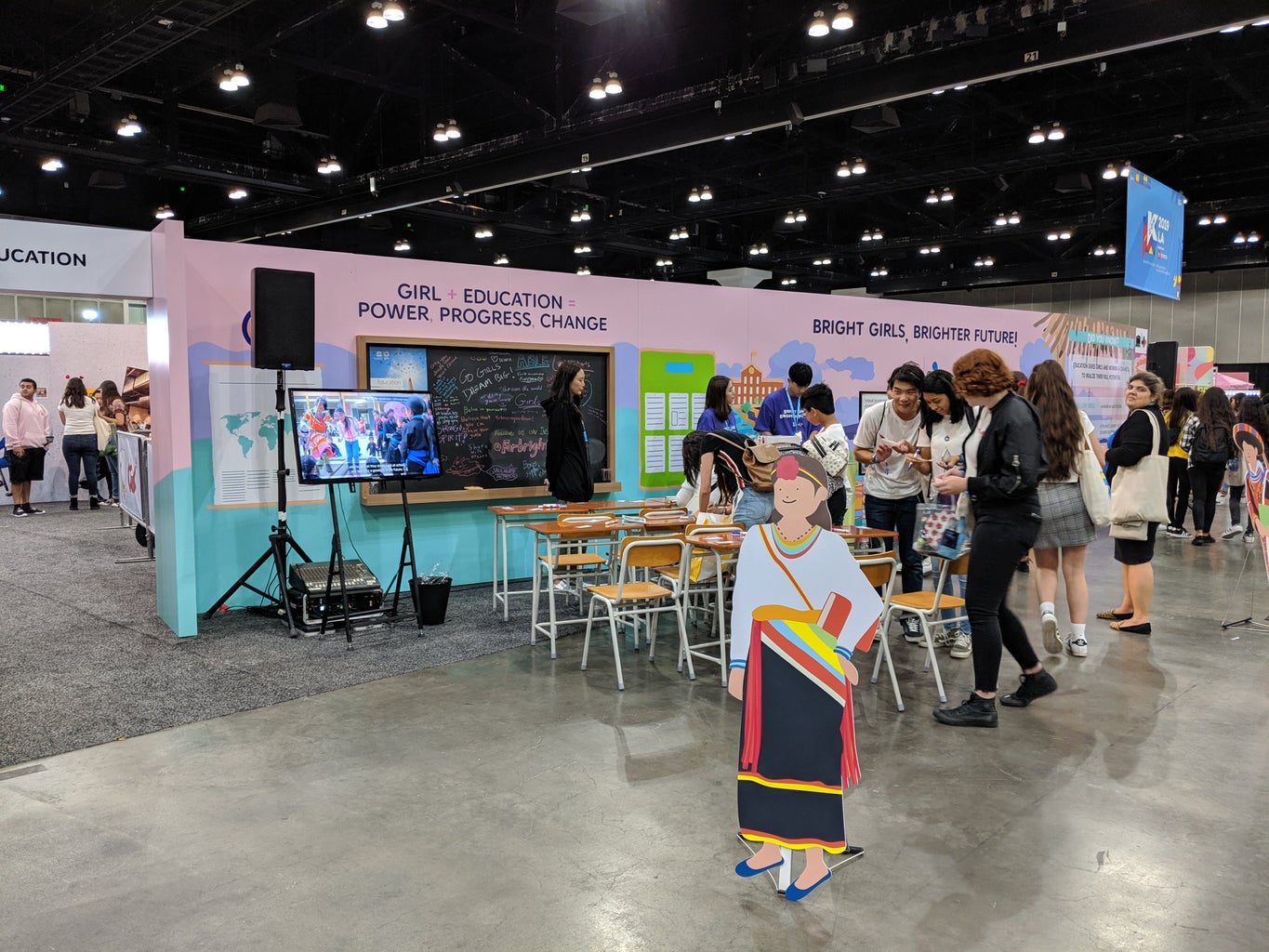 Our particular favorite booth was CJ Girls' Education, which spread awareness about the CJ Group and UNESCO global education campaign called "Bright Girls, Brighter Future!". The campaign works to support girls in developing countries in their pursuit of education by performing services such as providing updated textbooks, pencils and even schools. The booth itself had a wall where people could leave sticky notes of encouragement and in return fans could receive a sticker or pin.
Outside of the main room, fans could also attend various panels on Korean culture such as the History of K-pop, or meet and greet events with YouTube stars who have often built their YouTube careers around K-pop.
Most exciting and highly anticipated of them all: Artist Engagement. In their KCON ticket packages, fans received random cards that admitted them to the Artist Engagement sessions. Whether you received a ticket to a group you're a fan of or not was left to chance. At these sessions, fans listened to their faves answer questions and play games. A lucky number of guests also had a chance to receive Hi-Touch passes, which allowed them to high five all the members of the group during the Artist Engagement session.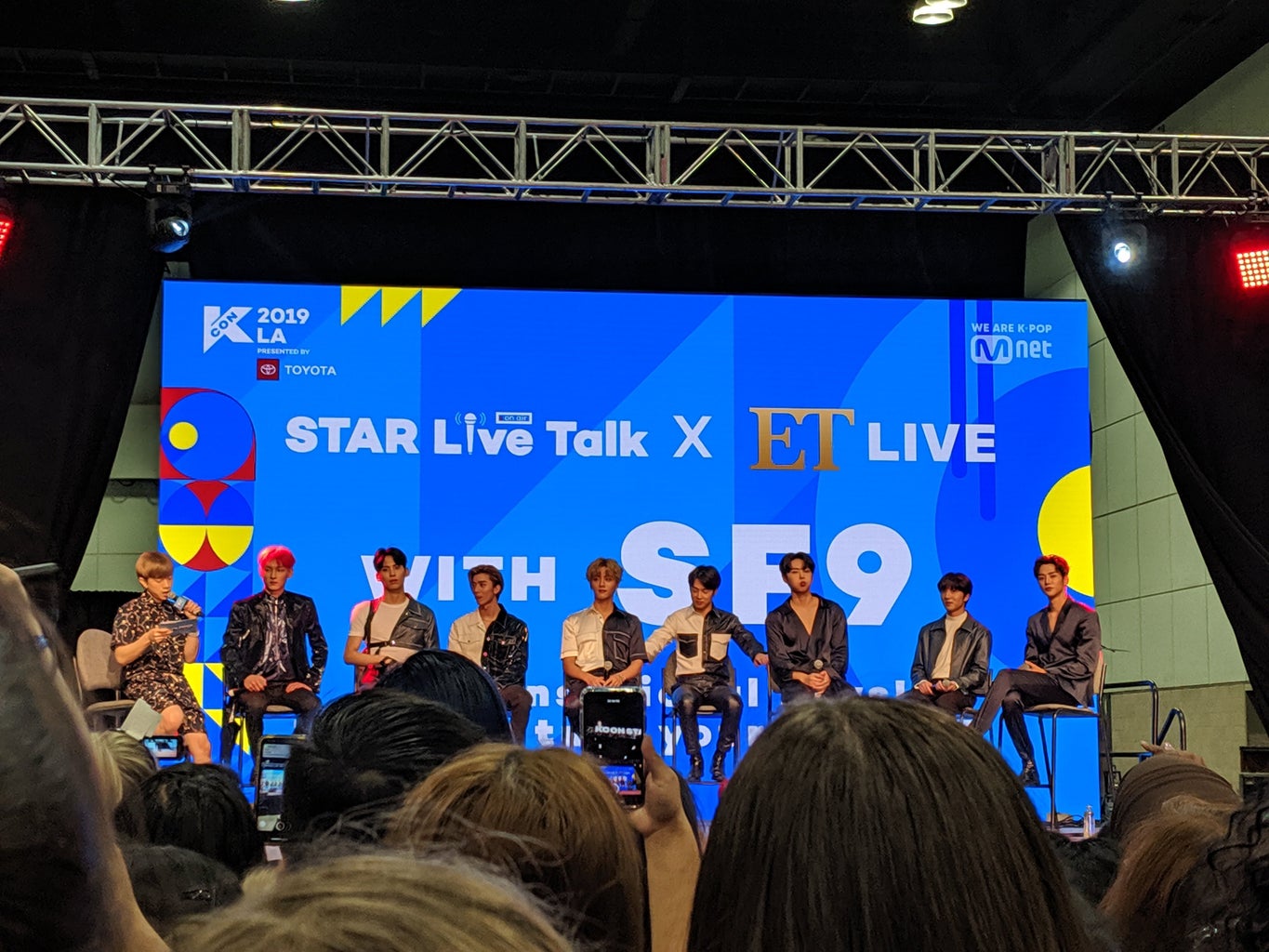 Even if you didn't receive an Artist Engagement pass, there were still opportunities to see your favorite groups up close at the convention. Girl groups like Loona and Momoland stopped by the KCON Beauty Station to talk makeup, and boy groups like AB6IX and N.Flying visited the #KCONFoodie Station to taste foods. The space that boasted the most fans was the KCON Stage where Danny Lim hosted the Star Live Talks with groups like SF9, and where Stray Kids answered questions and showcased their new songs.
When snacks weren't enough to hold you over, KCON L.A. also hosted a street of Asian food trucks serving foods like boba, grilled squid and spam musubi just a few streets down from the L.A. Convention Center. It was a great place to grab lunch or dinner, especially since many fans go from the convention straight to the concert.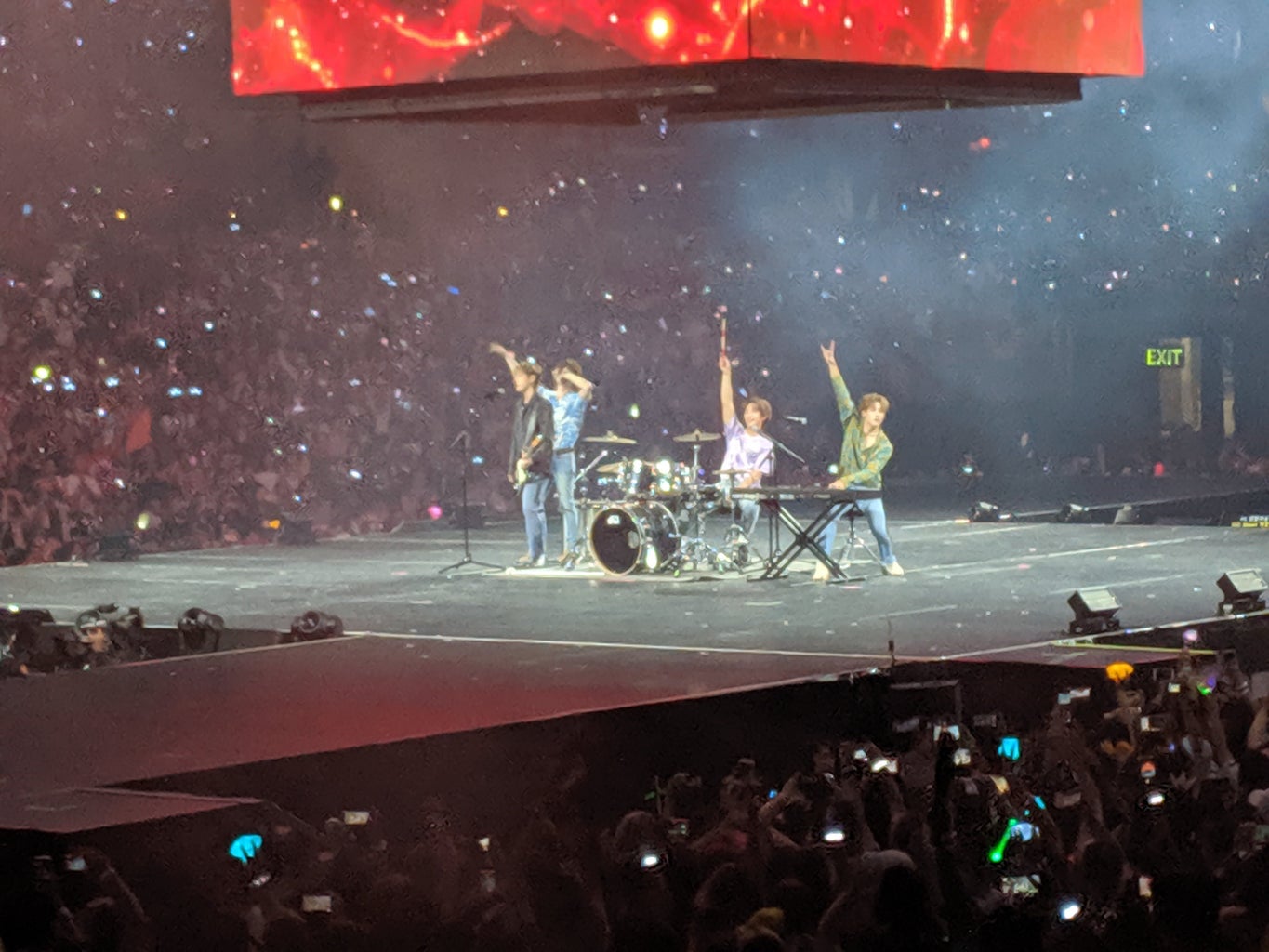 The Hallyu convention is always followed by concerts (arguably the most anticipated part of KCON), this time on Saturday and Sunday at the STAPLES Center. KCON L.A. has always been a great place for fans to finally see their faves live but also to discover new rookies who are just coming onto the scene. Stand-out rookies like ATEEZ, N.Flying and ITZY dazzled fans while seasoned experts like Mamamoo, NU'EST and Seventeen gave impressive, skilled performances.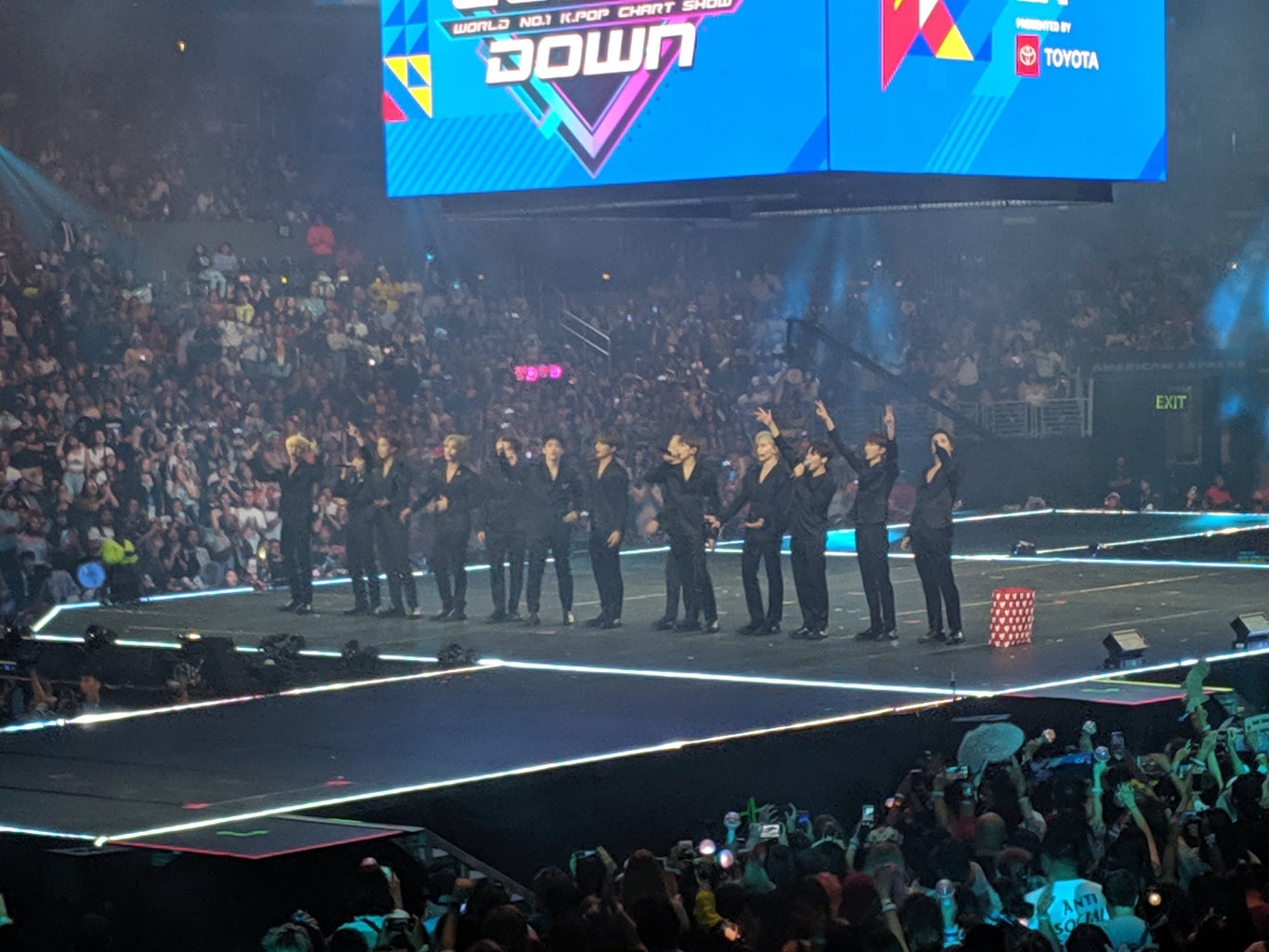 The 2019 KCON L.A. was an awesome way to spend a weekend with other members of the fandom. It's a great place to meet new friends who share your love for your favorite groups or just to be in the company of others who also like K-pop and Korean culture. With more sponsors, more K-pop groups and more attendees, KCON L.A. was a sight to behold and we can't wait for it to come again next year!