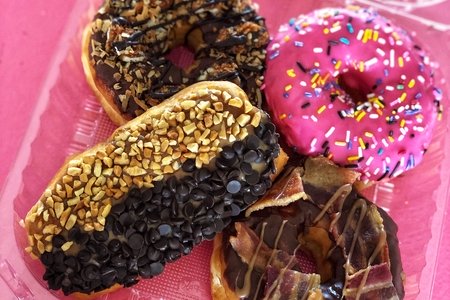 The Best Food From Coachella 2019
When you think of Coachella, you probably think about the fashion, music and art. While those three aspects of the festival are amazing, what we really need to talk about post-festival is the food. The restaurants selected to attend Coachella served up incredible flavor, and their food is worth celebrating. Honestly, the food lineup this year was just as impressive as the musical lineup! With options ranging from burgers to burritos to boba and more, festival-goers were in for a real treat.
Poke is one of the most refreshing foods you can possibly eat, especially when you're in the desert. Sweetfin offered up a few different signature bowl selections at Coachella, so we ordered the Spicy Tuna and Yuzu Salmon. The warm bamboo rice paired perfectly with the fresh fish, flavorful togarashi and yuzo kosho sauces, and creamy avocado, making it a delightfully healthy option amongst the other food options. With multiple locations in L.A., including Westwood, this poke is a local delicacy that you should definitely try as the weather starts heating up!

You've heard of orange chicken and you've heard of burritos, but have you heard of an orange chicken burrito? Well, Fat Dragon will make your dreams come true with their orange chicken burrito stuffed with your choice of veggie chow mein or fried rice. The burrito version of this classic Chinese food dish was surprisingly good wrapped in a tortilla, and it was very filling! Another great perk was that the burrito was portable so we could eat it on-the-go. The veggie egg rolls and chow mein were very light and fresh. The only issue with the egg rolls was that there weren't enough! They were so good and perfectly made.

All pizza lovers know that a perfect pizza consists of amazing cheese, sauce, and crust. 800 Degrees delivers all that, plus more. The mozzarella was incredibly fresh and melted perfectly. As for the sauce, it was slightly sweet and evenly distributed across the dough. But can we talk about the crust? 800 Degrees prides itself on cooking with wood fire and you can really tell when you eat this pizza. The crust is thin, crunchy around the edges, and perfectly chewy in the middle. There was a generous amount of pepperoni on the pizza and the addition of fresh basil was the perfect touch. The classic margherita pizza was equally delicious with its fresh mozzarella, basil, and drizzle of olive oil. These pizzas were the perfect addition to the music at the festival, and it made for an amazing late night meal as we danced along to our favorite songs.  

Milk Box made an appearance at Coachella all the way from O.C. with their wide range of milk teas, including thai, milk and matcha. They even offered oat milk as a substitute for regular milk! We tried the iced mango matcha and matcha boba with oat milk to hydrate ourselves in the scorching desert sun. The mango matcha drink had the perfect amount of mango and matcha, and the two flavors balanced each other flawlessly. The matcha with oat milk had a soft, subtle and lightly sweetened matcha flavor that was complemented beautifully by the oat milk. As for the boba, it had a delicious taste with a soft and chewy texture. The ratio of milk tea to boba was perfect - there weren't a lot of boba left to slurp up at the bottom once all the tea was gone.

Located in the Indio Central Market, LAMILL Coffee offered multiple drinks "on tap" including iced matcha lattes and iced chai with oat milk or iced lattes with almond milk, along with a variety of hot drinks and food. We were really excited to see that they sold drinks with oat and almond milk! Craving some caffeine as a midday pick-me-up to prep us for the evening concerts, we grabbed the iced latte and iced chai to-go. The iced latte was an amazing blend of robust espresso with a light and nutty almond milk. The iced chai was light and not as sweet as some chai teas we've had in the past, making it the perfect addition to our happy stomachs after a filling lunch. Even though it felt lighter, the flavor of the spice was still prominent and definitely gave us the afternoon boost we needed.

D.R.E.A.M. Donut Truck serves up the best donuts in L.A. They're fresh, pillowy, and SO yummy. When we stopped by, they were serving up sixteen unique types of donuts, ranging from Horchata to Reese's. At a loss for words, we selected the Snickers Bar, Samoa Girl Scout, D'oh, and Chocolate Maple Bacon. The Snickers Bar had crunchy peanuts and chocolate chips on top of a chocolate glaze, but the best surprise was biting into it and realizing that there was an entire snickers bar stuffed inside. If you love chocolate, this donut is for you!

Next up was the Samoa Girl Scout, a donut that any Girl Scout Cookie enthusiast would love. The donut (which looked like a giant version of a Samoas cookie) was topped with chocolate glaze, coconut flakes and chopped Samoas cookies. It was not overly sweet, and every bite into that donut kept us wishing that the coconut flavor would never disappear.

Inspired by the Simpsons, the D'oh donut had a strawberry flavored glaze topped with rainbow sprinkles. Not only was this donut picture-perfect, but it also had a really wonderful and light strawberry flavor that stood out from the other donuts.

Finally, we tasted the Chocolate Maple Bacon donut and honestly, we don't think we'll ever be the same. The raised donut had a chocolate glaze, a maple drizzle, and is topped with bacon. The maple paired really well with the salty bacon (hello breakfast!) and the chocolate glaze is not overpowering. This perfect blend of salty and sweet is a match made in heaven. So yes, bacon belongs on donuts.
When you come to Coachella, be sure to arrive hungry. The festival boasts an incredible food lineup - the best of the best from all over Southern California and beyond - for festival-goers with all types of dietary needs. Who knows, you might leave the desert with a list of new favorite artists and restaurants!