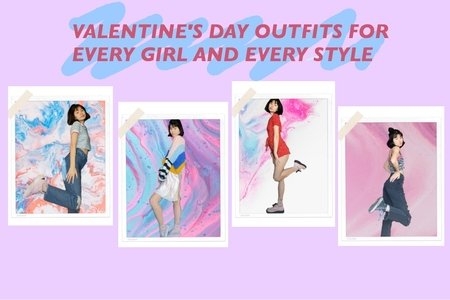 4 Valentine's Day Outfits For Every Girl & Every Style
Even if you think Valentine's Day is a holiday invented for companies to sell pink teddy bears or for couples to act disgustingly cheesy in public, there is no denying that it is coming up soon and that there is nothing any of us can do about it. So you might as well take the excuse to put together a cute outfit. Whether you are celebrating with a partner, your friends or not at all, here are four outfit ideas for every girl out there, no matter what your personal style is:
This outfit is for those of you that are on the fun and flirty side. Polka dots are a really underrated pattern, and this red polka dot romper is one of my favorite pieces I own. I wore a white mock-neck crop top underneath to add an extra layer, and paired it with my thrifted pink creepers.

This look is for those of you who may not always want to look too feminine, and sometimes prefer to go for a slightly more boyish look. This outfit features baggy ripped blue jeans and a cropped polo. To finish off the look, I put on pink dad shoes that match perfectly with the pink in my shirt!

Admittedly, this outfit is a little out of my comfort zone. This outfit is consists of a pink slip skirt that I have had for a few months, but never managed to wear. I decided to mix textures and put a chunky knit sweater on top of my silky skirt. To keep it casual, I just wore my lilac slip-on Vans.

For something in between cute and tomboy, I put on some baggy ripped black jeans and a glittery, striped, zebra-printed tank top with hot pink trim. This combo of tacky and edgy is one of my favorite looks. 
Experimenting with different fashion styles is a great way to step out of your comfort zone and feel more confident. Hopefully, you can take inspiration from some of these outfits for whatever your Valentine's Day plans are!