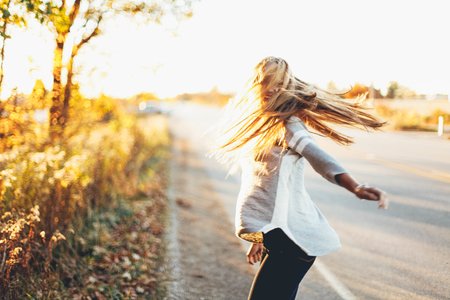 Your Guide To the Best Trends of Fall 2020
I'm going to make a controversial statement...fall is hands down my favorite season. Period. What other time of the year gives you the opportunity to indulge in delicious Halloween candy or a luxurious turkey time feast? Food-related bias aside, the feeling of new beginnings that comes with the taste of crisp fall air shouldn't be limited to a new semester at school. There's no better time to (pumpkin) spice up your wardrobe and create the ultimate cool-girl autumn fashion persona of your dreams. So, with my favorite fall candle lit and Taylor Swift's folklore playing in the background, I curated a comprehensive list of the hottest fashion trends of Fall 2020. This is everything you need to know so you can stunt on your entire hometown this Thanksgiving break. 
If you haven't been introduced to the new hair icon, let me be the one to do so. This is the always chic, city girl influencer Matilda Djerf, and her voluminous layered hair. This has been the newest trend to break the internet. What makes her look so unique are those gorgeous face-framing curtain bangs. If you want to add some amazing texture to your hair and symmetry to your face, book your next hair appointment and ask for this look! 

Recently, we've been seeing a lot of old trends from past decades making a major comeback, and this trend is no exception. These dainty button-up cardigans from the '50s are such a staple for any fall outfit this year because they're so versatile. I love this mint green monochrome look with a casual pair of jeans! You can also easily transition your favorite summer dress into the fall by layering it with one of these cardigans. Before you buy one brand new, check your local thrift store, because many of them have beautiful vintage styles and we love to support ethical fashion!

3.

Crewneck/Collared Shirt Combo

It's unreal how one simple layering technique can transform a basic crew neck into a fashion blogger's dream. I love this look because it's comfortable and incredibly stylish. Pair it with biker shorts for a more athleisure vibe, or wear it with a tennis skirt (one of the summer's hottest trends!) to dress up your outfit. Next time you're in a rush for class, take an extra second to grab a white collared shirt for a serious ensemble upgrade!

Everyone needs a pair of trusty boots in their wardrobe arsenal! This season, the Chelsea boot is making major waves for its ability to add an edgy vibe to any outfit. Pair it with an oversized flannel, or create a more polished vibe with your go-to mom jeans and a luxe sweater. Regardless of your aesthetic, these boots are the perfect finishing touch to any look.

Funky patterns have been gracing my Instagram for quite some time now, but nothing screams fall as much as plaid does. Whether you choose a straight-leg, bootcut, or skinny style, a pair of plaid pants are bound to make a fashion statement. They come in plenty of fun colors, but I particularly love the accent of orange in this pair because it perfectly matches with the autumn aesthetic. This trend would definitely be Cher Horowitz approved, so make sure to try it out!
Even though this fall will definitely be different, that doesn't mean you have to sacrifice trying out something new that makes you happy. Whether you decide to test out one of these trends (or all five!), the most important way to wear them is with confidence. So, grab that mask and strut like the boss babe you are! Remember to stay safe and stylish.