I Tried Hot Chocolate From Around the Globe
Drinking hot chocolate has always been a tradition for me. Every Sunday at church growing up, I'd take hot water from an urn and mix it with a cheap packet of powder and marshmallows to create my signature beverage. Sometimes with friends, I'd mix the powder with chocolate syrup to create a sugary concoction we called "cake batter," due to the similar consistencies. It was never much, but to me it was delicious.
As I grew, I saw more sophisticated ways to make hot chocolate, but never thought to try them out. I was content with what I had. But as I scrolled through holiday recipes on Pinterest, I was continuously met with creative variations on the classic beverage to the point where I couldn't take the curiosity. I had to try this "real" hot chocolate for myself. I finally decided I'd search the Internet for hot chocolate recipes from every corner of the globe and decide which one I liked best. With that, I give you the results of my research.
In the end, my favorite hot chocolate has to have been the Mexican recipe. The spices added an unforgettable flavor. However, each recipe truly had something unique to bring to the table. I may have to try a fusion recipe at some point and see what the flavors were combined. Until then, happy sipping.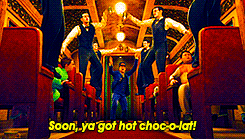 Images: 1, 2, others provided by the author