How to Treat Yourself on Valentine's Day
What does Valentines Day mean to you? Obviously, this special holiday revolves around love. This could mean loving your family, your friends (Galentine's!), that special someone or the most important person of all: yourself. You deserve to be treated like the queen you are on the day of love and who knows you better than yourself? So, let's all practice some self-love and explore ways to treat yourself on V-Day:
1. Take yourself out
We all have our favorite meals and treats that we constantly crave. Maybe it's those Chick-fil-A nuggets or a glazed sweet from Dunkin' Donuts. Do yourself a favor and indulge on Valentine's Day! Buy yourself that iced coffee or yummy pizza and LOVE every second of eating your favorite foods.
2. Have a spa day and relax
A great way to love yourself is by taking the day to just relax and let the stress of college go. Plan a spa day by yourself or with friends, and get that massage you've always wanted! Or have your Galentines over for the night and buy some cheap face masks, do mani-pedis and wear your best spa look (robes and slippers). And you can't forget some cucumbers for your eyes so you guys can laugh while simultaneously snacking!
3. Go on a shopping spree
What better way to treat yourself than buying some of your favorite things? Stop at your favorite body care store and splurge on lotions, perfumes and candles. Or get yourself the cutest clothes from your favorite stores and don't forget to accessorize! Look good feel good, right?
4. Have a Galentine's Day celebration
A great way to spread the love on V-Day is by gettin' your single ladies together and havin' some fun! Go to brunch with your best girl friends or watch the iconic episode of "Parks and Rec" where it all famously started. Whatever you decide to do, there's no better way to spend your time than laughing with people you love.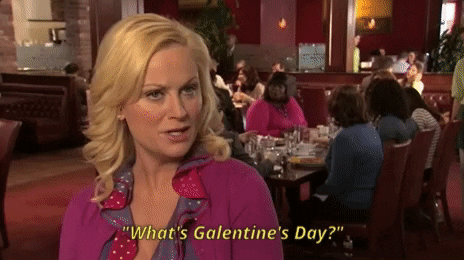 5. Take a new gym class
Treat yourself by getting fit! Sign up for a gym class you've never done before or one that you love! You can do yoga, cycling, pilates, Zumba, kickboxing or even a trampoline class (UCF RWC offers all of these!). You'll leave the gym feeling happy and looking good!
6. Get a makeover
Do something spontaneous like getting your hair or makeup done! Have you always wanted to dye your hair a different color or get highlights? Go do it! Or stop at a makeup store and ask for a cosmetologist to do your makeup. Some highlight and contour will be sure to leave you lovin' yourself.
7. Have a movie marathon with your celebrity crush
Last but NOT least, watch some movies with your favorite leading role. We all have a celebrity crush and there's no better day to watch them on the screen than Valentine's Day. Hopefull,y they're in some good Rom-Coms to go with the theme of V-Day and maybe they'll take their shirt off! A perfect end to your day.
Valentine's Day is not only a day to share love with friends and family, but to love and treat yourself! Promise yourself to do something special for you on V-Day, because you deserve a day of pampering and romance. As Ru Paul declares, "If you can't love yourself, how in the hell you gonna love somebody else?" Happy Valentine's Day everyone, xoxo!