HC UCF Hosts the First-Ever Her Week 2019
While Her Campus at UCF has hosted a lot of large scale events such as Hang Out with Her Campus, last week's events were a new achievement for us. It was our very first Her Week ever, and let's just say it was a complete success! Her Week was a week full of fun, empowering events that are meant to celebrate both Her Campus and women everywhere. HC UCF was super excited to bring together such fun week of events to our campus. Here's the recap of our five-day, event-filled week:
Monday: Launch Event and Diet Coke Tour
To kick off the week, some of our writers tabled and advocated for Her Campus at UCF. One of the best parts of HC UCF is that everyone is invited to write with the best girl gang on campus! I can't think of a better way to let people know about us. Plus, we're always doing giveaways whenever we table, and who doesn't love a giveaway?
Beyond that, thanks to the Her Campus collaboration with Diet Cake, the Diet Coke bus was on campus giving samples of all of their new flavors, including  Blueberry Acai, Strawberry Guava, Ginger Lime, Feisty Cherry, Twisted Mango and Zesty Blood Orange. Our writers even hosted a girl gang photo shoot and video featuring the eight new Diet Coke flavors. It was a great first day to Her Week!
Tuesday: Thrift & Swap
On day two of Her Week, Campus UCF threw a fabulous Thrift & Swap event. Tons of girls came in with their lightly used clothes to trade with other girls. The event was in a room where everyone put their clothes on a table from small to large—so basically it was like the round table of clothes recycling. I personally found a great new pair of jean shorts and a super cute yellow shirt while recycling some of my own clothes. Any clothes that didn't get claimed at the end of the night were donated to Knights Pantry so it was kind of like recycling inception. We love an organization that knows how to recycle fashion!
Wednesday: PJ & Movie Night Ft. Ocean's 8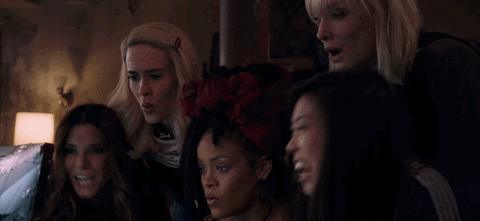 We threw a movie night in the Student Union featuring Ocean's 8, popcorn, Diet Coke and PJs. It was a great study break for all of those with exams that week! (All of those people being me.) The popcorn and new flavors Diet Coke went amazingly well with each other! My favorite moment of the movie was watching the girls at the end realize that Anne Hathaway's character was a part of the squad the entire time. Watching a girl gang pull off what is possibly the greatest heist with my favorite girl gang felt fitting.
Thursday: Partial Proceeds at Blaze
Now, who doesn't love pizza? HC UCF decided to host partial proceeds dinner at Blaze Pizza. It was delicious and helped raise money for our organization, which ultimately helps us throw these kinds of events for the whole campus. Everyone's support helps us throw more large-scale events and fund our writers to attend Her Conference, an amazing, female-empowered networking conference in New York City. Not to mention, it cost nothing extra for everyone who came!
Friday: Private 21+ Hang Out
The Her Campus at UCF team decided to do a cute and private 21+ hangout. Our 21+ writers got together to hang out and try mixing the new Diet Coke flavors. We got to listen to music and make fun drinks and see what works and what doesn't. Even better, we got to be with each other and have fun. It was a great, low-key way to wind down Her Week and get ready for the weekend.
As if Her Campus at UCF wasn't already amazing, Her Week is even more evidence of that. We can't wait to do this again next year and make even bigger and better! Go HC UCF!
Images: 1, 3, 5, all other photos are courtesy of Her Campus UCF members