The Difficulties of Growing Up Asian American
Growing up Filipino-American, I found that the hyphen between my ethnicities not only just separated them grammatically but physically as well. Not being able to consistently place myself into a category added a lot of strain on my mental stability; I felt as if I wasn't good enough for either group. While I became accustomed to this at quite a young age, my Filipino relatives would point out my more "western" features to my parents, like my double-eyelids and my inability to speak our native language. My Irish relatives, on the other hand, would comment on my muddled brown hair and dark eyes. The constant berating of comments from family and friends made me hate both sides of myself, constantly choosing to ignore parts of myself completely.
As I grew older, I realized I had to choose between my cultural identity or assimilate to American culture in order to seem "cool" in front of my classmates. Growing up in an Asian American household, I thought little to nothing of my daily routine, the foods I ate and the culture that resided in my home. It wasn't until second grade that I realized I didn't live the typical "All-American" lifestyle. Students looked at me in disgust as I pulled out squid ink noodles and mung bean rice— because of it, I soon found myself turning away from my culture. Throughout middle school, I ate cafeteria lunches, listened to popular American music and participated in sports like lacrosse and cheerleading. At the end of the day, I was a completely different person at school than at home, because of my inability to accept myself.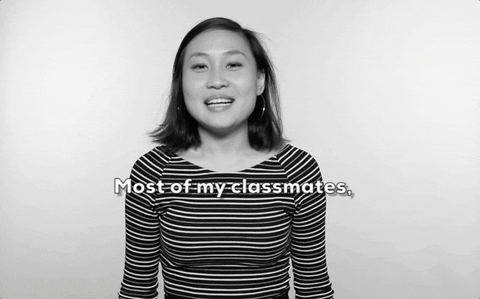 After graduating from middle school and working hard throughout high school, I found the strength I needed to be more accepting of my culture. High school provided me with numerous new friends, spanning multiple ethnicities. However, I found myself struggling to relate to my Asian friends—not only did I not look "Asian enough," but I found that I couldn't relate to the experiences they've had because I pushed that part of myself away years ago.
Even joining clubs was uncomfortable. The moment I stepped into the Filipino Student Association on my first day of classes, I felt like I was out of place. After I found a place to sit, an officer walked up to me and asked, "Oh, why are you here? Are you interested in Filipino culture?" I looked back at him in confusion. I was Filipino, did he assume I was lost? "No, I'm half-Filipino," I responded and he seemed surprised. Students started speaking to each other in Tagalog, but I had never had the time to learn when I was younger. I felt secluded and after that meeting, I never went back. Even if I wanted to enjoy my culture, I realized an unfortunate fact: I was too Asian to be American and too American to be Asian.
However, now that I'm in college, I've dropped the negative ideas of my culture. I've worked even harder to educate myself on my Filipino heritage, even to the point of learning Tagalog. I'm proud of who I am. Although I don't look like a typical Filipina, I'm still open about talking about my culture and showing other people that Asians can come with different traits. A word of advice to any other mixed kids who feel left out in their own culture—own who you are and love yourself, regardless of others' opinions.