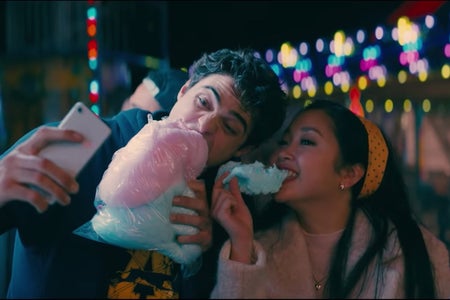 5 Reasons to Fall in Love With 'To All The Boys I've Loved Before'
Picture this: you're curled up in bed with a cozy blanket and a desire to feel all of the most heartwarming feels. You log into your Netflix account and you're just about to binge-watch Friends for the fifth time when you see a new suggestion on your home screen: To All The Boys I've Loved Before. Trust me, you should immediately click the play button and forget all of your binge-watching plans for the rest of the night because you've just come across what might be the most heartwarming teen romantic comedy since Love, Simon! All it takes is one viewing and you'll be head over heels for Lara Jean Covey and Peter Kavinsky. Don't believe me? Let's go over a few of the reasons to fall in love with To All The Boys I've Loved Before.
The entire cast of To All The Boys I've Loved Before is phenomenal. Seriously, all of them! Lana Condor is perfectly endearing as Lara Jean Covey, the most relatable teen girl I've seen on the screen in a hot minute. Noah Centineo basically walked out of The Fosters and directly into my heart as Peter Kavinksy, one of the recipients of Lara Jean's love letters and her fake(ish) boyfriend. Seriously, their chemistry together is cute enough to make you literally groan into your pillow. And don't even get me started on Anna Cathcart as Kitty Covey, Lara Jean's feisty little sister! Her one-liners are the source of some of the movie's funniest moments.

2.

The Realistic Portrayal of High School

Okay, kinda realistic. To All The Boys I've Loved Before does have a few unbelievable elements, like how Lara Jean and Peter's entire high school goes on a ski trip to a fancy lodge seemingly for free. However, the movie does a great job of accurately portraying the intricacies of teen communication. When Lara Jean is tagged in an Instagram picture, she takes the time to like it and respond in a realistic way and without the use of the "cool teen lingo" that sometimes pops up in teen movies. Lara Jean also has to deal with a video of herself that was posted on Instagram without her permission, but the situation is never blown out of proportion or played for laughs. She simply handles the problem in a realistic way, and it's honestly refreshing to watch.

3.

The Beautiful Cinematography

Seriously, this movie is so pretty. Lara Jean's personal style is everything, and if I could just buy her entire wardrobe I probably would. The movie takes place in a Portland suburb, and even though I've never been to Oregon at all, the setting still felt familiar and almost comforting. From the color coordination of Lara Jean's outfit and her favorite cafe to the beautiful shots of the mountains where her high school skiing trip takes place, there isn't a wasted visual in this entire movie

I'm a sucker for movies with good soundtracks, which is probably why I have such a huge soft spot for 80s movies. Honestly, I could probably write an entire article about how much I love the Dirty Dancing soundtrack. Luckily for me, To All The Boys I've Loved Before has an amazing soundtrack of its own! I'll spare you the entire tracklist, but some of my favorites are "I Like Me Better" by Lauv, "Human Right" by The Strike, and (obviously) "Everybody Wants To Rule The World" by Tears For Fears. Netflix made an official playlist with the whole soundtrack, so be sure to check it out!

5.

The Realistic Family Relationships

Lara Jean's bond with her sisters, Kitty and Margot, as well as her widowed father is both refreshing and realistic. They're super close with each other, but they still have disagreements and misunderstandings. And when they do, they handle them in a very normal way for siblings. For example, when Lara Jean finds out that Kitty went behind her back, she goes from wanting to kill her to forgiving her within a few minutes -- as long as Kitty agrees to braid her hair for a year, that is. Similarly, the film handles grief in an honest way. Lara Jean's mother passed away several years before the movie, and although it's a tough topic for her, she ends up bonding with Peter (whose father left a few years prior) over the topic. This scene, along with one where Lara Jean talks to her dad about how much they miss her mom, is one of the most heartwarming in the movie.
Are you totally in love with To All The Boys I've Loved Before yet? Of course you are! So quit reading this article and go watch it, whether it's your first time or your third time. (If you're like me, it'll probably be four times after tonight!)