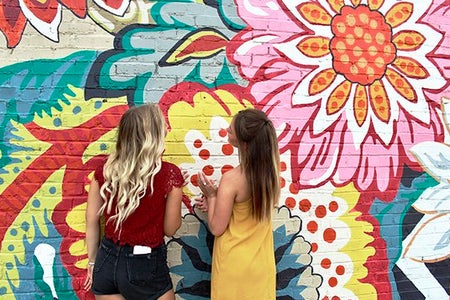 Maria Scheller / Her Campus
3 Steps to Celebrate the Arts at UCF
Every April, UCF takes over Dr. Phillips Center for the Performing Arts for two weeks for the annual UCF Celebrates the Arts festival. From music concerts to theatre performances to art exhibits, there's something for everyone. Not only is this a great opportunity to grab your girl group or SO and experience some cool and inexpensive (or even free) events, it's also the perfect chance to dress up, spend a day downtown and take some great Insta pics. So, listen up, because April is approaching, and I'm about to tell you how to make the most of the upcoming CTA season.
There are multiple days of events, so it's best to plan ahead. What events do you want to catch? Maybe "A Knight of Dance" or the "Women in Art" panel discussion. Have you ever been to an opera? Why not go now? You can find all the events at here, so browse and find the ones you're interested in.

Tickets are required for most events, even for free ones. Grab yours before they run out! Tickets go on sale on March 2 and the last day to use your UCF I.D. for discounts is April 6 at 5 p.m. In order to use your I.D. for discounts, you have to call 407-823-1500 or visit the Box Office in the Music building, Monday through Friday from 12 p.m. to 5 p.m. or right before a ticketed event. Print yours at home, bring them to the event and you're good!

3.

Make the most of your UCF Celebrates the Arts experience

Carpool, bring a friend and get as fancy as you please. Dr. Phillips is a beautiful location and there will be art exhibits around the lobby that are perfect photo opportunities. You can use the #ArtsAtUCF tag to share your pics on social media. So, live your sophisticated adult fantasy!
UCF Celebrates the Arts comes only once a year, so plan ahead and take advantage of one of UCF's most exciting events. Whether you're interested in art, animation, writing, dance, music or theatre there's something for you. It's also a great way to support your fellow Knights while getting out and having a good time. If transportation's an issue, there's a shuttle to UCF's downtown campus that runs Mondays through Thursdays.
The semester isn't over quite yet, but it's never too early to celebrate!