3 Mesmerizing David Bowie Makeup Looks From the 70s
From Ziggy Stardust to Aladdin Sane, David Bowie was essentially a shapeshifter, transforming his personal and musical style with each passing decade. Bowie was a feisty rule-breaker that used his art to influence and inspire society. He spent his time incessantly recreating himself, developing new alter egos, new looks and new music. With each new persona, Bowie pushed boundaries, never failing to enthrall and mesmerize his fans. 
For many people in the 70s, looking at Bowie was the first time they realized makeup could be magical; that makeup was more than just something to cover up with, but it was something to create with. Bowie taught people that they could transform into anyone they wanted to be, that makeup was an art form that could be used to create a whole new persona.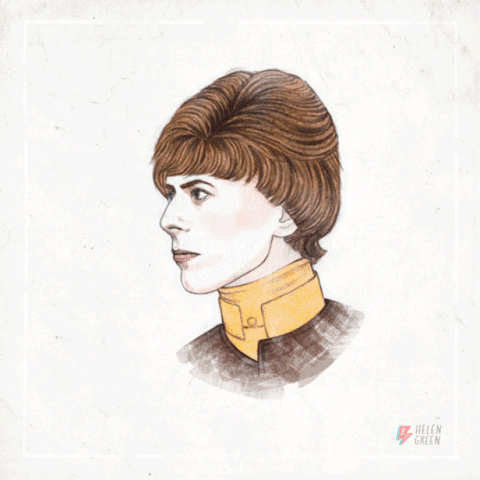 Across the decades, Bowie never failed to surprise his fans with a new alter ego. When recreating himself, Bowie didn't only think outside of the box. He said f**k the box and threw the whole thing away. In an interview with Rolling Stone, Bowie said: "I want to tart rock up. I don't want to climb out of my fantasies in order to go up on stage — I want to take them on stage with me."
The song "Life On Mars?" was released as a part of Bowie's fourth studio album Hunky Dory in 1971. The music video for this song became iconic because it's one of the first times Bowie displayed his soon-to-be-famous crazy makeup looks. At the time of the video's release, no one was wearing makeup the way Bowie was — especially not other men. 

Bowie wearing makeup and gender-nonconforming clothes shook up a conversation about sexuality and androgyny in pop culture. His makeup for the video consisted of bright blue eyeshadow circled around his lids, thick black eyeliner and pink lipstick. He rocked his signature red mullet and sang about a girl daydreaming about the excitement of being on a different planet. 

In an attempt to distance himself from his last studio album, Bowie created his iconic Ziggy Stardust persona. With the release of The Rise and Fall of Ziggy Stardust and the Spiders from Mars in 1972, an extraterrestrial version of Bowie was born. Ziggy helped bring Bowie's out of this world imagination to life in his music, fashion and makeup. 

For this iconic look, Bowie accompanied his shaved off eyebrows with a large gold metallic circle painted in the center of his forehead. He painted his lids in matching gold eyeshadow and wore bright red lipstick. At the time of the album's release, Bowie's makeup was innovative and shocking to fans. 

Bowie was so deeply committed to his personas that he famously killed off Ziggy Stardust on stage at a London show three months after the announcement of his upcoming studio album.

In 1973, one year after the debut of Ziggy Stardust, Bowie released his sixth studio album, Aladdin Sane. Bowie was always itching to move on to a new era in his looks and his shift to Aladdin Sane brought him his arguably most famous persona. In fact, when most people think of Bowie, they picture a pale man with a flamboyant red mullet and a red and blue lightning bolt painted across his face. 

Sane was Ziggy's arguably more vulgar brother. Bowie killed off Ziggy and brought Sane to light as a way to further push boundaries in society. Bowie wrote the album while on tour in America. His time in the states inspired him to develop a cruder and darker persona. With the new and darker era of Bowie came the need for a strikingly bold new look, which is where the striking lightning bolt came from.
Needless to say, David Bowie is a pop culture icon in his own right. He has inspired passion, creativity and individuality across more generations than I can count. His influence on fashion, music, makeup and gender fluidity is indisputable. To put it into perspective, I was born 30 years after the release of his first studio album and I still find inspiration in his art.