Dorothy Dandridge: Success in Times of Adversity
As we move out of Black History Month and into Womxn's History Month, actress and vocal performer Dorothy Dandridge is the perfect person to discuss for this transition (even though we really should be celebrating both groups every day!). Before Halle Berry's historic 2002 Oscars win for Best Actress, there was Dorothy Dandridge in 1955, the first African American woman nominated for Best Actress that year for her role in Carmen. Alongside this milestone, she also helped pioneer change in tabloid journalism.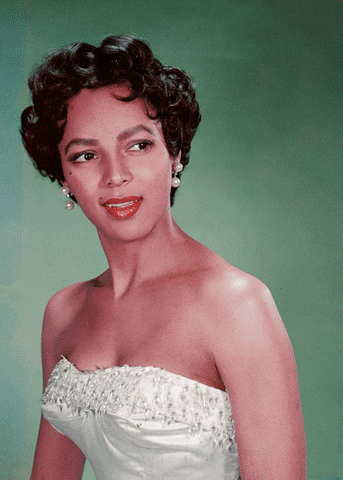 Similar to many classic Hollywood film stars during her time, Dorothy experienced hardships early on. She grew up during the Great Depression with a sub-par childhood filled with stress over cultivating her acting and singing skills through force. She then struggled through the process of "making it" in Hollywood during the 1940s. On top of all of that, and what essentially sets her apart from other classic Hollywood womxn of her time, she was black. Her world looked down upon her simply for her skin color, only offering roles in films that degraded African Americans. Dorothy was notorious for refusing to play slaves, savages, and "mamie" characters which were generally the only roles given to African Americans during the 1950s. She often struggled with the dilemma black actors and actresses faced in a segregated world: take roles that promote demeaning and stereotypical ideas of their culture but get paid and have at least some reputation on screen OR refuse those roles in order to lift up her culture but not get paid. So, she stuck with mostly performing in clubs all over the country, which made her a sexual icon and fast-tracked her lead role in MGM's Bright Road. This led to her 3-film studio contract with 20th Century Fox for Carmen Jones, and her eventual nomination for Academy Awards' Best Actress in 1955 against stiff competition like Judy Garland, Audrey Hepburn, and (winner) Grace Kelly. Her nomination alone was an inspiring success story for minority group members.

A scene from Carmen Jones, Dorothy Dandridge and Harry Belafonte.
However, with success and fame came people trying to tear her down. Countless rumors about her personal dating life were spread through celebrity tabloids, similar to what we're familiar with today, except nowadays most of us know to take most of the stories published with a grain of salt. The last straw for Dorothy was when Confidential, a famous scandal magazine of the '50s, published a story about her having sex with a white person in the woods. She testified against the magazine for libel, in a trial that changed the face of Confidential and stopped tabloid journalism for a while, until other scandal magazines came to claim the spot Confidential had.
Unfortunately, Dorothy's demons eventually caught up to her, and she tragically overdosed on her anti-depressants at the age of 42. Although her time in Hollywood was short-lived, she paved the way for today's African American actresses to succeed. Her story also brings to light the amount of prejudice there was, and still is, in this country. Dorothy Dandrige's biography adds on to the endless list of reasons we should learn from our past, instead of recreating it, in order to form an improved and inclusive future.