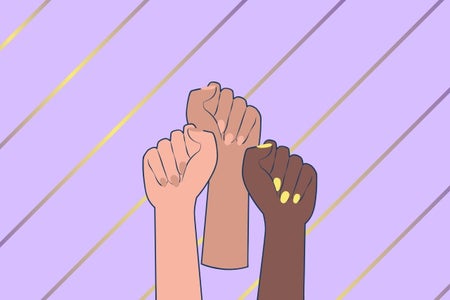 Original Illustration by Gina Escandon for Her Campus Media
Where to celebrate International Women's Day 2020 in London
This week is all about equality and female empowerment -Why not go to one of the many great Women's Day events and celebrate it with like-minded women?
Sunday marks the annual celebration of International Women's Day. This year, the day is held under the theme #EachIsEqual, spreading ideas and promoting ways to create a gender-equal world. All around London you can find various events full of inspiring talks and activities that all promote female empowerment.
Have a look at some of the great events you can go to and celebrate this important date with other women:
March 4th – Designing Differently
If you are creative and want to hear inspirational talks of women who showcase their creativity in alternative ways of being a designer this event is right for you. It takes place in Camden from 7 p.m. to 9 p.m.You cannot only listen to empowering presentations but also meet and talk to other like-minded women. Are you interested? Find more information here: https://www.eventbrite.co.uk/e/designing-differently-tickets-94412298727
March 5th – From Bias to Thriving: Women, Leadership and Better Wellbeing
This event is aimed at business leaders, entrepreneurs but also students. The goal of the event is to raise awareness of the high barriers for women in the workplace, especially when it comes to mental health. Here, you can listen to women telling their stories and network with people from all fields, who are interested in promoting equality for women in the workplace. Learn more here: https://www.eventbrite.com/e/celebrating-intl-womens-day-from-bias-to-thriving-women-leadership-and-better-wellbeing-tickets-65558937547
March 6th- 8th – Women in Focus Festival
This three-day-festival is all about female empowerment. It offers music, shows, film screenings and many different workshops you can try out. This year is held under the slogan "make space" and they partnered up with an array of local artists of all fields to give a stage to various unheard voices. This festival offers something for everyone. The best part – it is free to attend. Get more information on their official website and find out which of their offers is right for you: https://poplarunion.com/women-in-focus-festival-2020-schedule/ 
March 7th – Breaking the Glass Ceiling
For the fifth year the Breaking, the Glass Ceiling talks allow you to hear all about women who managed to break through the glass ceiling and overcoming adversity and difficult situations in their lives. They tell personal stories about their journeys and achievements and can offer you useful tips for your future career. Learn more about the inspirational and empowering talk here: https://www.eventbrite.co.uk/e/breaking-the-glass-ceiling-2020-tickets-93599242855
March 8th – CARE #March4Women
This famous event is for everyone who seeks equality. This year's event is held under the theme of environmental issues and celebrates women who are dedicated to battling the global environmental crisis. They are having both an indoor event and an outdoor march with fantastic speakers and guests. You can attend both or only one. Find out what is right for you. Tickets and registering is needed, so take a look at their website: https://www.careinternational.org.uk/march4women
For more events and further information on the International Women's Day, visit the official website https://www.internationalwomensday.com.