At one point or another I truly hope everyone experiences one of the simple pleasures in life: the beautiful moment where the show you decide to watch matches your mood perfectly. No matter how many shows you have told people you would "add to the list" over the years, it is a universal truth that there are certain circumstances in which you simply cannot bring yourself to dive into the unknown of a new show when you have that list of comfort shows just calling you toward the rewatch button. I hope to help remove any need for hesitation by providing you a list of five shows for five different moods to enjoy, whether for the first time or not, and to remind you that the perfect show for your current feelings is out there just waiting for you to hit play!
When You're in Need of Effortless Enjoyment: New Girl
I'm 100% late to the party here, but I'm currently in the process of watching New Girl for the first time and can honestly say it has quickly become one of my favorite shows ever. I have found that many of the more modern sitcoms just don't hit the mark the way they used to, but New Girl has done its part to restore my faith in humanity. Finding a show that actually makes me have to pause because of how much I'm laughing or want to replay a scene 1837473 times is so rare and, to me, really one of the best feelings. The show follows Jess, a bubbly and exuberant teacher, after she moves into a loft with three men (Nick, Schmidt and Winston) following a breakup. We have the privilege of watching these four, plus Jess' best friend Cece and occasional roommate Coach, as they navigate the everyday struggles of being in your 30s, give or take some incredible misadventures providing comedic relief like no other. Whether this will be your first or twelfth time rewatching, New Girl is sure to brighten up your day and make you wonder if maybe you should follow in Jess' footsteps and test your luck finding roommates on Craigslist. 
When You Need to Feel All the Emotions: Bridgerton
Dearest reader, if you are looking for a show that makes you say, "alright, this is the last episode for tonight" as you proceed to watch the entire season in one sitting, Bridgerton is for you. A period drama set in Regency London during the high-stakes courting season, the story centers around Daphne, the eldest daughter of the elite Bridgerton family, in her pursuit for a worthy husband; but whether this will mean love or status is for you to find out. With incredible costumes and beautiful sets; popular songs transformed into heavenly classical pieces; countless scandals, reported by the mysteriously all-knowing Lady Whistledown, you'll have a million theories for; the refreshing addition of feminist defiance to the norm by Eloise Bridgerton who you'll be wishing was your friend too; the classic brooding male lead you can't help but daydream about and the largest rollercoaster of emotions you could fathom; you are just one click away from the bingewatching session to start the year off right. I leave you with a parting warning that once you've seen Duke Simon once, you may never be quite the same again. 
When You Want to Feel Unstoppable: How to Get Away with Murder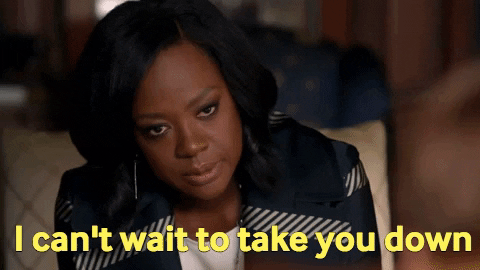 Do you consider yourself as someone with the ability to talk your way out of any situation imaginable? Well, you have not seen anything until you watch Annalise Keating absolutely own the courtroom in How to Get Away with Murder. A legal thriller following a group of law students and their iconic criminal defense professor Ms. Keating, HTGAWM is able to keep you on the edge of your seat questioning how things could possibly work in this group's favor as they become more entangled in a web of secrets and lies that could have them behind bars in an instant. Each season proved mastery in the art of inserting the viewer in medias res in order to gain broad awareness of the central crime to be focused on, paired with flashbacks illustrating the events leading up to the moment in which the puzzle pieces fall into place as the timelines meet. You will quickly find yourself playing the roles of both lawyer and detective as you consider means by which they could possibly walk free and attempt to predict the outcome until the very end, while many times still being left speechless by the unfathomable situations these characters find themselves in. After one episode I guarantee you will be part of the community of individuals who do not even hesitate to say they would choose Annalise Keating to defend them in court because, let's be honest, there could be undeniable video evidence and she would still have the power to frame the whole jury and make even the murderer believe in their innocence. 
When You're Looking for an Escape (plus a great soundtrack): Virgin River 
In one of those moods where the only solution seems to be picking up and starting over somewhere completely new, but then you remember that's not always the most practical option and maybe you can settle for living vicariously through characters living your dream for now? Look no further than this drama series, based off of the novels written by Robyn Carr, about Los Angeles native Melinda "Mel" Monroe as she decides to escape the city, people, memories and life she no longer wants for a job opportunity as a midwife and nurse in the tight-knit Northern California town of Virgin River. As Mel attempts to build connections with the town and the people holding it together, she comes to understand the value of community and asking for help, while learning that not having everything entirely figured out is truly okay. Filled with a trove of complex characters to become invested in and subplots with many important conversations, Virgin River allows you to immerse yourself in the lives of the town's residents and learn along with them. The positives of this show do not end with the plot though, both seasons have expertly crafted soundtracks which add a great deal to the viewing experience and allow you to listen to them anytime you are looking to feel the way you did the first time you heard them while watching the show. Also, the beautiful scenes depicting Virgin River's bountiful forests and lively rivers will do their best to quench your wanderlust for the time being until you are able to live your fantasies for yourself. We all need an escape sometimes, and Virgin River is as good a place as any to begin the adventure.
When You Need Wholesome Content: The Great British Baking Show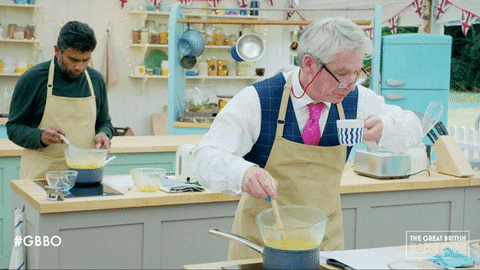 There comes a time when all we need is an hour of television that equates to a warm hug from a friend, and I am here to tell you The Great British Baking Show will never disappoint. Each year, a group of passionate home bakers come together in the infamous bake-off tent to hone their skills and prove to the esteemed judges and, perhaps more importantly, themselves just how capable they truly are. Each week is dedicated to a particular baking theme and each episode includes three challenges with opportunities for the bakers to wow the judges: the signature, technical and showstopper. If watching in hopes of their charming accents even slightly seeping in for the next time you want to attempt your own is not enough temptation, then stay for the incredible sportsmanship and cheesy jokes that will bring a smile to your face long after you have finished watching. I can confirm it will be completely normal to tell anyone who will listen, or even just the screen, "I could definitely do that," and fantasize about making a showstopper worthy of the coveted 'Star Baker' title. Quarantine is the perfect opportunity to attempt a new skill; you never know, you might even discover that baking is your one true calling! 
I hope these five suggestions have peaked your interest and even possibly make it onto your list of comfort shows there for you whenever the mood for them arises; happy watching!