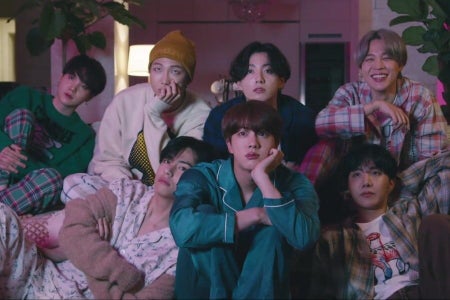 A List of Underrated BTS Songs
BTS is a South Korean pop boy group that became a global cultural phenomenon over the second half of the last decade. Over the last few years, BTS has gained immense popularity and recognition in the West and dominated the U.S. music charts. As of recently, their first all-English single, "Dynamite," reached No. 1 on the Billboard Hot 100. Personally, as a long time ARMY (a fan of BTS), I am so incredibly proud of them for all they have achieved while still staying humble and true to their roots. They have gone through such difficult times since their debut and I am amazed that they endured all the pain and hardships, because if they didn't, they wouldn't be where they are today. 
While they do have iconic songs such as "Dynamite," they also have songs that "locals," those who only know them on the surface in terms of their most popularized songs, may not have heard of or listened to before. Their style of music varies frequently from pop to lofi to rap, making them extraordinarily unique. In other words, they have produced songs that apply to any musical taste or genre. A lot of these I consider to be underrated as they are not listened to as much or moreover they are less known compared to their most known songs. To personally commemorate the unintentionally underappreciated musical works of BTS, here are some BTS songs that deserve more attention and recognition. 
"바다" (bada, Sea) 
This song is a hidden track from their Love Yourself: Her album which can only be accessed by purchasing the physical copy of the album itself. "바다" is one of my personal favorite songs by BTS because of its surrealistic sound that makes me feel like I'm floating and escaping to another world. The song talks about pursuing your dreams and passions in life to the best of your ability but also facing the hardships that come along with it. BTS utilizes the imagery of a desert and an ocean to respectively represent despair and hope: "Is it a sea, is it a desert, is it hope, is it despair." BTS expresses how, while there is hope, there is also despair and they must coexist with each other just like the sea and desert; one cannot exist without the other. There are also exclusive lyrics that say: "They say some of these kids can't make it cuz their agency is too small." BTS debuted in 2013 under a very small agency at the time, Big Hit Entertainment. Because of this, they were often not taken very seriously and deemed to be unfit to compete in the Korean pop industry. Not many people really believed in them so they had to endure so much hardship and pain to get to where they are today. It was all thanks to their hard work and dedication that they are so successful while remaining humble and true to their roots by knowing where they came from and how they started from the deep bottom. This song discusses their difficult past starting out and the journey they faced with the hardships they endured to ultimately receive massive success. 
"이 밤" (ibam, This Night) 
There would be times that, and this is a general trait within Korean pop groups, members of BTS would release solo tracks. "이 밤" is a solo track Jin released that is separate and not included in any BTS albums. It was part of BTS Festa, an annual event to celebrate BTS's debut, and was uploaded on SoundCloud. Jin dedicated the song to his animal companions, his family dog of the Maltese breed named 쨘구 (Jjangu) and two sugar gliders his parents gifted him named 어묵 (Eomuk) and 오뎅 (Odeng), all three who unfortunately passed away. 쨘구 had been with him for 12 years and 어묵 and 오뎅 passed away respectively in 2018 and 2019. Additionally, the only pet Jin owns now is a sugar glider named 국물 (Gukmul), who he bought to accompany 오뎅 when he was still alive. 
Jin embodies his fear of not being able to see someone; in this case, his beloved pets. It seems as if he is only able to see his pets in his dreams at night, hence the lyrics "When this night passes / I fear I won't be able to see you" and the title of the song overall. He is afraid that the memories he made will soon disappear once daylight arrives, ending the night in his dreams where he can only see them. Jin has suffered quite a depressing loss and he really implemented all of his love for his pets by composing this work of art. It is quite a sad song to listen to and I can closely relate to this especially during this time with COVID-19. I haven't seen any of my friends in months. It's upsetting to not be able to see them due to such restrictions. Also, due to school, we are usually busy in the day and the only time we usually contact each other a lot more often is at night. Overall, this song holds such a beautiful universal meaning about missing someone dearly and being afraid to not see them at all.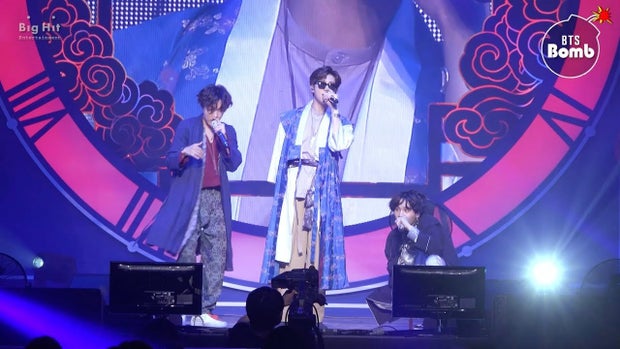 BANGTANTV / Youtube "땡" (Ddaeng) 
"땡" is considered to be a diss track produced by the rap line of BTS, J-Hope, RM and Suga. Just like Jin's "이 밤," this song was also part of the BTS Festa event. The origin and inspiration of the song dates back to when BTS debuted. During their early years, they were often ridiculed and faced harsh criticism for going into the K-pop industry from the hip hop scene as underground rappers. It is a playful diss track calling out on those who ridiculed and harshly criticized them and expresses how far BTS have come into their worldwide success. 
What is unique about "뗑" is the multiple meanings of the word the song took advantage of. It is a Korean onomatopoeia for a ringing bell, which is the equivalent to the English onomatopoeia, "ding," and also used as a word to signify a wrong answer. Using such a word is clever as listeners are able to interpret the song's message in many different ways. It is a song used as a response to haters; the rappers become direct with what they say without any fear of stating themselves. They know their place and how much they deserve it and simply want to remind their haters to know their place as well. 
"Heartbeat" 
In early 2019, BTS released a mobile game app titled BTS WORLD. As the player, you become BTS's manager as they start their careers as members of a Korean pop group. The game is about the members' journey from their pre-debut and debut days to their rise to stardom. "Heartbeat" is the main track for the game and plays on the main menu page. It feels as if it is a love letter to their fans, ARMY, as they reveal their love for them. ARMYs are extremely special and hold a dear place in BTS's hearts; the soothing song tells ARMYs that BTS will never let go and they are eternally grateful they stuck with them all this time. They believed that it was destiny that brought them together and suggested that they will always be there for them as ARMY was for them.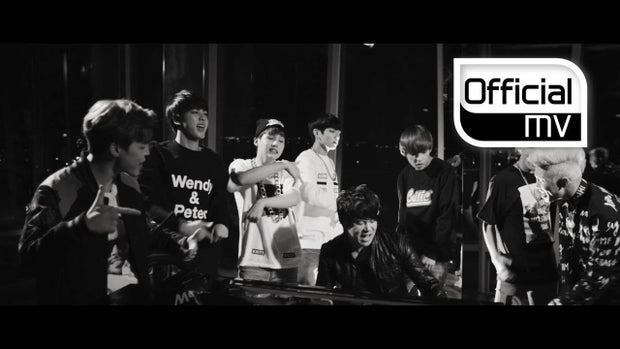 BigHit Entertainment / 1theK / Youtube
"Danger" (Mo-Blue-Mix) 
In 2014, the group released a song alongside the music video, "Danger." I would like to highlight the alternative version featuring Vietnamese singer THANH. I feel like no one really knows about this version of the song, which is such a beautiful collaborative music piece. The song gives a completely different vibe from the original song; it's more dark and emotional. It is about a boy in a one-sided relationship with a girl who isn't so invested so he warns her that their relationship is in danger, hence the title of the song. The verses of the song seem generally emotional and desperate but it goes onto the next level once the chorus hits. His frustration begins to explode out and he becomes more dominant into taking control of the situation he has with the girl instead of pleading as before. So it is a mix of emotions and feelings the boy has with the girl. There is an imbalance between them which will lead the relationship to danger.
"Tokyo" 
In 2018, the group's leader, RM, released his second mixtape, mono. "Tokyo" is one of my favorite songs off the mixtape and deserves to be on this list. Every time I listen to it, I feel like I am just a small being who is drifting in an endless and cold otherworldly universe. The song depicts waking up in the physical state of Tokyo and the mental state of longing. It indicates a sense of loneliness and isolation from the world and wanting to be comforted by something or someone. I absolutely felt so connected to this song which is why it is my favorite. I didn't really have many friends during my second year in community college and only knew very few people. I started to love the song even more once I transferred to UCI and moved to Irvine. I didn't know anyone at all in the school and I was afraid to make friends and meet new people in a new environment I had to learn to get used to. This song was a comfort song to cope with feeling lonely and having no one to hang out with. Luckily enough, I was able to make great and genuine friends, so it worked out in the end.
"Decalcomania" 
This song is an unfinished demo piece by Jungkook. It reflects on two sides of him: his public identity as a member of BTS versus his real, normal and ordinary self as Jeon Jungkook. He expresses how he always strives to be like how he is on the surface as the "Golden Maknae" (maknae refers to the youngest and the nickname is what Jungkook is known as in BTS) because he is always effortlessly perfect at anything he does and tries. He doesn't feel like he is like that offstage without the cameras rolling; in other words, how he is presented in the media and by the public is not how he sees himself personally. 
Since it is an unfinished piece in the works, I can't exactly write so much about it but I do believe this has extreme potential to be a wonderful and meaningful song. I'm excited to see if Jungkook has worked on it over time after he shared the demo and I am looking forward to hearing the final piece. 
-
These are only a few of the BTS songs that I believe are underrated. So, stay tuned for a part 2 I will possibly write in the future. I hope it encouraged you to listen to more of their music! Especially now, since they recently released a new album, Map of the Soul: BE with all new tracks including "Dynamite." It is the first album ever produced solely by the members, which makes it all the more special and wholesome. A music video for the main single, "Life Goes On," had also been released along with the album release. So, while you listen to songs from this list, feel free to take a listen to songs off of their new album as well!