The prospect of having a motorcycle license and eventually having a bike to commute with thrills me to no end. However, I cannot overemphasize how stressed out I was while trying to become my own dream girl.
Signing up for the classes was extremely easy and exciting. I Googled "motorcycle class near me" and there popped up URide in Costa Mesa. I purchased my seat in June; the earliest availability was in September.
The course consists of two (virtual) classes and two riding-in-person sessions, taking place over 3 days. Course completion waives the DMV motorcycle skills test.
CLASS ONE
Taking the first class was when things went awry with logistics. The instructor hammers in how dangerous of a hobby this is. Here are some alarming statistics:
Riding a motorcycle is 38% more dangerous than driving your car
96% of the time, the motorcycle is the colliding vehicle
Hearing "You will be intimately familiar with the ground" made me scared to begin training, let alone ever get back on a bike again. Learning about proper protective riding attire helped a little.
RIDING ONE
By the time the first riding class was in session, I was super nervous. It didn't help that protocol required that I sign a release of liability for the many possibilities of injury.
Approaching the bike was incredibly intimidating. Furthermore, being unfamiliar with the controls felt embarrassing. The overall experience was stressful as the driving exercises increased with skill. I constantly received critique from the instructors, but as nerves don't help with riding confidence, they occasionally provided positive reinforcement with words of affirmation.
I started having fun with the more laps we did and as we practiced slow sharp turns. However, we ended that day with a faster counter-steering technique that had us leaning towards the ground. I couldn't make that sharp U-turn.
I jokingly texted my friend, looking for a scapegoat — just in case I didn't pass the final tests.
Before we left for the day, we each spoke to an instructor to give us individual evaluations. My feedback was that my fear held me back. I needed to trust their instructions as motorcycles rely on speed (aka physics). Otherwise, I had made it pretty far for a beginner! We were told, "Some people aren't meant to ride bikes and don't complete the class."
CLASS TWO
Later that day was the second virtual class. Seeing how uninformed I went into the first riding session, I knew I had to read the DMV handbook in preparation for the written test happening the next day. I spent the afternoon reading the company's handbook tailored to their course since that's more specific to what I needed to know.
Throughout the course, the instructors emphasized answers to questions that would be asked during our final. That continued during the slideshow presentations. The instructors do their best to keep a sense of humor and the participants engaged.
RIDING TWO
Feeling more assured than the day before, I was pumped to go back on the bike, but wary of the more advanced "potentially overwhelming" moves.
The day began with the written test, which I passed with 92%!
Next, we proceeded with more difficult exercises. With yesterday's critique in mind, I was formulaic and more emotionally detached with my riding. I approached the tasks with a mental checklist (drive the required speed, must turn head at point x, etc.). The less worried I was, the better driver I became. I do caution against the advice to approach motorcycle riding with "detachment." Self-doubt can save your life when out once out in the real world. This driving process is much more active than driving passively in a car. In my opinion, riding is akin to playing the piano because both sides of your body have different jobs. To play a snippet of a song requires hour(s) of practice for me since the duality confuses me.
I received fewer critiques on this day. I even got a "Wow! Look at you, Ms. Toledo!"
By the time it was time for the skills test, I knew I was capable of performing the tasks. Although we are given the option to opt-out of testing, everyone in my class took the test…and we all passed!
I definitely felt myself being nervous. Being the only person under 21 in my class and one of the few women, I was hyper-aware of my novice status. I had to perform one task over again because I started braking before it was allowed. Despite catching on to when I lost several points, I somehow managed to pass and not score in the bottom two.
One instructor revealed that they put the best performing rider at the beginning of the queue in order to inspire the rest. I was second in line to take the test, sandwiched between another proficient rider. While I'm not sure if the rest of the order was random or intentional, I took it as a compliment (so please don't burst my bubble if that's not what that means, haha).
We could not have been that bad, as no one in our class ever fell off the bike or sustained an injury. The worst I got were calf bruises from hitting the footrest while walking with the bike.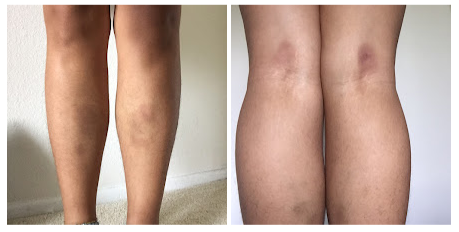 OVERALL, I'M PROUD.
I was so scared to get on a motorcycle after that first class, yet I managed to push through that fear. Passing and completing this class reminded me why I love learning. Now I have a new skill, potential hobby, and reinforced confidence to take on challenges.
My only regret is that I didn't establish better connections by asking for people's phone numbers. Now that the class is over, I'm well aware I'm going to forget details of the experience. If I had a buddy to text, we could reminisce and remind each other of tips we had learned. I had a lot of fun and wish to remember this elation, hence this article.
Thank you for reading. Take care! Maybe you'll see me on a bike in the future B^)