6.  Jingle All The Way directed by Brian Levant
This film directed by Brian Levant and starring Arnold Schwarzenegger is a hilarious holiday showdown. Most reviews would critique this as a bad film but I believe Arnold Schwarzenegger gave a great performance. He played Howard Langston who is a workaholic father who attempts to go to the store to buy the hottest toy around and do whatever it takes to keep his promise to his son Jamie. Unfortunately, just a day before Christmas, it almost becomes impossible to find the famous Turbo Man action figure. During his adventurous pursuit and desperate attempts to find Turbo Man, Howard Langston runs into another father named Myron (a mail man) who is played by Sinbad. Their competitiveness, their insane challenges and their expressions of fatherly love for their sons' make it such a fun holiday movie. I definitely recommend it because it shows that this special time of year is about so much more than gifts. 
5. A Christmas Story directed by Bob Clark
This is a beloved holiday movie because of the comedic brilliance of Peter Billingsley who plays the one and only Ralphie Parker. The narration of Ralphie Parker's thoughts is without a doubt witty and clever. The scenes of Ralphie getting punished with soap in his mouth, daring the boy to stick his tongue to the icy pole, his first fist fight and his desperation for the most ultimate BB gun will always bring you laughter this time of year. 
4. Elf directed by Jon Favreau 
This festive movie will always brighten up your holiday spirits because Will Ferrell does a phenomenal job in portraying the most high-spirited elf of all time. Personally, I think it is one of Will Ferrell's most hilarious roles of all time. This film is about how Buddy embarks on an adventure to reunite with his father in New York City after being raised in the North Pole all his life. Some of my most favorite scenes was Buddy's famous snowball fight, his horrific singing voice in the women's locker room, him drinking an entire Coca-Cola liter, him making the sweetest spaghetti plate and him lighting up an entire mail room with awesome dance moves— in addition to many more. Will Ferrell and James Caan are truly a dynamic duo. Caan portrays Buddy's workaholic father named Walter Hobbs—worse of all is, he is on the naughty list. Buddy, who is truly a holiday gem, and the portrayal of his happiness will radiate liveliness through your screen. I would compare watching Buddy to letting your inner child out. His heart will always be full of nothing but warmth and festive joy.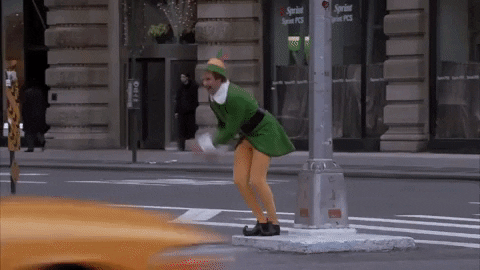 3. Home Alone and Home Alone 2: Lost In New York directed by Chris Columbus 
The moment you hear this line, you know what film it's from: "Merry Christmas, ya filthy animal and a happy New Year." Our festive traditions would not be complete without Kevin McCallister's notorious booby traps. In my personal opinion, Kevin McCallister played by Macaulay Culkin was the ultimate kid hero of the 90's. He was the kid that everyone looked up to in terms of his brilliant schemes, youthful humor and rebellious persona. Especially when he has to use all these attributes to outsmart the Wet Bandits named Harry Lime (Joe Pesci) and Marv Merchants (Daniel Stern). Pesci and Stern are both ridiculously hilarious—some of the best comedic timing ever are from this entertaining duo. All in all, the greatest thing about this film is the message of how important family and togetherness is this time of year.
2. The Grinch directed by Ron Howard
This version starring Jim Carrey is without question the best film adaptation of The Grinch because his performance was ICONIC. The talented Jim Carrey truly captured the essence of the animated character by expressing malicious behavior, ruthlessness, sarcasm and ultimate hatred toward Christmas—no other actor could have played it better. I love how this film adaptation delved into the origin and explained the reasons for the Grinch hating Christmas rather than just stating it. I love the character development of Cindy Lou Who and the acting by Taylor Momsen. She was just a young girl who wanted to discover the true meaning of Christmas, but little did she know that the Grinch had the answers for her all along. The production value for this film was out of this world because it really did bring Whoville to life with Christmas lights and all. In my opinion, the most hilarious scene of the film was the Grinch playing the role as the holiday cheermeister—it is timeless because it will fill you with holiday joy and laughter every year.   
1. A Christmas Carol (any adaptation)
I highly recommend watching any film adaptation with this specific storyline. The storyline by Charles Dickens is of how one learns from the ghost of Christmas past, Christmas present and Christmas future to embrace the true meaning of this wonderful time of year. It is the most ultimate classic holiday masterpiece because Ebenezer Scrooge shows how to appreciate all the wonderful moments in life and to never let any darkness dim your shine nor your holiday cheer.