Binge-Worthy Netflix Shows To Watch Between Online Classes
Since we have officially gone into remote instruction for the remainder of the semester and are told to stay at home or indoors, we might as well get comfy and binge-watch all of the new shows and movies recently released on Netflix. I'm here to tell you the perfect selection for your next quarantine and chill session.
#1: Love is Blind
This show is equally entertaining as it is ridiculous. It is a reality show that is also an experiment; a batch of men and women in their twenties and thirties, all searching for true love, talk to the others through walls – they do not get to see each other in person or know at all what the other person looks like until they get engaged. These couples talk to each other through a wall and fall in love with each other in just a few days – all without knowing a single physical characteristic of their lover. As the experiment progresses, more tensions arise once the engaged couples live together and anticipate their weddings. By the end, you will be wondering yourself: is love blind?
#2: 100 Humans
100 Humans is another mind-boggling show that will distort – or solidify – common knowledge that we all believe we have. Its short sequence of eight episodes explores different topics that separate people into categories, such as sex, age, and physical appearance. It is essentially research in subcategories of psychology conducted by three individuals determined to find answers to questions humans have been asking for years. The numerous experiments in each episode are accompanied by credible sociologists and psychologists. This show doubles as entertaining and informational, so while you have fun watching it, you are still learning something new.
#3: Schitt's Creek
My favorite show is Schitt's Creek. At first, I was hesitant to keep watching it because it seemed like every character exaggerated every line and act, but when I kept watching, I fell in love with their characters. This show is about a wealthy family, the Schitts, who live in a mansion and suddenly lose all of their money, so they are forced to relocate to a very small town and live in a low-end motel. The show follows their journey in living in their ultimate nightmare and how each person modified their values and goals after starting completely new lives. I have never watched an episode without tears rolling down my face from laughing so hard. This show is also really good to watch with your family; this is one of the only shows that both of my parents and I have all loved.
#4: Cheer
I don't know why I'm including this because if you're an avid Netflix user, you will have already watched this. This reality show reminds me of my dance competition days so I have to rank this one above all other shows. The reality show focuses on the Navarro cheer squad, which is the number one competitive cheer team and holds the national title. It follows female and male cheerleaders in their journey to nationals and the obstacles they encounter along the way. This show will have you screaming "YASSS" within the first twenty minutes of watching it.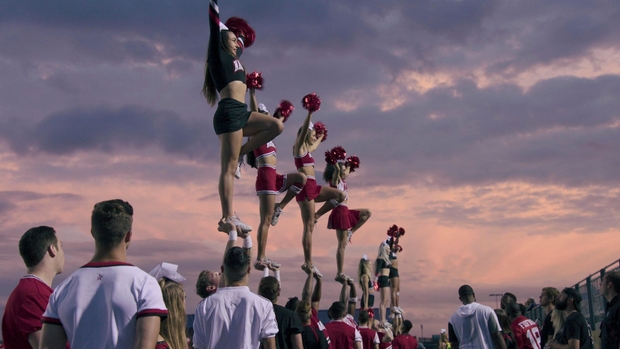 #5: Sherlock
This is one of my all-time favorite shows. It has me on the edge of my seat the entire time, wondering how someone is genius enough to come up with the ideas for each episode. Each episode is a new adventure with Sherlock Holmes and his sidekick, John Watson. Benedict Cumberbatch and Martin Freeman are an unstoppable duo in this series and will make you want to stop evil in the world with your best friend. Oh, and every actor has a British accent since the show is set in London. In case you needed another reason to start watching this show.
#6: Don't F*** with Cats
This show honestly scared me because it revealed how far someone can go when hidden by anonymity on the Internet. You only need just about three hours to watch the series (three episodes), and trust me, you will not want to take a break when you watch it. It is about a young Canadian killer named Luka Magnotta who first posted a video of him killing animals before he posted another video of him killing a human. This immensely triggered humans around the globe, who started Facebook groups to dedicate their lives into tracking down this person and arresting him. The show ends in a huge whirlwind of revelations that absolutely nobody can predict. 
#7: Killer Inside: The Mind of Aaron Hernandez
This is also a quick binge of about three hours and highly recommended for anyone who is a fan of the NFL or Super Bowl Sunday. It is a three-episode true-crime documentary about Aaron Hernandez, a former player on the New England Patriots. The acclaimed football player was convicted of murder and the documentary includes exclusive courtroom footage in addition to interviews of his close family and friends about the crimes he committed. When you watch everything that Hernandez went through and listen to the close analysis of his every action, you will be shocked at how all of this was happening while the public painted him as a role model across the nation.