Edited By: Vlada Taits
A lot of us may be dreaming of a beautiful Hawaiian sunset with a refreshing drink by our side, or a sip of fresh espresso while gazing over the Tuscan hills as the sun rises. Here's the truth: no one is really going anywhere in the middle of a global pandemic. Or at least, they shouldn't be. In strange unprecedented times as the present, opportunities for travel have shrunken significantly, forcing people to stay put in one place. While we continue to do our part by staying home in order to stay safe and support efforts in cutting the COVID curve, at some point, the travel itch is bound to get to you one way or another.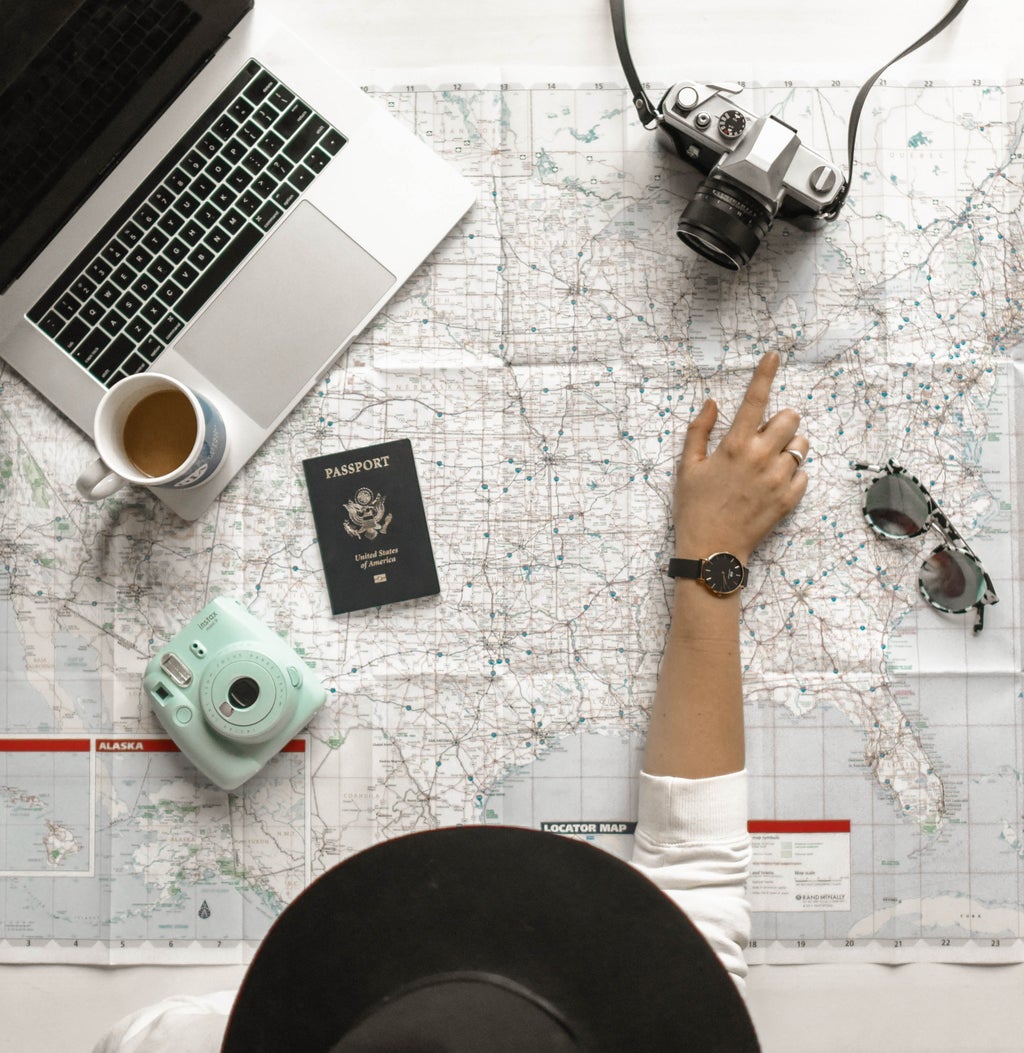 As I sift through old photos of family holidays, camping trips, and backpacking adventures with friends, I can't help but feel nostalgic. Not only about the wonderful travel experiences that I have had the opportunity to share with my friends and family, but also the excitement that I was so used to feeling in the days leading up to a new adventure. As they say, "It's all about the journey," and I think it's safe to say that we've all been craving some. 
While we're all couped up at home with the travel bug, I've selected a list of my top 5 Netflix TV shows that will transport to exciting destinations from the comfort of your own bed or couch. No plane ticket or passport necessary. All you need is a Netflix account and a good internet connection, a warm beverage, a fluffy blanket perhaps, and some time on your hands. 
Emily in Paris 
Just because you can't physically exactly experience the wonders of Paris at this moment in time doesn't necessarily mean that you can't live vicariously through those that have the opportunity to do so, right? Allow Lilly Collins and the work of Darren Star to whisk you away to the beautiful city of Paris from the click of your keyboard in this charming new rom-com. From the picturesque sight of Parisian cobble-stone streets to the comforting smell of warm Parisian pastries with a good cappuccino, this new Netflix show will truly make you fall in love with the sparkle of this beautiful city. After watching Lilly Collins experience her first bite of a chocolate croissant—overwhelmed by the perfect way the flakes and smooth mixture of butter and chocolate melt in her mouth—I can confirm that I now have a new level of profound appreciation for the stunning delicacy that is a French pastry. It really doesn't get any better than that. 
Watching Emily thrive in Paris, despite a few run-ins here and there, will make you want to live out your own Parisian dream filled with late night dinners on terraces with a nice glass of wine, long walks along the Seine, and plenty of picture-worthy moments!
As someone who has personally had the pleasure of visiting Paris many years ago, Emily in Paris has not only reinstated my appreciation for the city and French culture but has made me place Paris right at the top of my list of travel destinations that I plan to reach in the near future (let's hope)! Watching this show has certainly confirmed to me that I have no choice but to take the following set of actions: pack a bag of lavish outfits, my favorite lipstick, and pay this gorgeous city a visit once again in true style. 
Gossip Girl
Frank Sinatra said it best: "I wanna be a part of it, New York, New York", and you'll definitely want to be a part of this Netflix party! Let yourself be transported into the glamorous and scandalous world of New York's favorite Upper East Siders. Gossip Girl is an all-time favourite and one that many of us have probably re-watched at least 15 times (and I know that I'm not alone in this). This show has a perfectly blended mixture of drama, comedy, and spice. From the get-go of season 1, it becomes very easy to be sucked into the fabulous lives of the Upper East Sides' finest. While we may not all be able to enjoy delicious mimosa-filled brunches every weekend, attend grand galas in stunning Louboutin heels, and shop till we drop in Soho (hello student debt), watching Serena, Blair, and the rest of the gang do it for us never seems to get old.
Among the glitz and the glamour of Gossip Girl, when it comes down to it, the one thing that keeps bringing me back is the true versatility and thrill of New York City. The truth is that Gossip Girl is only a small but worthwhile peek into the true beauty of the city that never sleeps. Whether it's strolling through Manhattan with a good old cup of joe, wandering Central Park in the Springtime, or simply sitting in Times Square with a box of Chinese Food, Gossip Girl allows you to truly relish the excitement that this city holds. By the end of season 6, you'll definitely be left wanting more of that New York City charm. So much so that you'll probably find yourself planning your next trip itinerary to this bright and bustling city (when it's safe to do so, of course). 
Schitt's Creek 
Truly one of the best shows out there at the moment and one that we slept on for far too long. This show will make you laugh until you cry, and then cry until you laugh. Yes, it's that good. We follow the Rose family as they descend from their throne of richness and lavish lifestyle In New York and Los Angeles and into the small town of Schitt's Creek after suddenly going bankrupt. The town is small, sophisticated, and charming in its own little way, buts it's the people there that make it so special. Whether it's going to Rose Apothecary for a bar of soap made of luxurious goat milk (you'll need to get up to season 3 to understand this), grabbing the daily special at the Tropical Café, or dropping in for a Jazzagals rehearsal, this show will make you wish you were in presence of this town's warm and welcoming flare. Did I mention that It is filmed in the Ontario countryside? The scenery is absolutely beautiful to say the least. 
While the Roses are not the most likeable bunch—the words selfish, manipulative, and mean may come to mind—when we are first introduced to them, the growth and blossoming that we see these characters go through is a part of what makes this show truly magical. In challenging times, this beautiful show demonstrates how to make the best out of a bad (or Schitty) situation. Dan and Eugene Levy and their writers created an absolute gem. Schitt's Creek is a show about the power of love, acceptance, and family. It's exactly what the world needs right now.  
I couldn't wrap up writing about this incredible show without mentioning it's slew of Emmy wins this year (Go Canada!). That being said, you've definitely either heard your friends rave about how wonderful this show is or are simply dying to watch it. I cannot emphasize this recommendation enough: watch it! I promise you won't regret it. 
Gilmore Girls 
Welcome to Stars Hollow! This little town is as beautiful as its name. Filled with cute gazebos, picturesque streets, and more than enough benches to sit down and enjoy a warm cup of coffee, this show will have you wishing that Stars Hollow was an actual real and reachable destination. Whether it's joining Lorelai and Rory for a nice winter walk at the first sight of snowfall or participating in the festive celebrations and parties held in the town square, Gilmore Girls is sure to make you want to have a Mary Poppins moment and jump into each scene! 
Together, this sensational tv show has captured pretty much every aspect of life; from relationships, ambition, friendship, education, romance, and a never endless supply of witty and referenceable Instagram captions. They'll make you laugh, cry, and smile all at once that by the time you hit season 7, you'll be asking yourself where all that time went. 
Just because you can't have a cup of coffee at Luke's doesn't mean that you can't pour yourself your own and live vicariously through Lorelai and Rory with every sip. So, what are you waiting for? Sit back in your coziest pair of slippers, grab yourself a good old cup of joe (decaf is okay too), and immerse yourself into this heartwarming show. 
Down to Earth: Zac Efron 
If there's a Netflix show that's going to make you want to get up and see the world, it's this one. Throughout all 8 episodes of the first season, Zac Efron and wellness Darin Olien travel the world for your eyes to see, learning about healthy and sustainable ways of living. Talk about an adventure buddy! 
We begin our journey in Iceland, visiting hot springs, looking at waterfalls, and learning about renewable energy. Our virtual travels then take us to France, Costa Rica, Sardinia, Lima, Puerto Rico, London and finish off in Iquitos. Talk about beautiful sights to take in (this, of course, includes the sight of Zac Efron, to begin with). Other than the excitement of traveling with Zac Efron himself, we get the chance to learn more about healthy ways that we can take care of our planet and ourselves, savour the sight of delicious food, and appreciate the beauty of the world around us. The show is intriguing as it is exciting and bound to feed into your wanderlust! 
To recap, you've got Zac Efron, amazing food, picturesque scenery, and explorations into sustainability and wellness. Need I say more? 
There you have it my fellow readers. Netflix has become a portal of 21st-century entertainment that has provided us with these gems of shows to keep us smiling, even throughout the most challenging times. But the list doesn't end here. There's a world of more tv-shows out there waiting to be blessed with the presence of dedicated binge-watching. This list is just getting us started.