Sustainable fashion can be hard to find. Whether it's because there aren't many designers out there who focus on sustainability, the product variety is small, or the quality isn't good, there are numerous reasons. However, the company von Holzhausen manages to create quality products with vegan leather and stays sustainable! 
The Company
Founder Vicki von Holzhausen had worked as a designer for brands such as Audi and Mercedes-Benz before deciding to create her own brand with an ethical approach to design. Now, her company creates various products — from several styles of purses and bags to home decor items and laptop accessories (all ethically made!) von Holzhausen's goal is to create products that "capture the essence of premium leather without the negative environmental impact." 
Not only are its products ethically made, von Holzhausen ensures that its factories are ethical as well (meaning safe working conditions, high wages, and great benefits). Von Holzhausen is also currently partnered with Hope Gardens (located in Los Angeles) where it supports women to gain independence following rehabilitation. Von Holzhausen truly makes sure that it is working hard to support sustainable fashion, its workers, and those in its local communities! 
The Products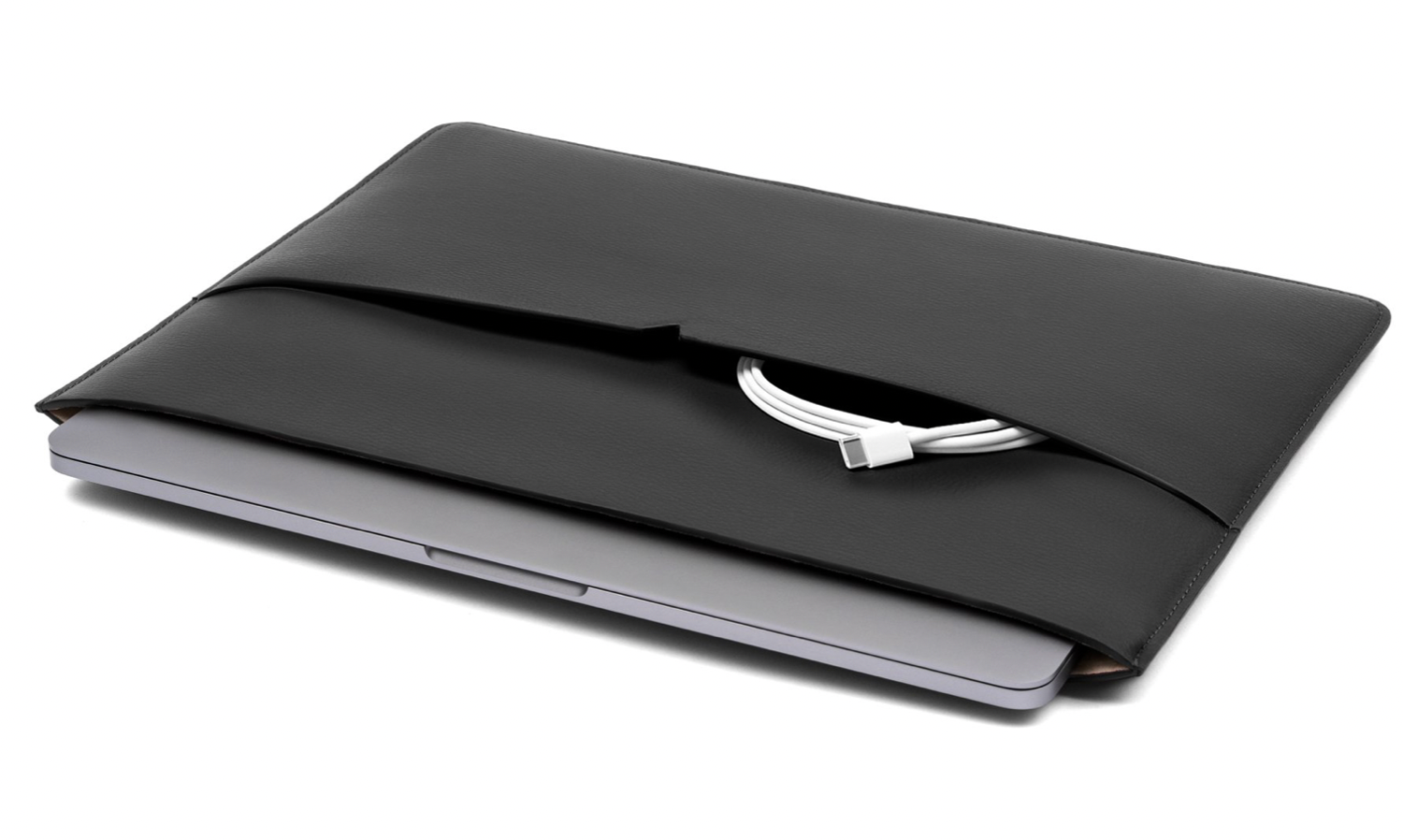 I recently discovered von Holzhausen upon getting a new Macbook, as I was looking for a new case as well. I got my hands on the black 13-inch Macbook sleeve in Technik Leather! It is an absolutely beautiful piece, and my Macbook is very happy spending its time in there. If I hadn't known I was buying vegan leather, I wouldn't have known! The material feels just like genuine leather. It's soft and water-, stain-, and scratch-resistant. I absolutely love the product and am definitely considering purchasing one (or more) of the company's bags! 
The Large Shopper is one of the company's most popular items (and it is absolutely beautiful!) All of von Holzhausen's products are vegan and animal-friendly, ethically made, non-toxic, upcycled, long-lasting, and recycled — and produce minimal waste. The large shopper in particular is great for the environment: choosing the shopper over plastic bags recycles 17 plastic water bottles, conserves 402 gallons of water and 2.5 acres of land, and can lower your carbon footprint by 33%! 
Overall, von Holzhausen's products have many benefits, which include limiting water pollution, protecting against deforestation, eliminating animal cruelty, conserving land, lowering cancer risk, and lessening greenhouse gas emissions. 
Fast Facts: How is Vegan Leather Sustainable? 
Livestock is one of the leading causes of climate change 
Leather tanning is one of the top three polluting industries in the world 
Vegan leather is an alternative to this polluting industry
Technik Leather 2.0 is made with 80% recycled water bottles and is biodegradable in landfills in under 5 years (not that anyone will be throwing away these amazing products!) 
Other than the Technik Leather, von Holzhausen also offers Bambū Leather. Bambū Leather is the first plant-based leather of its kind and is a premium leather made of bamboo. Some of the company's products, including the Circle Crossbody Bag, are made of Bambū Leather. It is known to be stronger than regular leather, made with 3 times less water, and 5 times lighter!
Other ways von Holzhausen is Sustainable
von Holzhausen lines the interior of its bags with recycled water bottles 
The brand conserves raw materials and uses toxin free solutions 
98% of solvents used in processing are recaptured and recycled
Its shipping materials are made from recycled materials and are completely biodegradable (aka you can compost the package) 
It accepts new sustainable requests at hello@vonholzhausen.com if you have any suggestions
Every part of the products is vegan (including dyes and glues) 
More about von Holzhausen 
On the website, you can look under the 'Essay' tab to read articles about the brand, as well as learn more about sustainability. Check out the brand's articles such as "Sustainability for Every Room: Easy Switches," and "Vegan Leather Myths: Better Than Leather."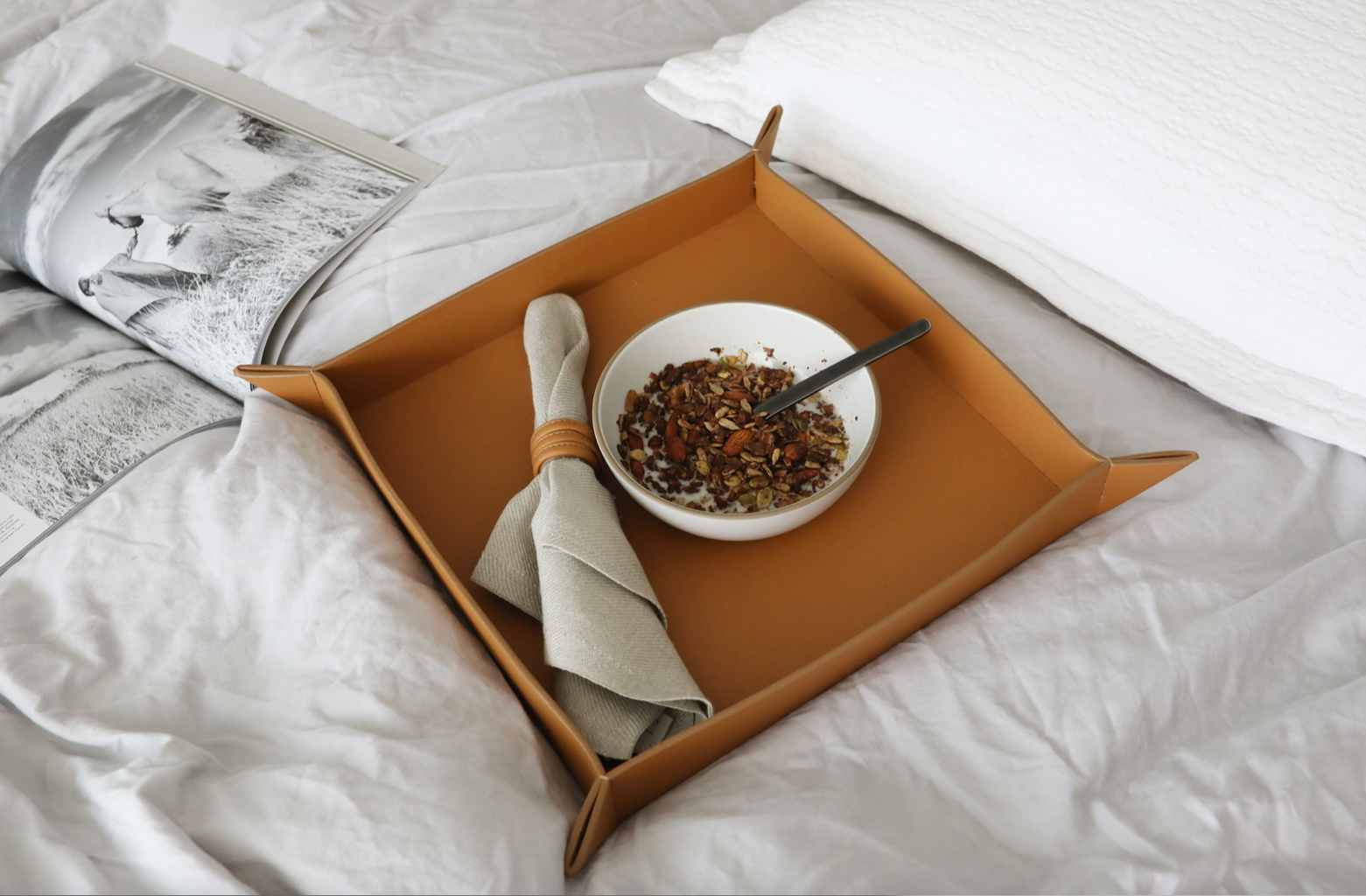 When I go through the von Holzhausen website, there isn't one piece that doesn't catch my eye. Do I have my own house and need coasters? No. Did I absolutely fall in love with the table coasters anyways? Absolutely, yes. I really encourage you to check out von Holzhausen's website and the many different vegan leather products the brand offers! I know I have absolutely fallen in love with everything it sells.