We use shorthand phrases to elicit larger memories. It's what Joan Didion wrote about in her essay, "On Keeping a Notebook," within her anthology Slouching Towards Bethlehem. A few words can give way to whole conversations and activate certain senses, amplifying niche details that only the writer could make sense of. But this is not foolproof, and if the words are too vague, it can be frustrating to recall what was actually intended.
I own a few notebooks, but in the digital age, I find myself using my Notes app more frequently. It's more accessible when on the move, and more subtle in public settings. This sentiment has been shared by a few of my closest friends, many of whom have marveled at the utter contrast of ideas that they have recorded.
For example, why do I have my ranked Drake songs next to ingredients for mango salsa?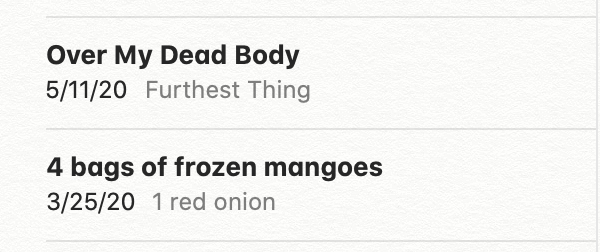 Or a list of things to bring to Amherst after winter break next to some late-night thoughts? This place is lawless.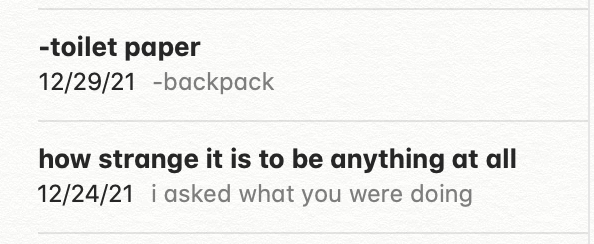 I asked a range of UMass students to pull something from their Notes app and explain to me what it meant to them. Here's what thirteen of them said, categorized by the type of note they recorded.
The following responses have been edited for length and clarity.
TO-DO Lists

Note: Pick up packages, watch nrc video and take notes, wash water bottle, watch Spanish vids and take notes from last week (STUDY- ask yoojee questions), do Spanish norm activities and advanced activities for the week (take notes for the week)

Date and Time: April 23, 2022 at 2:57 p.m.

Significance: I write all my assignments/homework for all my classes in my Notes app. I also write down other random obscure stuff that I want to do in the long run, such as "learn how to wolf whistle."

By: Carol, Freshman

–

Note: Riders of the Purple Sage, Night, 1984, Silent Spring, Border Trilogy, Trapped in America's Safety Net, All the Light We Cannot See, The Government Citizen Disconnect, Environmental Law, The Hate U Give, The Naturalist E.O. Wilson

Date and Time: January 27, 2022 at 4:00 p.m.

Significance: This note reminds me of a time where I had more time. I had more time to read, and I thought I would be able to get all of these books down fast.

By: Cam, Senior

Quotes

Note: don't go back and forth on the internet

Date and Time: October 15, 2019 at 10:12 a.m.

Significance: It's a quote from Lil Baby and I guess it just spoke to me.

By: Graham, Senior

–

Note: "We are all calculus' fools." -Antonia, "What in your genetics made you so short?" -Alex P, "Oh my dad's ugly." – David, "Is Morgan Freeman still alive? I need him right now." -Alex P, "No one can come between a gal and her bagel." -Olivia Olsen, "This Oreo got liposuction." -Luke, "Can't wait to do face masks while we clean the barrels." -Marisa about getting her license to carry, *about a box of Franzia* "It won't open because we're under 21." -Alicia

Date and Time: October 12, 2019 at 4:55 pm

Significance: It reminds me of pre-Covid times and my old friends I don't really keep in contact with anymore.

By: Helen, Senior

general Lists

Note: Sunday: 1 gelato, Monday: 3 gelato, Tuesday: 2 gelato, Wednesday: 1 gelato, Thursday: 1 gelato, Friday: 2 gelato, Saturday: 2 gelato, Sunday: 1 gelato

Date and Time: January 5, 2019 at 1:03 a.m.

Significance: I kept track of how much gelato I ate every day when I was in Italy.

By: Michael, Senior

–

Note: Jason Derulo bops

Whatcha Say, Ridin' Solo, In My Head, Don't Wanna Go Home, The Other Side, It Girl, Trumpets, The Sky's the Limit, What If, Love Hangover, Talk Dirty, Wiggle, Marry Me, Want to Want Me, Savage Love, Take You Dancing, Swalla, Tip Toe

Date and Time: January 31, 2021 at 11:46 p.m.

Significance: I really like Jason Derulo and was making a playlist of just songs of his that I love so was listing them to put that together. (Whatcha Say to Trumpets are the ones I really love so they're first.)

By: Katy, Junior

–

Note: 20, 18, 17, 15, 14 and 11 quiet floors

Date and Time: March 22, 2022 at 2:31 p.m.

Significance: I get so anxious about making a lot of noise in the library so I need to always remember which floors are the quiet floors.

By: Sam, Freshman

–

Note: Places to visit in MA

Winsmith Mill Norwood MA, Yankee candle Deerfield MA, Westport MA farm to pick lavender, Boston Rose Garden, Brewery in Natick MA, Hammond Castle Gloucester, Ball Square Cafe Somerville, Crane Estate Ipswich, Flour Bakery—> any location bos/cam, Thrift Barn in Mendon MA

Date and Time: May 31, 2021 at 11:12 p.m.

Significance: It's a list of all the places in MA that I would like to visit. It ranges from farms to walking trails and restaurants. I add to it frequently, and it's really helpful in the summer when I want to make plans with friends.

By: Meghan, Senior

moments of reflection

Note: I inhale confidence and exhale fear.

I am releasing all expectations that are draining me of my energy and happiness.

I am grateful for what I have and feel good along the way to what I desire.

I will never receive anything that I cannot handle.

Life is good and I have an endless amount of reasons to be happy.

Date and Time: April 8, 2022 at 9:04 a.m.

Significance: The Notes app is a place I go to write things that I'd like to remember to keep me in the right state of mind. I write them anywhere and refocus my energy on something positive and true!

By: Danica, Sophomore

–

Note: Humans are the only creatures who have a sense of time, so we think, so this might be why we are searching through time for the start of time.

Date and Time: January 28, 2022 at 4:08 pm

Significance: It was the weekend after the first week of classes after winter break, and we were learning about the origin of life in a bio lecture. I was thinking about why we were so curious about how life came about and if other creatures had a sense of time. It seems that only humans are capable of keeping track of time, so it makes sense why they'd be so interested in trying to find the start of time.

By: Naomi, Freshman

–

Note: And you can't see the stars / And you can't call your mom

Date and Time: April 16, 2017 at 4:13 a.m.

Significance: I remember I wrote this drunk in my dorm's courtyard my freshman year of college a few months after my mom passed away. I was thinking about how people often claim stars are the people we've lost looking down on us and the profound loneliness, then, of staring into the LA night, so clogged with light pollution that you can't see a single star. Alternatively, thinking of stars as a means of telling direction, it's about that feeling of disorientation, far from home and all alone and without a means of navigation that I think every person experiences leaving home for the first time.

By: Adrianna, Senior

other notes

Note: It's glasses beard man's birthday

Date and Time: March 6, 2022 at 8:02 p.m.

Significance: My friends and I were at Chili's for one of the guys' birthdays, so I showed this note to the server so he knew what was up.

By: Will, Sophomore

–

Note: i dreamt for some reason that i was going home for the day, like i had to for some reason so i was driving with my dad and as soon as we left campus i drove onto the brooklyn bridge and there was a huge like battle going on between two cars in front of me. like so this guy hit this old woman in front of me and somehow she like flew back and landed on my windshield and i was very scared from that so my dad drove me back to campus and was like, "we'll try later."

Date and Time: April 12, 2022 at 8:37 a.m.

Significance: This note means that I have crazy dreams! And I love remembering them especially when they're weird like this one. I usually type them up as soon as I wake up to ensure the most detail, and often send them along to friends if they were in the dream or might find it interesting. I have dozens of notes with very in-depth stories about various dreams just like this one.

By: Erin, Junior
Near the end of her essay, Didion wrote, "So the point of my keeping a notebook has never been, nor is it now, to have an accurate factual record of what I have been doing or thinking." Instead, it is suggested that the point of keeping notes is to remember things that you wish to hold close, to bring it all back, however that may look.
Can't get enough of HC UMass Amherst? Be sure to follow us on Instagram, listen to us on Spotify, like us on Facebook, and read our latest Tweets!