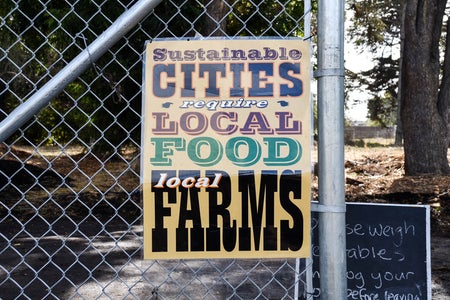 Sustainable Switches: 7 Unique Things You Can Actually Do to Decrease Your Environmental Footprint
In this age of reckoning with climate change, environmental activism, and the Green New Deal, we are called upon now more than ever to seek out sustainable ways of living. It seems there are countless new "sustainable" products on the market to decrease waste. However, for many of us, buying a bunch of new products isn't financially realistic (college is expensive!) and quite frankly isn't ideal if it means you're wasting products you already have. (Side note: if you do buy new sustainable products, use what it's replacing first. For example, wear your plastic toothbrush out before switching to a bamboo one). So, for all my college students, young professionals, and anyone on a budget, here are 7 unique things you can actually do for Mother Earth that don't cost any money. (As well as some that do, I'll save those for the end—I promise).
1.

Reuse gift bags, tissue paper, etc. 

Growing up, my parents had a huge bin of reused gift-wrapping supplies stored under their bed. Anytime there was a birthday party or holiday that required gift wrapping, we'd dive into the box and search for appropriate supplies. Likewise, when someone gave us a gift bag, off came the name tag and into the box it went. Not only was the amount of money we spent reduced, so was our waste! 

Similarly, if you find yourself sending things by mail often—selling clothes online, sending care packages to friends—saving Amazon boxes and padded envelopes to use later is another great way to reduce waste and save money (helloooo $7 envelopes from the post office). Just be sure to blackout barcodes and cover the old address. 

2.

Carry a set of silverware with you

Instead of using plastic disposable utensils when you get lunch or takeout, wrap a set of silverware from home in a cloth napkin and keep it in your purse, backpack, or car. When you get home, wash 'em and put them right back! 

3.

Reuse plastic bags in your trash can

If stores in your area use plastic bags—some states have banned them—use them to line your trash bins instead of garbage bags. Usually they won't work in large kitchen bins, but they're perfect for bedrooms, bathrooms, and office spaces. 

4.

Reuse takeout containers

Some restaurants use surprisingly high-quality plastic containers for takeout. By saving these containers, not only do you not have to recycle them, you now have containers for transporting lunch, storing leftovers, and bringing your friends cookies! 

5.

"Soup Sundays" & leftovers 

Credit for this one goes to my mother, who swears by making a big pot of soup or stew on Sundays and eating it for the rest of the week. It makes meal prepping a breeze and minimizes waste. Alternatively, meal planning and only buying what you need is a great way to keep food from spoiling in the fridge or on the counter. Save leftovers (especially if you're cooking for one) to eat for lunch the next day.

Instead of throwing away a Ziplock after one use, handwash it and dry it by putting it over a cup. Your bags won't look perfect, but they'll be clean and ready for reuse! 

7.

Skip the bag for the little things 

When you go to the grocery store for the eggs and ice cream you forgot the first time around, or go clothes shopping and buy just one thing, skip the bag! Put the shirt in your purse or just carry it out! 
It's amazing the switches you can make without spending a dime. That being said, if you do find yourself with some extra money to burn, here are some products that can aid in your sustainability:
Menstrual cup (or other period products, like reusable pads) 
Reusable coffee cup 
Reusable water bottle (Score one for free through your university!) 
Reusable shopping bag (buy one at your local supermarket for ~$1)
Cloth napkins and dish towels 
So, there you have it. 7 sustainable switches you can actually accomplish. Sustainability is right at your fingertips and it doesn't take many changes to your lifestyle now! Easy enough, right?