Pumpkin flavored coffee is an iconic part of fall and is a special menu item that is always widely anticipated. In fact, it is so looked forward to that I've noticed people beginning to talk about it in mid-July, when fall isn't even close to approaching. With Dunkin' moving their pumpkin syrup drop date to Aug. 18 this year (summertime!), it had me thinking — how early is too early for pumpkin? And, an even bigger question: is it loved enough to become a year round flavor? 
First, it needs to be known that I am a huge fan of all things pumpkin — especially pumpkin flavored coffee. I am one of those people who starts talking about how excited I am for the fall flavor to come back while sitting in 90 degree weather. In fact, on a drive home from the beach this August, I found out a local coffee shop was serving pumpkin flavored coffee. I got it without a second thought and it made my whole day. This was the only place that I knew was selling pumpkin flavored coffee at the time, and I heard multiple people ordering it in the short time I was there. To say pumpkin isn't popular enough to be a year round flavor just wouldn't be true. When it's available, it becomes the regular order of many.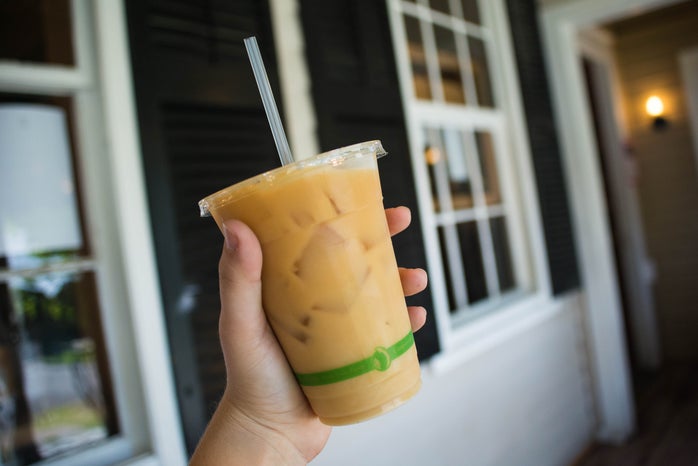 Speaking of regular orders, in terms of coffee, there's not much to look forward to in other seasons. Fall is the time that many shops truly expand their options and roll out a bunch of seasonal flavors. It brings in a lot of business and encourages regulars to try new products. Fall is the perfect time to spend a morning in a coffee shop with a drink you've never gotten before.
I know there are so many people who would love to keep pumpkin on the menu year round. Although New England is known for its questionable coffee tendencies (like clutching a large iced coffee while walking through a blizzard or assuming everyone knows how a "regular" coffee is made), I don't think we should start bringing year round pumpkin flavoring into the mix. It's something to look forward to every year, and I feel like having it available year round would make it lose some of the fall vibes that we all love. Some things are worth waiting almost a whole year for, and pumpkin iced coffee is definitely one of those things. With that being said, I am totally here for starting the pumpkin season a little before fall. It's the perfect way to begin your transition from summer to fall, and honestly, I don't think I'd be able to wait until Sept. 22. I think I need a pumpkin iced coffee now — only because they'll be gone again before we know it.
Can't get enough of HC UMass Amherst? Be sure to follow us on Instagram, listen to us on Spotify, like us on Facebook, and read our latest Tweets!