I think we can all agree that Air Force 1's have been a great staple in most of our closets from nasty frat basements to the perfect outfit that needed the perfect white sneakers. Now that mine are worn out and disgustingly dirty, it's time to kick them to the curb (no pun intended) and get some cute new kicks. Here is what I've recently bought and have been loving and what's on my list to buy next!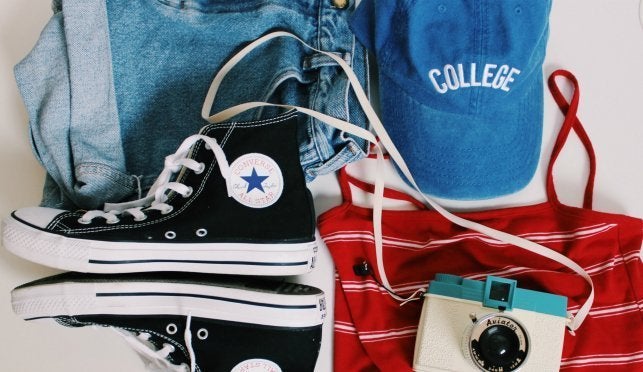 These are PERFECT with leggings, a little tough to get on, but so cute. They come in so many colors, styles, and fabrics, so they are perfect for whatever you want them to be perfect for. I went with the grey suede, and I might have to get a less neutral pair for fun!
Love these for class! Super comfy and casual. I got the maroon Nike swoosh for some UMass Amherst spirit, but they go with pretty much anything. These are leather and are a little easier to clean. I've paired them with jean shorts and leggings so far, but I can see these looking super cute with ripped jeans come the fall.
Just saying… I got these before Kylie Jenner posted a picture of them. These are PERFECT. Super neutral and so so comfortable, but they run a little big. They pair well with everything and clean easily! 
Not only are these made from sustainable materials: they aren't all white. These are so fun, have hints of color, and I think have a way more athleisure, sporty look to them. These are also debatably more comfortable than the white ones, but aren't as easy to clean, unfortunately. These are sneakers I've definitely been careful about wearing, but are so worth it!
I could list a pair or two more, but I thought it would be fun to list some of the sneakers on my list to buy – if anyone has any pleaseeeee give me the rundown on if they're worth it.
I don't love the look of Converse, but I gotta say the platforms have a vibe to them that is so fun. I also found earth-tone leather ones that I think would be super easy to style and clean, unlike the canvas Converse everyone has. 
These are a pair I can't commit to just yet. They're cute, but if we are talking about Air Max's I think I'd get the Air Max 270s. I figured to include these since I didn't go the athletic sneaker route with this article, but rather more casual sneakers! 
These are super cute and simple. I could easily see myself wearing these to class or out to lunch. Not much to them, but just a classic sneaker I may just have to add to my collection next! 
I guess we will see which I sneakers I will purchase next! Until then: remember to buy sneakers in big kids size if you can, shop around for different colors as some may be on sale, and wear what makes you happy!
Can't get enough of HC UMass Amherst? Be sure to follow us on Instagram, listen to us on Spotify, like us on Facebook, and read our latest Tweets!