How This Glitter Eyeliner Changed the Game
Are you looking for a way to spice up your Friday night look? Gearing up for New Years? Looking to add a little sparkle in your life?
Listen up ladies, do I have a game changer for YOU!
Lately, I've been obsessed with Urban Decay's Heavy Metal Glitter Eyeliner. I've been using it in a couple of ways:
Line your eye with a simple black wing (using a black felt tip pen). Then, follow up with this glitter eyeliner right on top of the black wing. It creates a really cool visual effect and makes your eyes pop. If you apply the glitter eyeliner without the black wing, it will still look cool, but won't stand out as well. Be sure to go over the liner a couple of times to get the most out of the glitter!

Do your eyeshadow as you normally would. Then, use the applicator to highlight the inner corners of your eye. Use a clean eyeshadow brush or your finger to dab some glitter on the whole lid. This is for when you're really feeling the glittery look!  Original Illustration Designed in Canva for Her Campus Media

If you have a couple shades of this glitter eyeliner, try to use it as an eyeshadow. Make a fun look out of it!

Use your finger and brush the glitter onto your cheekbones or collarbones for a subtly sparkly look. Don't go too hard--a little goes a long way here!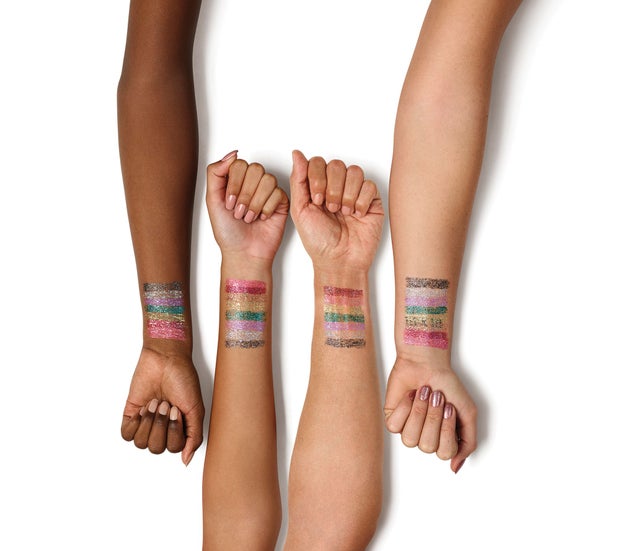 QVC
This glitter eyeliner is fun, it comes in so many colors, and it is super long-lasting! Currently, I've been using the Disco Daydream shade, since I wanted a versatile glitter that could go with any outfit that I want to wear. I would highly recommend this eyeliner to anyone looking for a way to add a little pop in their going out makeup routine. This product was worth every penny!