While TikTok is great for funny videos and dance moves, it can also be a great source for beauty inspo! I have compiled a list of my favorite hacks I've found so far that I can't wait to share with all of you. So, without further ado…introducing beauty hack number-
1. Hydrocolloid Band-Aids: If you haven't heard of this magical acne product, you definitely will now. These hydrating patches will absorb all the gunk inside your pimples or whiteheads, leaving you without the scarring or flakiness that happens when you pick at your skin. Simply place the patches on an area of your face where you are breaking out and leave overnight.  The results in the morning will make it so worth it: smooth and blemish-free skin, yes, please! You can find these affordable band-aids at your local Target or Walgreens; I would highly suggest stocking up because they sell out fast!
2. The Ordinary AHA/BHA Exfoliant: If you suffer from textured skin like I do, this product is perfect for you. This red chemical exfoliant mask that is notorious on TikTok is worth all the hype. For just 10 minutes, once a week, applying this $7.20 product found at most beauty supply stores will leave your skin feeling softer even after just one use. The acidic formula targets clogged pores and fine lines to improve your skin's tone and brightness. I have seen such an improvement in my T-zone especially and will recommend it to anyone with acne-prone skin like me.
3. Powder Before Foundation: This beauty hack is geared towards all the ladies that are worried about their foundation looking cakey or too greasy. After applying your primer or base moisturizer layer, gently pat on your setting powder first. Then, brush and blend your liquid foundation on top of the powder for a smoother, less oily finish. The powder helps conceal your pores so that the foundation doesn't sink as much into your skin, creating a smooth finish perfect for an everyday or glammed look!
4. Heatless Curls With a Bathrobe Tie: Want voluminous curls in the morning without having to pick up a curling iron? Wet your hands under water and comb them through your hair to slightly dampen it. Make sure your hair is parted how you usually wear it (middle parts are the best for this hack), and place the long waistband of a bathrobe on top of your head with the ends hanging symmetrically down the sides of your head. Separate your hair in two, and start French braiding each side into two pigtails, but incorporate the bathrobe belt as one of the strands in the braid. Your head might end up looking like an 18th century wig, but once you sleep in the hairstyle overnight and take it out in the morning, you'll be left with bouncy curls that last all day!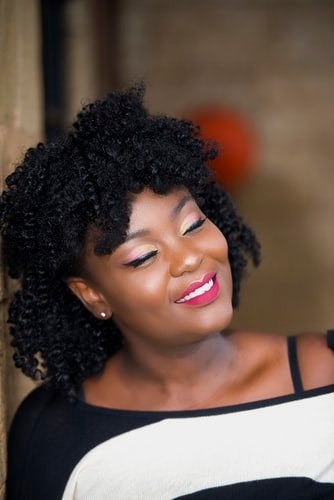 5. Scotch Tape for Striking Eye Looks: If you have trouble getting your eyeliner or eyeshadow at the angle you want it, this hack is for you. Take two pieces of tape about 1 inch long, and place them at the angle you want your eyeliner to extend from the outer corner of your eye. This way, you can line the tape up symmetrically on both eyes without having to wipe away your eyeliner after you've applied it! Then, paint on your liner and brush on that eyeshadow as normal. Peel back the tape to reveal the perfection underneath: a seamless eye look without any re-do's needed!