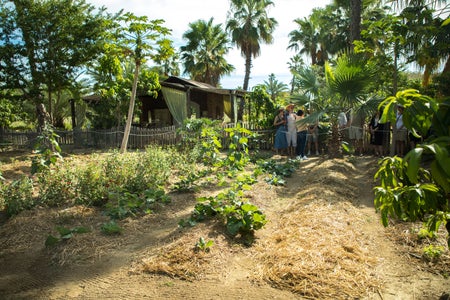 The Top 5 Reasons You Need To Watch Tiger King
 Hey, all you cool cats and kittens! Who knew that during a global pandemic one of the world's most unifying distractions would be a documentary following Joe Exotic, a man who describes himself as, "the Tiger King"?  If you need to unwind and want to be distracted by some intense drama, Netflix's Tiger King: Murder, Mayhem and Madness is the docuseries for you!
If you're a true crime junkie like myself, you'll be inclined to dive into any show that has a criminal element. Tiger King centers around a murder-for-hire plot that was allegedly started by Joe Exotic himself, and it's up to you to decide if Joe is guilty or not. You won't believe who else gets involved in the plot, and you might find yourself in awe about the number of crimes Exotic finds himself tied up in. Lastly, you'll be questioning if anyone in this docuseries is really innocent, including Carol Baskin, who is a self-proclaimed animal rights advocate that Joe Exotic has allegedly ordered a hit on because her husband disappeared years ago. The situation becomes even more suspicious when we find out that  Baskin was the last person to see him alive. You'll find you can really only trust the tigers in this docuseries.

Before Tiger King, I was not in tune with the controversy surrounding tigers living in captivity. I knew it wasn't the best situation for the animals, but I wasn't aware of the harmful cycle. Baby tigers are separated from their mothers prematurely and they go to live inside a house with their human owners instead of spending valuable time with their mother. In the wild, tiger cubs won't separate from their mothers for two years. This situation is not uncommon and is a sad reality for many animals bred in captivity. What shocked me the most is the fact that more tigers in the world live in captivity rather than the wild, and the majority of these captive tigers live in the US. You'll uncover all these tragic facts, and more when you tune in.

Although an unlikely place to find love, Joe Exotic's G. W. Zoo was the backdrop for many love stories throughout the years. One thing I admired about Joe Exotic, all his shady antics aside, is that he found the courage to be an out and proud gay man in a climate that was not very accepting of sexualities that fell outside the heteronormative realm. When the series starts, Joe Exotic is happily married (at least according to him) to John Finlay, who was his third husband. To date, Joe has had five husbands and occasionally multiple husbands at the same time.  His first husband, whom he met in 1980 and appeared to have the most genuine relationship with, tragically died of HIV complications in 2001. After that, it appears that Exotic has had his romantic life take a downward turn. In the documentary, you'll witness weddings, polyamory, divorce, death, rebounds, and long-distance relationships. Exotic's love life is just about as wild as his personality, so buckle up and enjoy the ride!

4.

Potential Cult Activity

You might not believe this, but Joe Exotic might not be the craziest man in America that owns tigers. Of course, it's a matter of opinion, but it seems that Doc Antle, a zookeeper and tiger owner out of South Carolina, may have taken the cake with his cult-like zoo. First, he claims to have mystical powers which is something nobody has been able to confirm to this day (and let's face it, nobody ever will because he's a fraud, not a wizard). Doc Antle also only hires women, which might sound empowering, progressive, and even feminist at first, but upon closer inspection along with testimony from former employees, it seems he was hiring them for all the wrong reasons. Disgustingly, he made romantic advances on most women working for him and forced them all to change their names in order to better suit the aesthetic of the zoo. He also encouraged them to get plastic surgery and never gave them time off. Everyone was seriously underpaid, young, and inhabited awful living conditions. He ended up becoming romantically involved with many women in the zoo, and nobody is really sure how many girlfriends and wives Doc Antle had. Employees at the G.W. Zoo suggest that he had around three, but I guess we'll never know for sure. Watch for yourself to see if you believe Doc Antle is actually running a cult rather than a zoo.

In yet another unexpected turn of events, Joe Exotic writes his own songs and creates music videos that he shoots at the G.W. Zoo. He doesn't actually sing in these videos, but rather hires someone to do a voiceover while he lip-syncs. Nevertheless, these videos are extremely entertaining to watch, and boast comedic titles such as "I Saw a Tiger", "96 Elephants" and "Here Kitty Kitty". A tiger is featured in almost every video, and the scenes are very creative, full of props, and acted out in an exaggerated manner, so these videos will be sure to make you smile! And hey, by the time you finish this docuseries you may even find some new songs you just have to add to your Spotify playlist!
You'll have to judge for yourself what your favorite areas of Tiger King are, but I can assure you that there is something for everybody in this Netflix series. Be sure to check it out, because it seems like it's the only good thing that's gone viral lately!