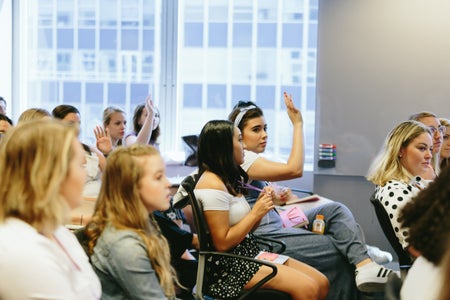 Sorority Saturday: Rebecca Levasseur
Our Sorority Saturday this week is Rebecca Levasseur of the University of Maine's Pi Beta Phi Maine Alpha chapter (Pi Phi). Rebecca is a fourth-year nursing student. She has just ended her term as Vice President of Operations, as their executive terms last from January to December. She explained to me what her term in that position was like. 
"I am pretty much there to keep track of everyone's attendance and make sure that everyone's moods are lifted. People in our chapter must be recognized for everything they're doing."
Outside of Pi Phi, Rebecca also works at the Fogler Library. She explains that it's a great job because she gets to work while also staying productive and doing homework. Other than that, she is focused on Pi Phi and working hard towards her nursing major. 
Pi Phi's core values are integrity, lifelong commitment, honor, respect, personal and intellectual growth, philanthropic service to others, and sincere friendship. Their philanthropy advocates for children's literacy, known as Read > Lead > Achieve. For their chapter, they have a program called "Champions Are Readers", where they would pair up with the local YMCA. On Fridays, the sisters would read to children there after school. Their big philanthropy event to raise money is called the Arrowspike volleyball tournament. They have hosted it every fall on the mall except this year due to COVID-19. Last year, they raised almost $2,000 in total. 
    Rebecca knew she was home when she was going through her freshman year recruitment at UMaine. She had no idea what Greek Life was all about, so she took the opportunity to find out through recruitment. Every time she spoke to a sister from Pi Phi, she felt a connection and was very excited to talk to them for every round. Since she chose Pi Phi, she mentions how she couldn't even imagine college without these women. She has been able to keep in touch with a lot of alumni, and she's even lived with a few of them before!  
    Her favorite memory being in Pi Phi was being last year's VP of recruitment. She explained how amazing it was to be such a leader and to show her hard work was worth it.
    "At the end of the week on bid day, when all of our new members came to us, it felt like all of the work I put in had really paid off. It was such a great feeling."
    When I asked what advice Rebecca had for women contemplating joining Greek life, she discussed how difficult it is jumping into college with not a lot of knowledge about Greek life or other organizations. She mentioned how beneficial it is to build connections with people in Greek life. For Pi Phi, there are alumni pages where people ask for somewhere to stay if they're in a certain town. It's also an opportunity to ask about jobs or internships that other sisters know about. She emphasized that to find your true home, you have to be your most authentic self. 
    Rebecca is a hardworking sister of Pi Phi dedicated to guiding members and building lifelong friendships with her sisters. She is a perfect representation of Pi Phi's core values, and that is why she was picked as this week's Sorority Saturday!!