We fought together. 
That was our goal for Dance Marathon 26, and we did precisely that.
University of Iowa Dance Marathon is a student organization that provides support for pediatric oncology patients and their families. Every year we host a 24-hour dance marathon to celebrate our Dance Marathon families and everything we accomplished in the last year. 
Raising over $500 was the best thing I've ever done. Raising that money to have the opportunity to go the Big Event and fight with thousands of other students and Dance Marathon families changed my life. While helping Dance Marathon families financially is amazing and does so much for them, the best thing I took from Dance Marathon was the fight.
The 'fight' doesn't have to mean raising the largest amount of money or cheering every time someone hits the gong for fundraising X amount of dollars. As a family representative, I got the opportunity to represent one Dance Marathon family and keep in contact with them throughout the year, providing personalized support. I fought as I sent letter after letter with no response from my family, knowing there was a chance I was putting a smile on their face when they opened my emails and letters. We fought as we listened to families share their stories with tears in their eyes and hope in their hearts. We fought as we watched 11 kids graduate from being five-years cancer free with the strongest smiles anyone has ever seen.
We fought when we stood up as the 24-hour countdown began, knowing our feet would ache, but at least it would never compare to the suffering Dance Marathon families go through. As a lime representative, I fought as I was there to support the dancers in my group to keep them fighting for the kids. I fought as I attended mini dance marathons, encouraging youth to work towards something bigger than themselves. We fought during our fundraising power when we raised over $35,000 by reaching out and pushing for more. We fought during power hour when we danced like it would be our last even though we could feel the ache in our feet with every move made. We fought with tears in our eyes when the tote board revealed we raised $2,879,755.26.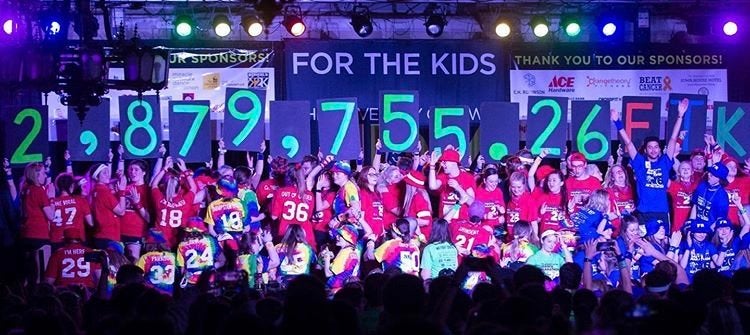 For Dance Marathon 26, we fought together to deliver miracles and change lives with persistence, compassion, and dedication. 
We fought together for the kids.