9 Places Every Harry Potter Fan Needs to Visit
While there have been many cultural shifts in U.S history, I would argue that the release of the Harry Potter books is one of the most important. Harry Potter was way more than just a series to so many people who really connected with the characters and became invested in the complexity of the wizarding world. The HP series has become a lifestyle for so many people, as you can enroll in Hogwarts classes created by the Harry Potter fanbase, play quidditch on many university campuses, and be sorted into your correct Hogwarts House. If you want to take your Harry Potter role playing even further (or are just a big fan of the series), here is a list of places you have to visit to live out your wizarding dreams.
King's Cross Station- Platform 9 ¾ (London, UK)
First things first, if you want to get to Hogwarts you are going to have to sneak to platform 9 ¾ without any muggles seeing you. At King's Cross Station in London, they have a replica 9 ¾ platform for visitors to take pictures at! It is not located between actual platforms 9 and 10 due to a huge crowd forming during peak commuting hours, so you will have to walk to the back of the station to find it. Snap your own picture with the Trolley cart or have a professional take it for you, as cameraman are often nearby with a wand in hand and house scarf of your choice to help you pose as if you are being transported through the wall. There are often long lines for this photo op, so make sure you get there early in the morning (like before 9 am!) for a short wait. And whatever you do, please don't actually try to run into it! 
Photo by Taryn Elliot from Pexels
The Jacobite Train Ride – Hogwarts Express (Great Britain)
All aboard the Hogwarts express! After your arrival at platform 9 ¾ you are going to need some form of transportation to get to Hogwarts. Take this 84-mile round-trip train ride across the coast of Scotland for some of the most majestic views of the country. Start at Glasgow near the tallest mountain in Britain (Ben Nevis) and end your trip in Mallaig. This is an all-day excursion at around 5 hours round-trip, but it is worth it to cross over the Glenfinnan Viaduct, pictured in the iconic train ride scene from the Harry Potter movies! The conductor stops at the Glenfinnan train station so you can go and explore the nearby museum, but if you are lucky enough you may stop on the viaduct for some breathtaking photos. I would suggest a one-way ticket to ensure you have time for further Scotland exploration, but if you just want to relax and enjoy a view while drinking some tea with friends, you can make the 5-hour trip fly by!
Alnwick Castle – Hogwarts (Alnwick, UK)
After your train ride into the city, you have finally made it to Hogwarts School of Witchcraft (aka Alnwick Castle). While many of the interior movie scenes were filmed in Hollywood, many exterior shots came from the Alnwick Castle. It is the 2nd largest inhabited castle in England (inhabited by the Duke of Northumberland) and the first quidditch battle was filmed on the grounds, specifically in the Outer Bailey. Many of the courtyards were used for transition scenes, but the Inner Bailey is where the Weasley family crashed their flying car! Take a tour of this monstrosity of a castle while learning the history of the area, or just come for a broomstick training session that they hold in the summer. At this point I'm convinced the only people who even visit the castle are Harry Potter fans looking for a good photo op.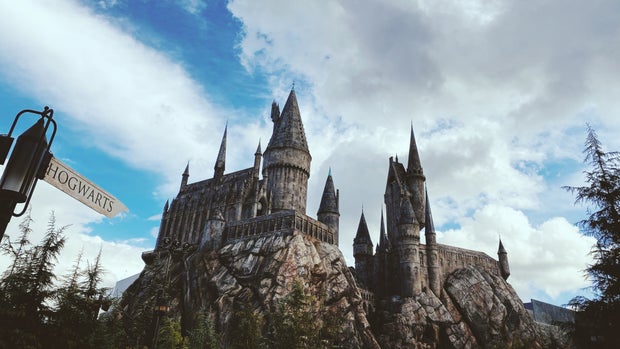 Photo by Jules Marvin Eguilos from Unsplash
The Shambles – Diagon Alley (York, England)
Just like most college students, wizards have to balance school and free time. While Hogwarts students go to Diagon Alley to eat, drink, and shop in their free time, you too can experience the same cobblestone buildings and night life in The Shambles, a popular street in York. The Timber-framed buildings in the Shambles are part of an extensive slaughterhouse and meat market dating back to the 14th century. There were 25 butcher shops along this one street alone, though zero original businesses remain today. Die-hard fans are convinced that this preserved medieval street was the inspiration behind Diagon Alley, though J.K Rowling claims that she has never been to Shambles. The locals have continued to pass on the myth however, as there are 4 Wizard shops along the strip, transforming it into a major tourism area thanks to the flock of Potterhead's that always seem to visit!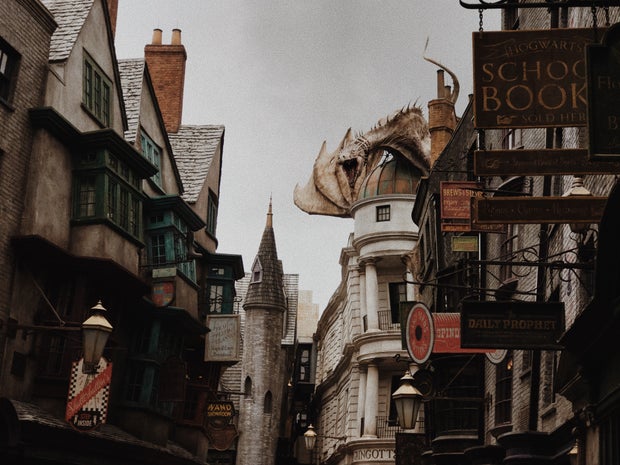 Photo by Rithika Gopalakrishnan from Unsplash
Glencoe- Hagrid's hut (Glencoe, Scotland)
A 25-minute walk from Glencoe village will lead you to the hilly overlook of the valley where Rubeus Hagrid resides. This location was first seen in Prisoner of Azkaban and was chosen for it's beautiful overlook and its proximity to the signal rock forest (unfortunately not as forbidden as in the film). The hut itself is no longer there (or the super cute fall pumpkins) but it is still the perfect place for Harry Potter enthusiasts to enjoy a picnic or wine night with a view.
Museum Context (Edinburgh, Scotland)
While there are many Harry Potter collectibles out there, this store has the right to be named the official Harry Potter merchandise store, as it is located in J.K. Rowling's city of inspiration. They sell EVERYTHING Harry Potter you can imagine, with a ton of replicas from the series and lots of stuff curated to your specific house. The storefront is located on Victoria Street (another supposed inspiration of Diagon Alley), but besides the big signs you can look for the lightning bolt above the door to find this location. They have just recently started selling their products online which is very convenient during COVID-19. I cannot leave out the most important part, which is that they do in fact sell Butterbeer, so get on that fast! (I have been trying to replicate the Universal Studios recipe all of quarantine from TikToks, but nothing can compare to the immaculate taste of a frozen Butterbeer from Hogwarts.)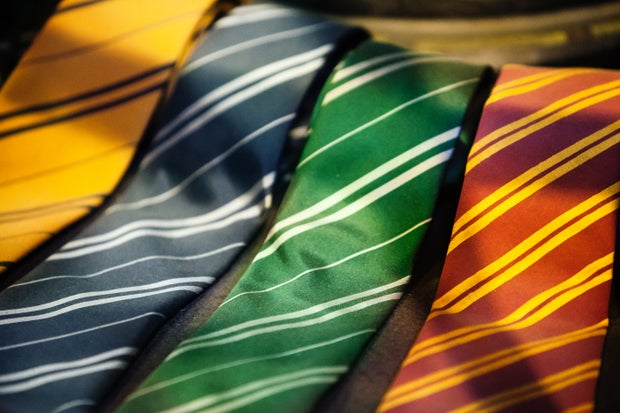 Rhii Photography
Leadenhall Market (London, UK)
We all remember the scene of Harry shopping for his wand, but did you know you could go to the actual location it was filmed? That scene was filmed in the Leadenhall Market, a stunning, tunnel shaped market made for wandering and people-watching. Inside this Victorian marketplace you will find the blue door that leads to the Leaky Cauldron, the portal to Diagon Alley. The famous blue door is actually a door to an optician in real life, but who knows, maybe that's where Harry went to get his round glasses!
Christ Church (Oxford, England)
Attached to Oxford University, this college chapel was used for multiple scenes in the Harry Potter movie. Most notably, the grand staircase is the same one that Professor McGonagall walks down to greet the Trio for the first time. Unfortunately, there are no talking portraits aligning the stairs in Oxford! The Tudor great dining hall in Christ Church is almost an exact replica of the Hogwarts dinning Hall, my personal favorite set of the movie- especially during Christmas time! Don't expect to be able to sit around the long table, as it is a part of a Church and is reserved for special occasions. Either way, you will feel as if you are taken into the Harry Potter world for just a moment when you step into Tudor Hall.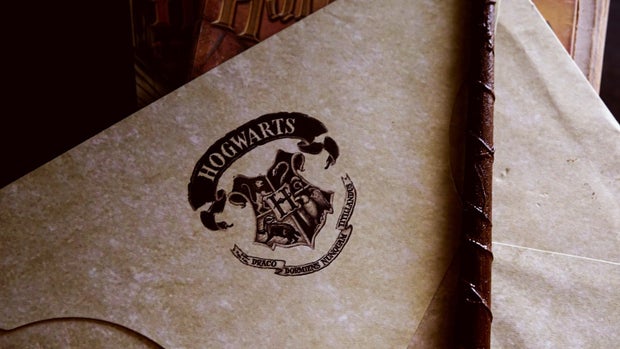 Photo by Bich Tuyen from Unsplash
The Wizard Chamber (London, England)
After a long day of memorizing spells and practicing quidditch, a wizard needs a solid night's sleep- and so do you! That is why you can book a room on the lower level of the Georgian House Hotel that resembles a Hogwarts dormitory room! Along a portrait lined hallway, you will find the Wizard Chamber, a section of hotel filled with stone walls, stained glass windows, and other gothic features that resemble Hogwarts! If you happen to stumble upon a secret bookcase that takes you to another side of the hotel, don't panic! This is just the Enchanted Chamber which has smaller and more affordable rooms that are just as mysterious as the others. They also have a cocktail experience for guests to test their concocting skills while mixing up some spell-binding elixirs. Since you can't actually stay inside most of the gothic castles in the city, this is your best bet for having an immersive Harry Potter experience! 
I hate to break it to Americans who think Universal Studios is the top tier Harry Potter experience, but you'll need to book a trip to Europe to experience the real magic of Hogwarts. From the 9 ¾ platform, to the Hogwarts Express, to ending your night in an authentic Harry Potter themed bedroom, this article provides you with all you could ever need to live a full day in the life of a wizarding student.