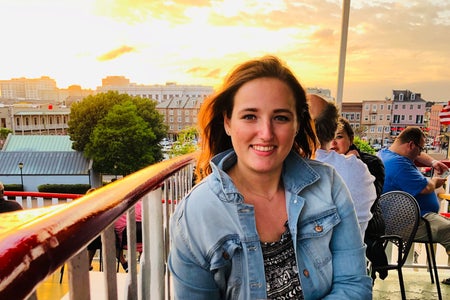 Meet Kaylee: HC UDel's Campus Correspondent
This past week I sat down with Kaylee, our chapter's CC, to discuss what Her Campus means to her. Kaylee is a Junior at the University of Delaware from Landenberg, Pennsylvania. She transferred from Pennsylvania State University and is currently studying Public Policy with minors in Writing and Italian.
HC: Why did you get involved in Her Campus at Penn State?
KG: Back in my freshman year of college, I wanted to involve myself in absolutely everything. I was a communications major and therefore began writing for four different campus publications. This turned out to be way too much work for me and I ended up dropping most of them by my second semester. However, I just couldn't let go of Her Campus. As Penn State was a pink level chapter, we were held to high standards and I simply loved writing for them. I became close with a lot of the members and loved being a part of such a powerful and inspiring group of young women.
HC: Why did you start up the Her Campus chapter here at The University of Delaware?
KG: I re-started Her Campus here at UD simply because I couldn't imagine college without Her Campus. Especially since I'm no longer a communications major, I wanted Her Campus here so I could have an opportunity to keep writing and sharing my voice while also giving other young women the chance to share theirs. Her Campus gives us a platform where otherwise, there would be none and I love that about the organization.
HC: What is your most passionate topic to write about?
KG: After writing for so many publications, I have gotten a wide range of articles out there and enjoy writing about everything from politics to my pug, Bruce. However, the topic that I am most passionate about is travel. I am extremely grateful for the opportunities I have been given already along with some upcoming endeavors to see every corner of the world. I find it important to share those kinds of unique experiences. So many people don't have the chance to leave their country or even their county and at least for me, reading travel articles is the next best thing to actually visiting a place. Writing can transport you - and I'd love my future travel articles to have that same effect on readers.
HC: What is your major and what are you planning on doing in the future?
KG: My major is Public Policy and my current plan is to join the Peace Corps or a similar service organization after graduation. If this doesn't go as planned, I'm thinking about law school. I have always found people who run off to serve the world in that type of way to be incredibly inspiring and I would like to follow in their footsteps to make the world a kinder place. After that, I have no idea! I'm not the type of person to plan out my entire future, there's no adventure or mystery left in that. I'm more inclined to let life happen as it happens and see where that type of mindset takes me.
HC: What is your favorite thing to do in your free time?
KG: Currently, it's binge watching On MY Block, haha! I also really enjoy reading and sketching when I feel motivated enough. I also run non-competitively. My goal is to read, write and draw enough that I do it automatically instead of jumping right into watching a show or movie.
HC: What are your goals for continuing our Her Campus chapter at UD?
KG: I have a lot of goals for this organization, but above all else, I'd like us to become a prominent voice on campus. I want every past, present and future Blue Hen to know our name. I want to have our articles shared on their facebook timelines, I want them following our instagram, I want them favoriting our tweets and I want to get our campus community talking about what we write.
HC: What is the best part about being involved in Her Campus and what would you say to a potential new member thinking about joining the team?
KG: The most amazing thing about Her Campus is that it gives people who wouldn't otherwise have a platform a place to share their voice which is absolutely incredible. There are so many people in the world with important opinions and no way to share them and Her Campus acts as this vehicle for them to be heard. To anyone out there who may be considering joining our organization, I'd say go for it! We are an empowering group of women seeking more fantastic collegiettes to join our team. If you'd like to amplify your voice and let the community and world hear you, Her Campus is the way to go.
If you are interested in Her Campus, send Kaylee an email by contacting [email protected]