If you're anything like me, the second the temperature drops below 70 degrees in September, you break out the cable-knit sweaters and Halloween decor. Now that "Coastal Grandmother" summer is over, naturally, it's time to transition into Gilmore Girls fall.
If you're unfamiliar with the world of Stars Hollow, it is a quaint (fictional) Connecticut town housing none other than Rory Gilmore, Lorelai Gilmore, Luke Danes, and the rest of the Gilmore Girls clan. Say what you want about Rory and Lorelai Gilmore (and their poor life decisions), but they know how to do fall. Everything about Gilmore Girls is wholly autumnal; Stars Hollow exudes fall, from Luke's coffee shop all the way to Kim's Antiques.
Read on for nine ways you can embrace a Gilmore Girls fall.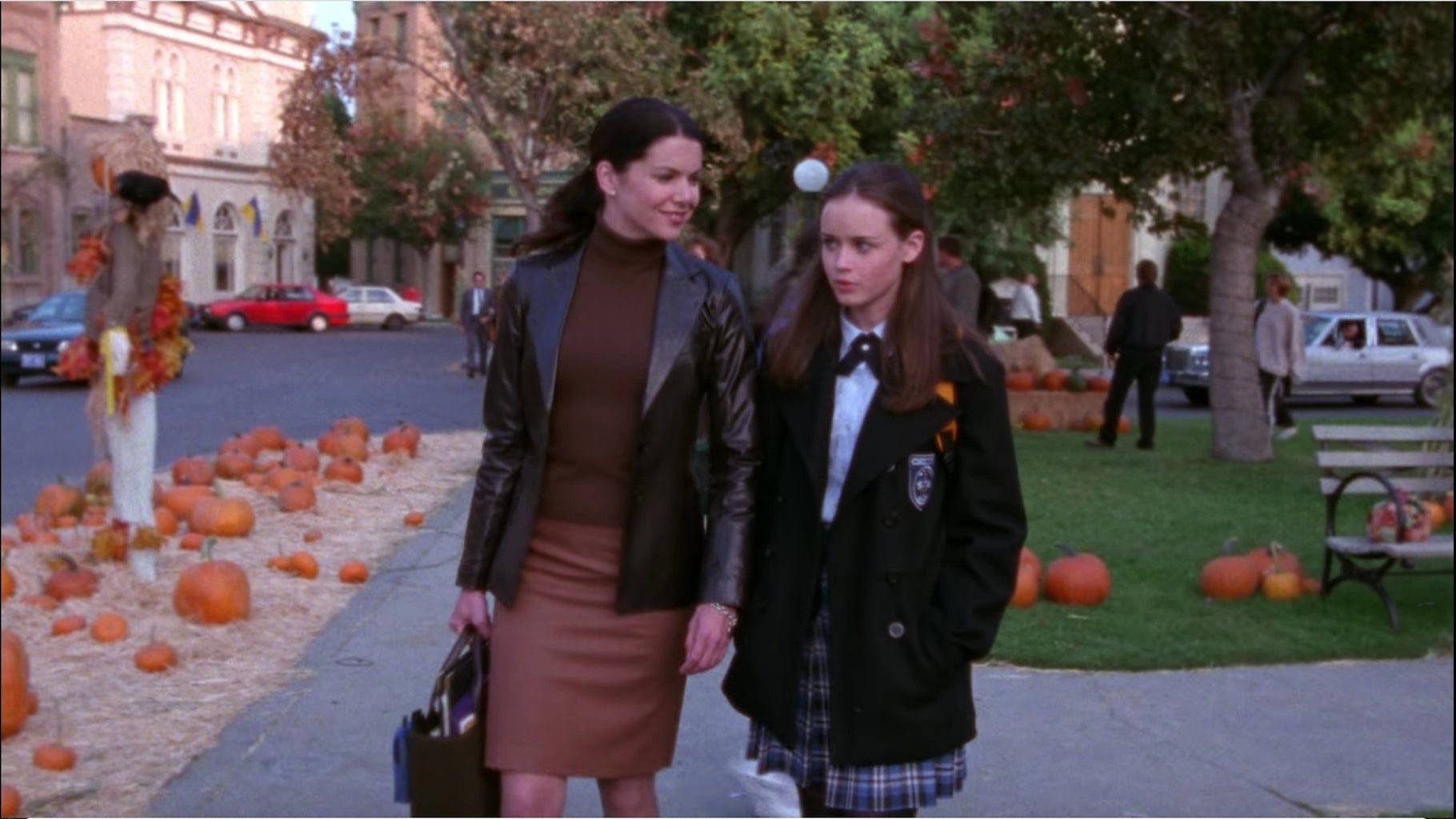 1. The fashion
The best way to put yourself in the fall mindset is through your wardrobe. There's nothing like throwing on your favorite autumn lightweight jacket and boots to set you in a positive mood for your day.
Look no further than the Gilmores for your fall fashion inspo. Whether you're a Rory who embraces academic chic, a Lorelai whose apparel represents running an inn by day and strolling the Stars Hollow streets by night, or even an Emily if you're feeling a bit more formal, the Gilmores' fall 'fits are timeless.
Gilmore Girls fall staples include:
A chunky cable knit sweater (sported by Rory in the picture below)
Neutral browns, reds, and oranges (match the leaves basically)
A leather jacket to layer over your shirts and sweaters on cooler days (a Lorelai classic)
Skirts: the Gilmore girls love a good skirt in the fall. Depending on the weather, they can be paired with tights, boots, and/or a sweater as well
Boots: whether they're Doc Martens, knee-high boots, or ankle boots, they're the perfect footwear to elevate your fall look
Yes, Gilmore Girls premiered over 20 years ago, but some things never go out of style.
2. coffee coffee coffee
One thing about the Gilmores is that they're always caffeinated— and Starbucks, Dunkin, and likely your local coffee shop always have the best fall specials (maybe not as good as Luke's but we'll take it). Personally, you'll always find me sipping on a pumpkin cream cold brew from Starbs this time of year.
You can even buy coffee from Luke himself— well, the actor that plays Luke, Scott Patterson. Whether you're a cold brew girlie, a chai latte enthusiast, or a matcha lover— the manner in which you consume your caffeine is your prerogative. And if you have to go decaf, Lorelai might judge, but you do you.
3. fall decor
Your space conveys to the world who you are, but most importantly, it's where you spend most of your time! Whether it's the outside of your house, the inside of your apartment, or even a 10 by 10 foot dorm room, decorating your space for the season can be the ultimate mood-booster.
You can go full-Stars Hollow, decking out your space in pumpkins, mums, and all things autumn. Or, it can even be as simple as heading to TJ Maxx or Target for a few mini pumpkins, cozy lights, and other affordable and adorable fall finds.
4. Movie nights
One of the favorite activities of the Gilmore mother-daughter duo is a movie night— and the Gilmores take it very seriously. Junk food? Required. Sweatpants? Encouraged. And think carefully about your movie selection.
Here are some of my recommendations for a fall film:
Halloweentown (1998)
When Harry Met Sally (1989)
Hocus Pocus (1993)
Good Will Hunting (1997)
Halloween (1978)
Practical Magic (1998)
Dead Poet's Society (1989)
It's the Great Pumpkin, Charlie Brown (1966)
Pick a flick from whatever streaming service you "borrow" from your friend's-cousin's-neighbor— or better yet, do it like the Gilmores and stick in a DVD or VHS, and cozy up to an autumn tale.
5. fooooood
There may not be food in the Gilmore pantry, but Rory and Lorelai sure know how to eat. Splurge and treat yourself to a nice take-out meal— or better yet, order from a few different places and eat buffet-style. As Lorelai would say, leftovers are the best part of a meal.
"It's one of my four major food groups. Candy, popcorn, and pizza. See. It's two of my food groups. That's how much I love pizza."

– Lorelai Gilmore
Not to mention the joys of fall food— apple cider donuts, pumpkin pie, banana bread, you name it. 'Tis the season to not look at calories or carbs and indulge in whatever brings you joy.
6. catch up on 'gilmore girls'
The best way to have a Gilmore Girls fall is…to watch Gilmore Girls! All seven seasons as well as the reboot are streaming on Netflix, so get watching.
If you want to watch along with some commentary, Scott Patterson (who plays Luke Danes), actually has a Gilmore Girls rewatch podcast, where he shares memories from filming, dissects each scene, and even has some former co-stars on as well! You can check out I Am All In with Scott Patterson below.
7. embrace community
The residents of Stars Hollow certainly have their quirks, but the town embraces community like no other. You may not have eventful town meetings, or town dance-a-thons and firelight festivals, but fall is a great time to embrace community, however that looks to you!
Call up an old friend, join a new club, or even invite some friends to go apple picking! There's something in the air this time of year that just makes forming and maintaining connections much more special.
8. Read like Rory
Not everyone is as studious as the one and only Rory Gilmore, but we could all use a little bit more reading in our lives. With #BookTok taking off, a lot more people are embracing reading as a fun hobby that allows you to improve your communication skills and learn about new perspectives.
I recommend reading outside in the crisp, fall air, mingling among the fallen leaves and losing yourself in a fictional world. But the great thing about reading is that you can do it anywhere! If you're into romance, check out novels by Taylor Jenkins Reid, Emily Henry, or Colleen Hoover (thanks #BookTok). If you're more into drama and suspense (and can handle a 400+ page book), check out Donna Tartt's The Goldfinch and The Secret History for incredible reads and major fall vibes. If you're feeling academic and/or poetic, pick up something by Sylvia Plath (how very Rory of you)!
9. Fall tunes
While we may not be swapping CDs with our besties anymore like Rory and Lane did, we have the convenience of swapping hand-crafted playlists. To truly get into the Gilmore Girls fall mindset, check out this playlist created by Her Campus alum, Lauren!
In the words of Taylor Doose, "Breathe in, folks. Smells like fall."