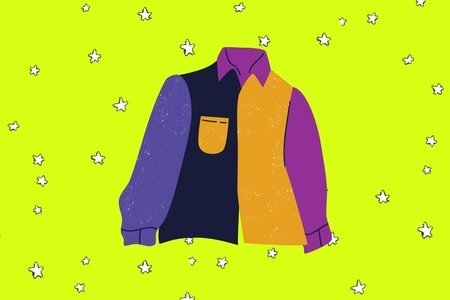 Original Illustration in Canva for Her Campus Media
It seems like every 20 years or so the past returns to bless us with recycled fashion trends, and whether they're horrible or not, you need to know about them. You have probably heard the term "Y2K" once or twice and if you don't know what I'm talking about, then watch a Bratz movie. Y2K fashion is about being bold, about being seen, and about being unique. Here are some Y2K fashion essentials you need to be adding to your wardrobe right now.
If you grew up watching the Bratz then you know what I'm talking about. Over the past few years, chunky shoes have been growing in popularity among teenagers and young adults. Currently, the most recognizable chunky shoes are Fila brand sneakers but, if you rather not stick to something so common, try a pair of boots for a change.

Are they crop tops? Eh. Mini tees are made to fit a bit tighter than most loose crop tops. These shirts aren't made to reflect the bra top look but instead fit you as if you were a doll. They come in an array of patterns and designs, sure to look great no matter what. They basically fit any pair of pants too!

So, bandanas are a little 90s but the aesthetic still fits all too well in this rising 2000s trend. If you really want to make your Y2K style pop, try wearing a bandana with a little bit more color, like baby pink or lilac. Bandanas can be worn in a variety of styles. You can even wear one as a top.

These are a MUST HAVE in any closet. Thin cardigans are perfect for any kind of weather, including the summer heat. This essential can be perfectly styled with almost anything. The best fit for this essential is to wear a mini tee under it and let the buttons loose on the cardigan. If you want to be a little spontaneous, just wear your bra or a tube top. They come in so many different colors that you are just bound to have a rainbow of these once you realize how great they are.

Oh how I love the baggy pants and tight shirt trend. Baggy pants are a staple look of the late 80s to early 2000s. My mom wore them, I wore them, and you have probably worn them. Whether you're looking for the classic jeans style or something a little different, baggy pants are one of the most recognizable pieces in a Y2K closet.
If by this point you are looking like a Bratz doll, mission accomplishment!