If you walked by the Paramount on Saturday night, you may have seen a mass amount of young women standing in line holding passes to get into the historic theater. It was SXSW's second night and the streets glowed not only with the marquee, but with the excitement of the audience going in to watch the final film of the night. Being on Saturday, you could feel all of the energy as it radiated. Standing outside the Paramount, a man working for the festival held a large camera pointed directly at my face, asking me what I was excited to see. There were 3 girls lined up next to me as well, and we all said the exact same thing:
"Bottoms".
In case you're not familiar with the SXSW film festival circuit, Emma Seligman is a name that you may have heard of from afar. Seligman first came to SXSW with a short film, and was able to turn it into a full length feature; you may know this film as Shiva Baby. After premiering at SXSW, Shiva Baby won at the Film Independent Awards in 2022, taking home the John Cassavetes Award. The film became synonymous for its hilarious one-liners ("I don't really want to be, like, a girl boss" comes to mind) and for a stellar leading performance from Rachel Sennott. Despite being released in the midst of the pandemic, Shiva Baby stood on its own feet and made an impact on viewers from so many demographics, but one in particular that stood out was young women. 
I first watched Shiva Baby when I was 17 years old. I watched it at a pivotal moment, where I suddenly fully started seeing my shift taking over from fashion to dabbling in film. There weren't any filmmakers out there who I felt as if I identified with, and had shown me an accurate depiction of the chaos of being a woman. But, when I watched Shiva Baby, I felt as if I had finally found someone who understood the type of directing that I wanted to pursue. Someone who allowed women to be messy and emotional and in chaos, but also understood the comedic aspect of the situation. I was 17 and had never attended a SXSW, but in a way, I felt like I was watching it with an audience.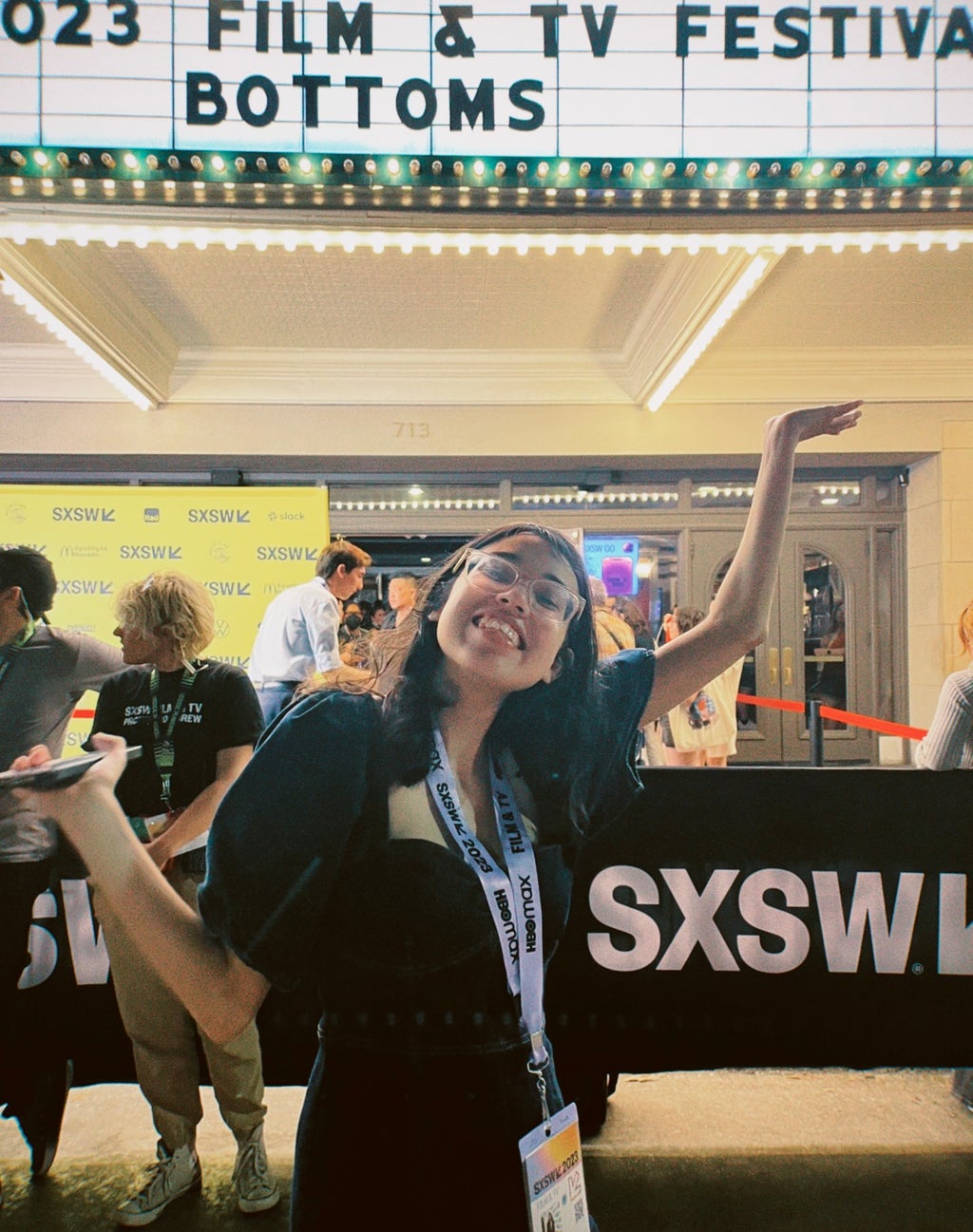 3 years later, I found myself looking at other women who were my age at the time that I watched Shiva Baby just as excited to watch Bottoms like me. When you think about film festivals, you may think of older film critics or people who are pretentious trying to just say that they've seen something early for the fun of it. But, this screening was different. There were so many young women lined up and excited to see what Seligman and Sennott had written.
Bottoms is meant to be messy. It's meant to be bloody, it's meant to be real. Teenage girls have a tendency to find themselves in outlandish situations and the desire to be wanted by their crushes. When we're watching PJ and Josie, we're essentially seeing extensions of ourselves as young women that we will always carry around us. We would do anything to be liked by the cheerleaders or just to seem cool, and oftentimes we carry that around us even as we mature. It's the representation that women deserve, and it showed at Bottoms on opening night.
Emma Seligman and Rachel Sennott know what women want, and that they're not gonna stop until they get it. I hope that they always continue going at full force, with one punch at a time.
Bottoms premiered at SXSW on March 11th, 2023. This article was written for SXSW's 2023 Film & TV Festival.