Opening night premieres at the Paramount are always magical. There's something about the atmosphere, people running back and forth trying to catch a side-eye glimpse of the stars outside, and the excitement in the air knowing that you are the first person to see a film that has never been seen before. The sheer joy and nerves especially come through when you're premiering something that so many people love, a game that has been credited towards the creations of other media forms we see today.  
At my first in-person screening as press at SXSW, I could feel the enthusiasm as I walked the streets outside the Paramount. Being invited by Paramount Pictures to the world premiere of Dungeons and Dragons: Honor Among Thieves was such an incredible honor and one that I will treasure. I have to get the sentimental thoughts out of the way before I really dive into the film, and my thoughts.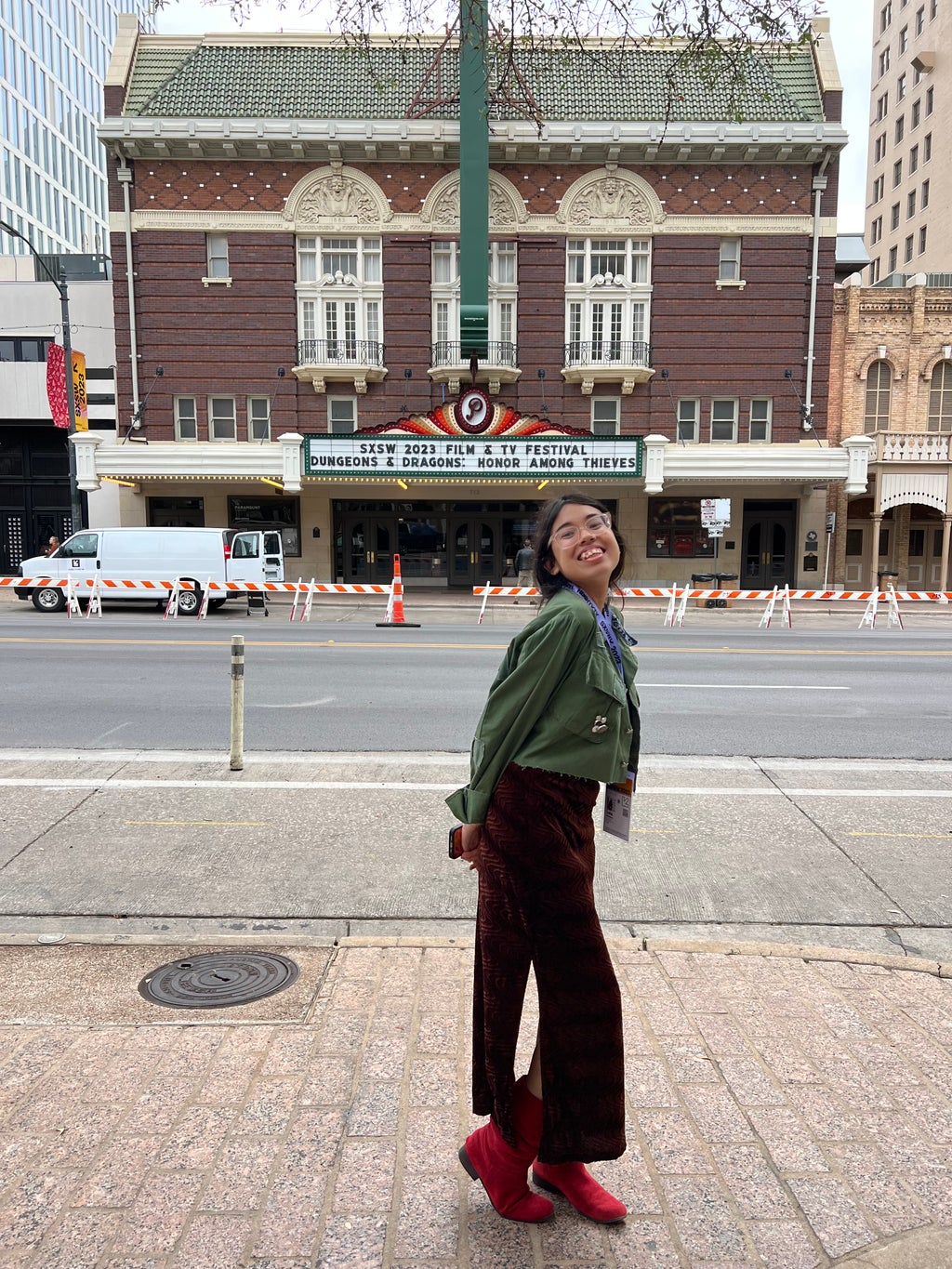 For those who have never played Dungeons and Dragons, the film treats that with care and manages to get non-players to get invested in the D&D world as well. Dungeons and Dragons: Honor Among Thieves follows a group of adventurers led by Edgin Darvis, the charming yet-unapologetically-bad-at-plans bard played by Chris Pine. Through circumstances that are explained in the beginning of the film, Edgin and Holga Kilgore, a barbarian (played by Michelle Rodriguez) are bonded together to help raise Edgin's daughter, Kira (played by Chloe Coleman). When Kira is taken away from Edgin, the two decide to form a group with Simon Aumar, a sorcerer with incredibly low self esteem, (played by Justice Smith), a druid named Doric (played by Sophia Lillis) that shapeshifts, and Xenk Yender, a paladin who does not understand metaphors. The group teams up together to bring Kira back to Edgin and Holga; but they first have to go through a variety of different adventurous obstacles, such as Forge Fitzwilliam (played by Hugh Grant) and Sofina (played by Daisy Head) who guard Kira meticulously.
It's clear within the first few minutes that writers/directors/executive producers John Francis Daley and Jonathan Goldstein know how to get the audience to fall in love with the characters. Their writing explains the backstories for each member in the group: focusing on their driving forces and how they have become furious with the world around them. The cast plays into their character superbly, allowing for them to be grounded in reality amidst threatening situations. Daley and Goldstein have proven themselves to be writers who know when to hit the punchline and then for the characters to break your heart in a second, whether it's through self doubt or grief. They're also huge fans of the D&D franchise, so I can imagine taking this project on was not easy for them. You could see their love for the game that they grew up playing shine in many different scenes while also their nerves on stage hoping that the audience would also fall in love with the world they spent four years on. It paid off well at the end, because regardless if the SXSW opening crowd played the game growing up or not, we all began to slowly find ourselves becoming invested in this group of thieves.
As well as having great character writing, the cast plays into their character superbly. Chris Pine leads the group, while also battling elements of sadness that he has carried in his expeditions across the realm. As Edgin leads, the rest of the group falls into place. On the note of the entire group, I especially loved Justice Smith's performance of Simon, a sorcerer who finds himself constantly in self doubt. The thing about the characters is that there's quite a few moments where they genuinely do not believe in themselves. As I was sitting in the audience, I could see and hear the audience relating to the group. Moments like this stood out to me, that I had never seen before with a fantasy movie. I especially loved Sophia Lillis and Rege Jean Page as well, who serve as the more realistic members of the group and bluntly will call out Edgin's plans. They do a great job of being serious, while also maintaining their fantasy aspects to their characters. My favorite relationship through the film is Edgin and Holga, who have helped each other get through some tough moments. Chris Pine and Michelle Rodriguez have a fantastic chemistry and lightheartedness that you root for their journey.
At the audience Q&A, I decided to ask a question to the cast and crew. I will be quite frank, despite being a red carpet reporter and entertainment journalist, there is something incredibly intimidating about standing in front of Austin's most historic theater to ask a question. I couldn't help but not think about the journey that everyone who made this film went through. John and Jonathan talked about the fact that it was a four year long process, with a lot of obstacles. The cast and crew filmed this in the midst of a COVID surge. So, with being the first person on the microphone and the first question of the entire festival, I asked:
"I'm curious, for the filmmakers and cast, what was something that you took from making this movie that you're going to carry with you for the rest of your careers?"
The Paramount went quiet, with a lot of nervous laughs from the audience. I didn't really realize it until much later, but I sort of…made everyone speechless. I don't think the cast and crew expected a deep question to start the festival off. But, to my surprise, everyone on stage loved the question. When you think about audience Q&As, you just hope that not only you don't embarrass yourself, but you ask something that makes the creators and actors think.
The one thing that the cast and crew said was that they had a lot of love to carry after working on Dungeons & Dragons. Michelle said that she took with her the idea that the underdog is a beautiful thing. Even if you keep failing, you keep trying and you'll find where you're going. And in the grand prospect of the film, I think the characters found where they were going and made their journey well into the SXSW audience's hearts.
Dungeons & Dragons: Honor Among Thieves premieres in theaters on March 31st. This article was written for the 30th SXSW Film & TV Festival.