Movies That Will Get You Into the Halloween Spirit
Halloween is fast-approaching. Scrambling for last minute costumes, going to haunted houses as well as pumpkin patches, and drinking pumpkin flavored everything are all examples of activities that get us into the Halloween spirit. But, who does not love a relaxing fall night carving pumpkins and watching Halloween-themed movies? This is my absolute favorite way to get festive before Halloween!
 Here is a list of movies that never fail to get me into the Halloween Spirit:
Hocus Pocus (1993)
Who could forget when Winifred Sanderson played by Bette Mindler does the cover of "I Put a Spell on You"? If you have never seen this cult classic, then you have been missing out! The Sanderson sisters are a trio of evil witches who are resurrected after a teenage boy named Max lights the Black Flame Candle on Halloween night. It takes the help of a magical cat, his sister Dani, and their new friend Allison to figure out a way to get the witches' spell book to prevent them from becoming immortal.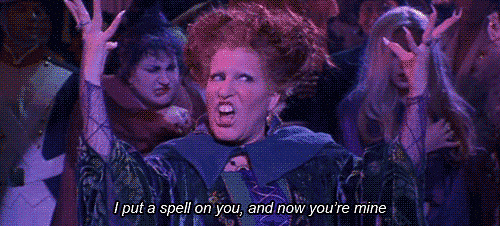 The Addams Family (1991)
"They're creepy and they're kooky, mysterious and spooky, they're altogether ooky, The Adams Family." That well-known line from the catchy theme song and the portrayal of a spooky yet loving satirical take on the ideal twentieth-century American family is what establishes The Addams Family as a classic. Based off the cartoon of the same title by Charles Addams and the TV adaption, this movie focuses on the return of Fester the brother of Gomez Addams. The family soon suspects that "Fester" is an imposter out to get the Addams Family fortune and they must challenge him. But, is "Fester" truly an imposter? You must watch the movie to find out!
The Haunted Mansion (2003)
Fun fact: this movie was inspired by the Disneyland attraction of the same name that opened in 1969. Funny and spooky, this movie features Eddie Murphy as Jim Evers a workaholic realtor that struggles to find time for his family. He decides to take his family on a vacation, but ends up taking a detour when he gets a phone call from Edward Gracey the owner of a mansion that is up for sale.  Discovering that it is haunted, they become trapped at the mansion. They encounter multiple ghosts, Edward Gracey turns out to be one, who need help breaking the mansion's curse.  Through this ordeal, Jim becomes closer to his family and discovers that someone has an unexpected connection to the mansions cursed past.  
Twitches (2005)
If you fell in love with Tia and Tamera Mowry from the sitcom Sister, Sister then this movie will make you fall in love again. Twin Witches are separated at birth on Halloween night in a magical land called Coventry. They are brought to Earth to protect them from an evil force called the Darkness. The twins are reunited on their 21st birthday and they discover their magical powers. The twins are summoned back to Coventry to fulfill the prophecy of eliminating the Darkness. Only their combined powers can restore the kingdom!
The Nightmare before Christmas (1993)
I particularly love this movie because not only can you watch it for Halloween but for Christmas as well. The movie follows the king of Halloween Town, Jack Skellington or "the Pumpkin King," on his misadventure to replace his redundant Halloween routine. On the morning of Halloween, he wanders through the woods in which he stumbles upon a set of trees that are portals to other Holiday Worlds. He chooses the portal to Christmas Town and falls in love with joy of the holiday. He plans to control Christmas and kidnaps Santa. Jack soon realizes that his plan caused confusion in Halloween Town and that he put the holiday of Christmas in jeopardy.
I hope these Spooktacular movies can get you into the Halloween Spirit!