If you haven't heard of The Abibiman Project yet, you should keep reading.
Chef, explorer of culture, foodie and injustice fighter — Rachel Adjei is the owner and creator of The Abibiman Project. Beginning in November 2020, as a weekly pop up shop featured at Toronto patisserie The Tempered Room and presently expanding online with the occasional pop up across the city, The Abibiman Project is a food concept that aims to highlight the diverse cuisine and culture from the African continent and Black diaspora while sparking important conversations about racial injustice and community.
Chef Adjei's online shop features many spices, chocolates and even an "African Pantry Starter Kit" which should fill your kitchen with everything it needs to up your lunch game. At the moment, you can find a "Kawano Chocolate Assorted" set which is a sample pack of four popular chocolate bars, so you can try a few before you commit to your new favourite sweet treat. Personally, I have my eye on the "Dukkah" bar, which is made from Adjei's Dukkah spice blend (a nut, seed and spice blend with origins in Egypt) and described on her website as a, "Milky white chocolate, fresh and earthy from mint, coriander. Nutty from toasted sesame seeds, pumpkin seeds and almonds."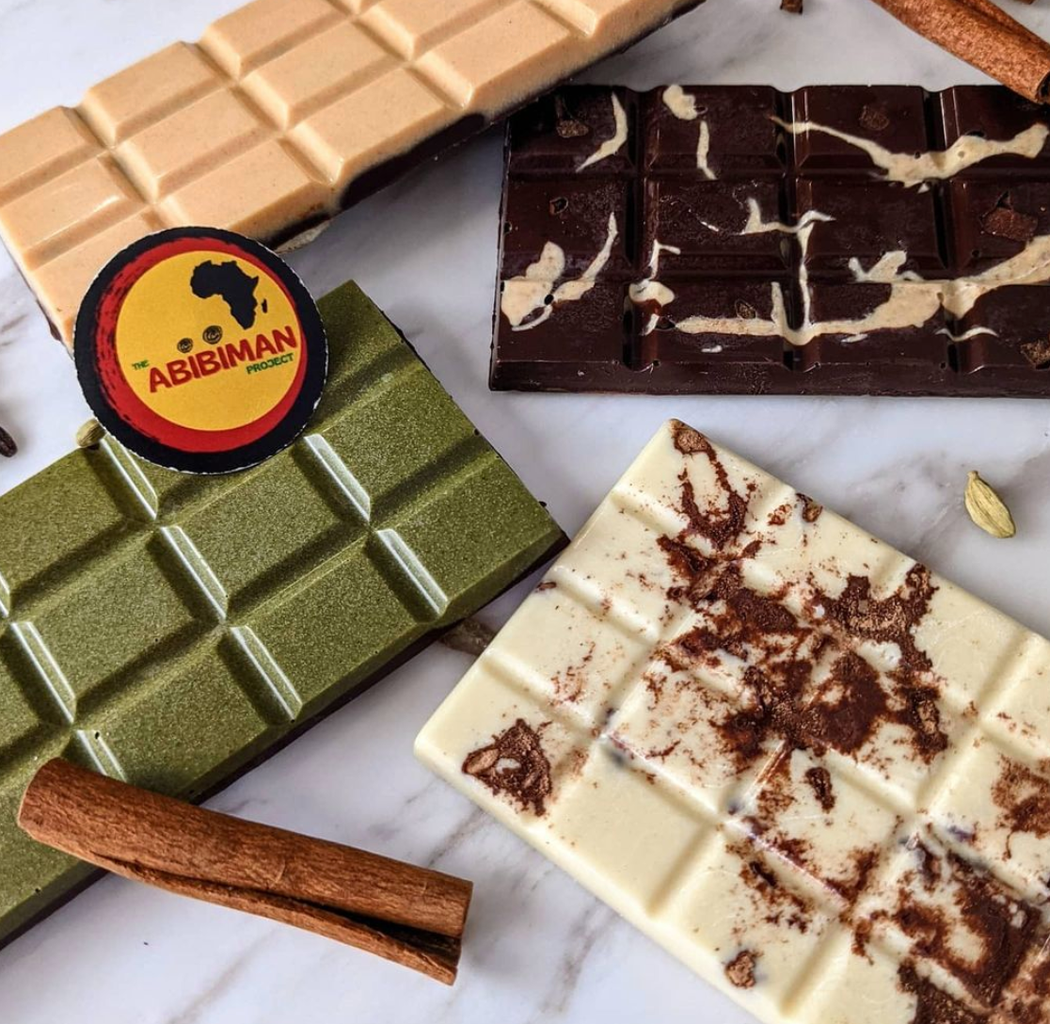 What makes this new concept even more special is that all profits from The Abibiman Project are donated to Afri-Can FoodBasket in support of their Black Food Toronto Initiative, which focuses on providing for food insecure families in the Toronto Black Community. 
Recently I got the opportunity to interview Rachel Adjei on her successful project: 
Why did you start The Abibiman Project?
"I started this as my way of giving back to the Black community and also as a way to shed more light on ethnic foods that are often ignored. My personal connection to wanting to celebrate African Cuisine is having never had the opportunity to cook food from my culture professionally or even had it acknowledged, I want that to change moving forward." 
Where do you source your products from?
"I source my products primarily from African grocery stores for specific spices, herbs, dry goods etc., I work with a few wholesalers to get more common spices and specialty chocolates. I process all ingredients and make them into their finished products."
What is your favourite product that you're selling at the moment?
"My favourite product is shito. It is a Ghanaian hot sauce. It's based on my aunt's recipe and holds a lot of nostalgic value for me." 
What else is in store for you and The Abibiman Project?
"At this point, The Abibiman Project keeps on evolving so I truly see no limit or have specific expectations. I do want to continue to grow, at least to the point where I could potentially hire staff to help me. Not only would that be of great value to myself but it would mean I could facilitate more exciting things like full menu pop-ups, meal kits, focus more on the blogging and forum elements of my site etc… Currently I do everything from making products, marketing, web design, business communications and anything in between."
Keep up with Rachel Adjei and The Abibiman Project by following them on Instagram to stay up to date on everything she's offering and any pop up days she plans.
"I want to build a community and get involvement from other folks because this isn't just something about myself and what I want to share. I want others to offer feedback and explore for growth in their food journeys. I'd also like to give back more, make value added products using products from local urban farmers and when possible do events with students in low income communities.
I want people to see this initiative as a hub for knowledge and community. The focus doesn't lie solely on the food, its connection or social justice. It's a harmonious mix of it all and it's not about just capitalising on a moment, The Abibiman Project is about making real change"