Kamala Harris' First 100 Days in Office
On January 20, 2021, Kamala Harris was sworn into office as the nation's first female vice president, the first Black vice president, and the first South Asian vice president. During her first 100 days in office, Harris has kept busy focusing on decisions relating to immigration, the environment, and the pandemic.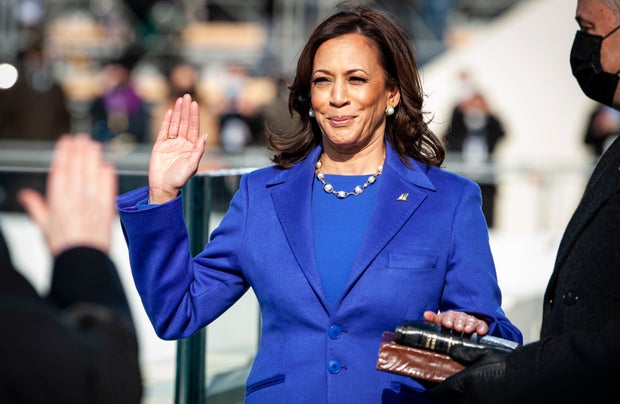 Photo by U.S. Air Force Senior Airman Kevin Tanenbaum distributed under a Public Domain Mark 1.0 license
Harris has spent her time visiting with Black Colleges and Universities, hosting Q&A sessions allowing students to ask her one-on-one questions about education and the post-graduation experience, and the economic impact that graduates seeking employment face. When answering the students' questions, Harris' responses specifically highlighted policy implementation that the Biden-Harris administration will propose in the future. Biden and Harris hope to prioritize the coronavirus pandemic first and foremost, because they criticize the way Trump handled the issue. Harris wants to get vaccination access to areas that are heavily populated but have limited amounts of the vaccine. By redistributing vaccine allotments, more people will have access to receiving the vaccine and work toward protecting themselves and others from coronavirus.
Harris shared that one of the priorities for the economy is "Buying American." The only way to support the economy is through strengthening American products and investing in education, healthcare, homeownership, and access to capital for entrepreneurs. Harris wants to help build "healthy communities" who can grow stronger if rich in resources. Harris plans to implement policies that give communities equal access to resources, hoping to reduce inequitable disparities. 
Throughout her first 100 days, Harris has also contributed to passing the CARES Act, offering $1,200 to individuals and $2,400 checks to families. Through providing economic assistance, families who have been financially strapped during the pandemic can receive support. Harris is working to distribute the second round of funding soon. 
There is also a focus on the criminal justice systems and policy reforms, eliminating cash bail and shutting down private prisons. There will also be a ban on choke and carotid holds on people by the officers, allowing local authorities' standards to be higher and less harmful. Harris and her husband, Douglas Emhoff, also were able to celebrate the White House's Virtual Passover Celebration with Jewish families in the US, the state of Israel, and across the globe. They were able to celebrate with families virtually and hope to be in person next year.  
Harris has been extremely busy in her first 100 days in office, and her term is just getting started. It will likely be impressive to see how she will progress through her time in office and be an advocate for women's empowerment.