After becoming the first group to ever win The X Factor UK in 2011, Little Mix has grown up beautifully before our eyes and quickly became the biggest girl band in the world.  Originally consisting of four members – Jade Thirlwall, Leigh-Anne Pinnock, Perrie Edwards, and Jesy Nelson – Little Mix have been put through so many ups and downs ranging from securing platinum records to reportedly being sabotaged by record companies.  As the celebration of their 10th anniversary as a band commences on the tail of their most recent album Confetti, Little Mix is stepping out as a trio after dear friend Jesy Nelson removed herself from the group to focus on keeping her mental health safe and secure.  With knowledgeable rumors of new music coming in the near future, here are some multiple reasons as to why you would want to give Little Mix a chance and help them breakout and receive more recognition in the United States just as other bands have recently done.
They have an incredible discography
Little Mix have sold more than 50 million albums and singles worldwide which has made them one of the best selling girl groups of all time. Throughout their time together they have earned many accolades including two Brit Awards, four BBC Radio 1 Teen Awards, six MTV Europe Music Awards, five Global Music Awards, one Radio Disney Music Award, etc.  Little Mix have released 6 studio albums, 28 singles, and 32 music videos.  All of their albums, DNA, Salute, Get Weird, Glory Days, LM5, and Confetti, have been certified Gold with the first five being certified Platinum as well.  While some of their most popular songs are "Black Magic," "Shout Out to My Ex," "Sweet Melody," and "Touch," most of their more underrated songs are the true gems of each album although you could not go wrong choosing any track from the list.                  
Their live vocals are beyond words (sometimes better than the studio versions)
Sometimes live music is not comparable to the studio version, in which the studio version is supreme.  With Little Mix, the opposite is true in most cases.  Every member contributes their own special thing to every live performance as you can hear a wide range of vocals that truly stand apart from the original recording.  There is always a mix of harmonies, melodies, adlibs, and high notes that come together to create a sense of magic in the air.                      
They write their own songs
Little Mix are listed as co-writers on every single one of their albums and have written way more than over half of their album tracks.  Except for a few songs, Little Mix typically write or co-write their own songs.  They have even recorded songs written by the likes of Ed Sheeran, Julia Michaels, Kamille, etc.  Leigh-Anne and Jade have actually become official songwriters after signing a worldwide deal with Sony/ATV Music Publishing via TwentySeven Music Publishing.
They stand up for what they believe in
In a world where speaking your mind can be scary and sometimes be harmful to your career, Little Mix has never let the fear of the unknown prevent them from standing up for what they believe in.  With songs entitled "Little Me," "Salute," "Power," "Wasabi," "Wings," and "Change Your Life," it is clear to see how Little Mix are all for women empowerment.  They inspire so many people and are always there to show how everybody has something beautiful within them and can do anything they set their mind to.  They support everybody they come across and will stand up for anyone further revealing how they believe everyone is valued.  They have strong beliefs in body positivity and loving who you are.  Each individual girl represents different causes and come together to take action.  With a large LGBTQIA+ group of fans, Little Mix and especially Jade have gone the distance to support them going so far as to hold up a pride flag in countries where these relationships are illegal.  Jesy has gone through a lifetime of bullying which has been detrimental to her mental health.  To help others in similar situations, she released her own documentary entitled Odd One Out.  Leigh-Anne has repeatedly spoken out against racism and Perrie has spent quite a bit of time advocating for those with anxiety.  Leigh-Anne and Jade climbed Mt. Kilimanjaro to raise money for Comic Relief which aims to create a world free from poverty.  There are so many other examples revealing the causes Little Mix spends their time fighting for making it clear that so many more will be coming in the future.                 
What even is auto tune?
Auto tune is unknown to the likes of Little Mix as evident in live acoustic and acapella performances.  They sound much better without it anyways.  With each member having unique voices and incredible ranges, the sound is crisp and angelic and blesses listeners' ears time and time again.
They are relatable regardless of all their success
Little Mix may have hosted their own singing competition, headlined three world tours, and have become the longest running girl group in history remaining successful together for almost 10 years but throughout all that, they have always remained true to themselves making them truly relatable.  Little Mix, for lack of a better phrase, are the amazing girls next door who you would love to be friends with.  The moment they come off the stage after performing, the girls are no different than you and I.  They go home, put on comfy pajamas, and chill out like anyone else.  They fangirl over celebrities, talk about shopping at Primark, and complete puzzles throughout quarantine.  They even have an album called Get Weird because that is who they are.  They are the silliest and goofiest people you may ever come across.  They never try to be something they are not and are honest with everybody regardless of what they are going through, good or bad.  Without even meeting them, you can feel their energy and their vulnerability.  You automatically feel like you know them and could be friends with them.
There is no lead singer.  All members are equal.
From the very beginning of their journey, Little Mix have repeatedly said that there is no lead singer.  They all sing and contribute equally throughout everything they do.  Even with people trying to convince them to have a lead singer and three backup singers, Little Mix have remained strong and stuck to what they believe is best for them which has played an important role in all their success.
Every performance is unique and shows all of their determination and hard work.
Aside from amazing voices, they are wonderful dancers and know how to put on an unforgettable show, especially with their incredible dance breaks.  Concerts and tours are spectacular and include everything you could wish for and more.  Every performance is different even if they have performed a song 100 times over.  Everything is incredibly professional and yet it always appears as though Little Mix is having a blast.  There is never a dull moment and they always make sure to include their outstanding fans which are called 'Mixers.'                           
They push past all of the sabotage and setbacks and come back stronger than before
Columbia Records cancelled their U.S. tour so that they could write another album.  The truth of the matter is that they already had recorded a complete album but the company just did not believe in them or think it was good enough to the point where Little Mix thought they were going to be dropped from the label.  At the Brits Awards in 2018, they were up for Video of the Year, an award voted on by the public.  When the voting had closed, Little Mix had the most votes making them the winner, but at the ceremony they lost to Harry Styles.  Just days before their fifth album was to be released, they split with Syco after some disagreements over their musical direction, writing credits, and pushing Perrie into going solo which she had repeatedly said no to in the past.  This label did not promote this album at all after the fallout and would not release completed music videos and leaked a couple songs.  Even with all these setbacks, Little Mix have never let them destroy their dreams.  They grew stronger, learned more about the industry, and broke through barriers intentionally put in their way so they would fail.                           
Their friendship is real and stands out in everything they do
The most cherished and beautiful quality of Little Mix is their friendship which is easily seen by anyone regardless if they are a fan or not.  The girls initially auditioned for The X Factor as solo artists before being joined together by Kelly Rowland.  In situations like this, issues regarding feuds or fake sisterhood claims can arise but this far from the truth for Little Mix.  They are honestly the best of friends and hate spending time apart.  They love doing things together even when the work day is over.  From sleepovers and movie nights to just simply hanging out, Little Mix have always put their friendship first.  Laughter fills the air whenever they are together and they approach every situation as a force of four.  They constantly have each other's back and will do anything to protect one another.  They have been said to never argue and if any disagreements come up, the girls take the time to discuss every one's opinions together.  They have even repeatedly said that they could never imagine doing everything they do without each other.  Simply put, there is nothing more pure than the friendship which instantly developed between all of the members of Little Mix from day one.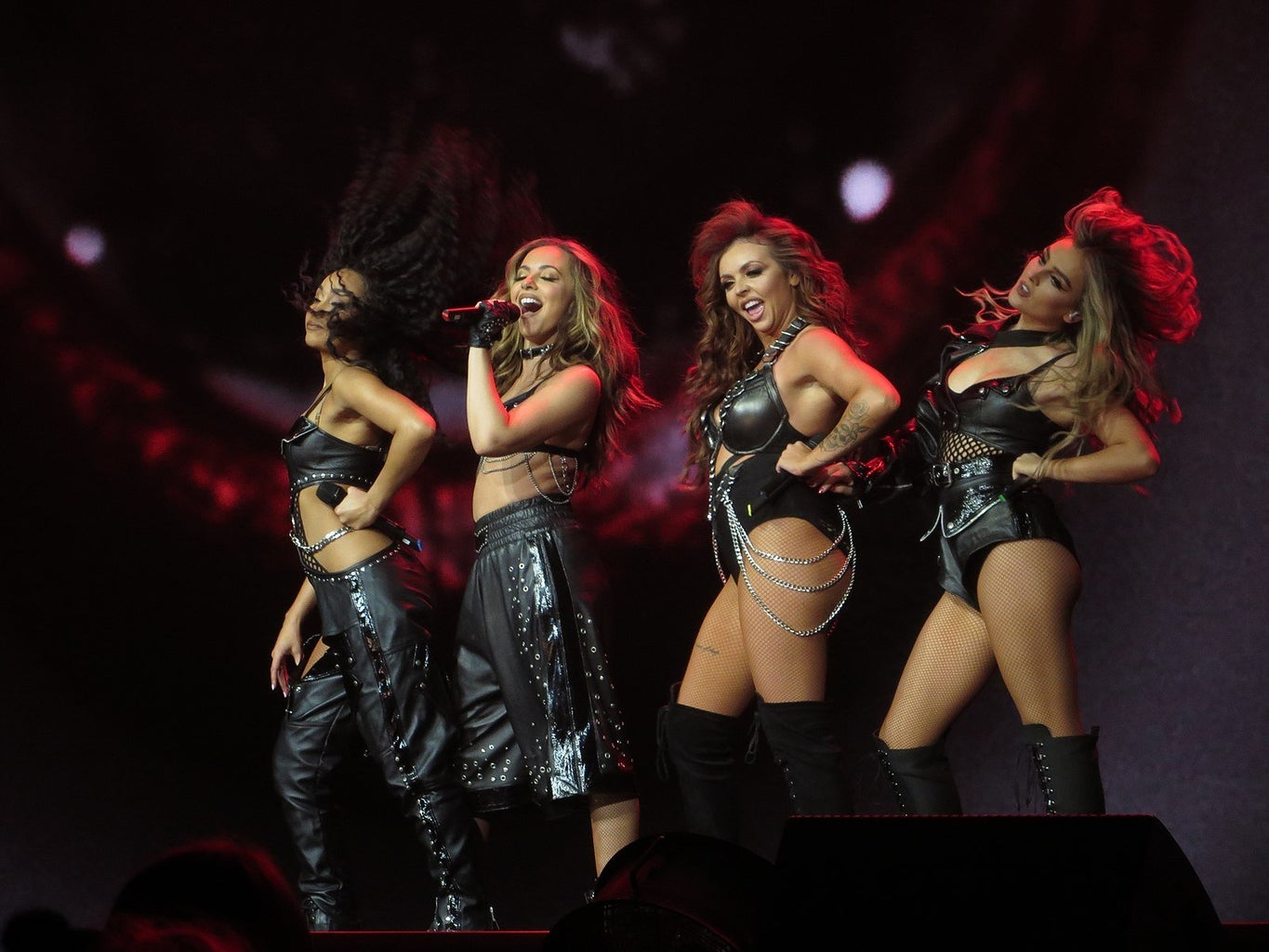 You will hear many of these reasons being repeated for a wide range of artists, but Little Mix are part of a rare group where these statements are actually true.  Whether someone is a fan or not, the success and outstanding qualities of the girl group cannot be denied.
While there are so many more convincing reasons as to why Little Mix deserves your attention, one of the best parts of the girl group is the unique feeling you get when you come to realize just how talented and deserving of their success they truly are.  Let the world know who Little Mix is and keep on listening to their music.  
Interested in learning more about the group?  Check out this fan made video to get a more visual introduction to Little Mix!  https://www.youtube.com/watch?v=IS6c2GYjxoI