The words Panhellenic Recruitment spark a wide range of emotions in women across the country. In some, it is fondness, as women look back on their experiences on both sides of the process. In others, it is excitement, as they get ready to begin a whole new experience or even go through the process for the second or third time as a member. There is also anxiety. Many potential new members (PNMs) are extremely nervous about beginning their journey with Panhellenic organizations at their college or university. The fear of not finding the right sorority for them or saying or doing the wrong thing in front of a sister can often cause girls to not even go through the process at all. This article is full of tips and tricks for surviving Panhellenic Recruitment, complete with interviews and quotes from sorority girls across the country.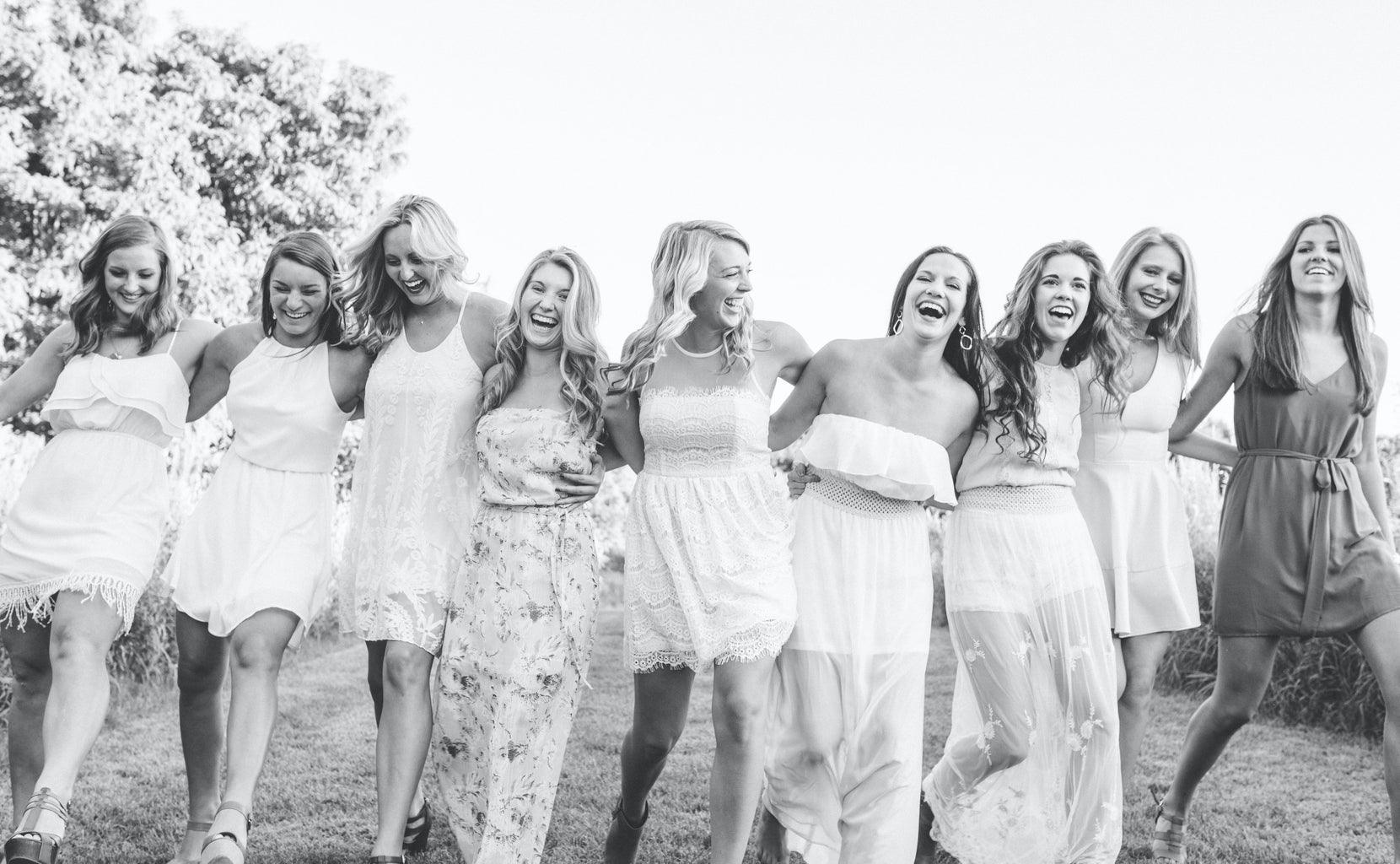 What to expect
Expect long days, tiring conversations, and an extremely rewarding experience. It's important to remember that every sister you talk to has been in your shoes before, and they shared the same fears and concerns when they were in your position. Kayleigh Sebulsky, a junior in Phi Sigma Sigma at Penn State explains her biggest fear during recruitment. "I was most nervous about the older sisters being intimidating," she said. 
Conversation Starters
Perhaps the most nerve-wracking part of the entire recruitment process is how to start a conversation and then keep it going. Tara Peterson, a junior at TCNJ and a member of Kappa Delta Sorority, says that one of the most important things to do in order to keep a conversation lively is to be yourself. "Talk about what you're interested in and passionate about because you'll find common ground with the sisters of that organization," said Peterson. "And you'll learn more about them as well."
It's also a great idea to ask open-ended questions if you're stuck because they lead to a much longer conversation. Listed below are some questions that are pretty much safe to talk about with a sorority sister during recruitment:
Where are you from?

What's your major?

What do you like to do for fun?

Activities/Involvement on campus

What's your favorite event that your sorority holds/attends?

Ask about their philanthropy.
What to wear
TCNJ gives PNMs shirts to wear in order to let these women feel that they have more energy to focus on their conversations and connections rather than what they are wearing. It also helps make potential new members feel that they have equal opportunities when it comes to outfits. Cassidy Peters, the Vice President of Recruitment for the Panhellenic Council at TCNJ, explains the idea of the shirts further: "The National Panhellenic Conference is a big believer in 'values-based recruitment,' meaning we think that the most important part of choosing a chapter that's right for you is where you see your values present and can see yourself forming relationships in the future," said Peters, "Having potential new members wear the same shirt allows chapter members to focus on the PNM's values, personality, how they could grow in an organization, and all that they can bring to positively impact the chapter, rather than what style of clothes they are wearing."
For the fourth round of recruitment at TCNJ, Preference, PNMs are encouraged to wear dresses, as the sorority members will be wearing dresses for this round as well. This gives PNMs the opportunity to show off their individual styles in the final round.
How to stay energized
Long days of going from organization to organization and holding pretty much the same conversations with each will inevitably leave you exhausted. There are many things you can do to stay enthusiastic and positive when this happens!
Eat a good meal before rounds! Eating a good meal is one of the most important things you can do in order to stay energized for a long day. Making sure you don't go hungry can improve your mood significantly.

Bring snacks! Some water and pretzels, chips, or even a granola bar can be helpful to have for breaks. Most of the time your recruitment counselors, or Rho Gammas, will have some snacks on hand. Just make sure you pop in a mint after, never gum!

Get a lot of sleep the night before! This may seem self-explanatory but getting a good night's sleep before a long day is so important. It gives you that extra boost to get through the day!
What to look for in a sorority
This may seem like a broad, overwhelming topic but it is actually quite simple. As a PNM, you should always look for a sorority that makes you feel comfortable and supported. Though some schools' recruitments may be structured differently, the feeling you get from visiting and spending time with the right sorority is always the same. "I went to different sisterhood events and just got to know the sisters and I noticed that I fit in right away because the girls were so down to earth and I could immediately be myself," said Sebulsky about Phi Sigma Sigma, "I didn't have to put up a front with them or be fake. I knew that I found what I was looking for when I was able to find a place where I felt like I was at home and could truly be myself." The most important thing to remember is that you should always pick the sorority that feels right for you, because you are the one continuing your college experience with this organization of women.
"I was really nervous going into recruitment," said Kristen Hebbe, a junior at TCNJ and member of Sigma Kappa Sorority. "But as soon as I talked to the girls in each organization, I realized that they all just wanted to get to know me, and that made me a lot more comfortable about the experience."
The key to surviving recruitment is just to be yourself. You shouldn't go in with any preconceived notions about what organization you should join, because you might surprise yourself by which group of women you really connect with.